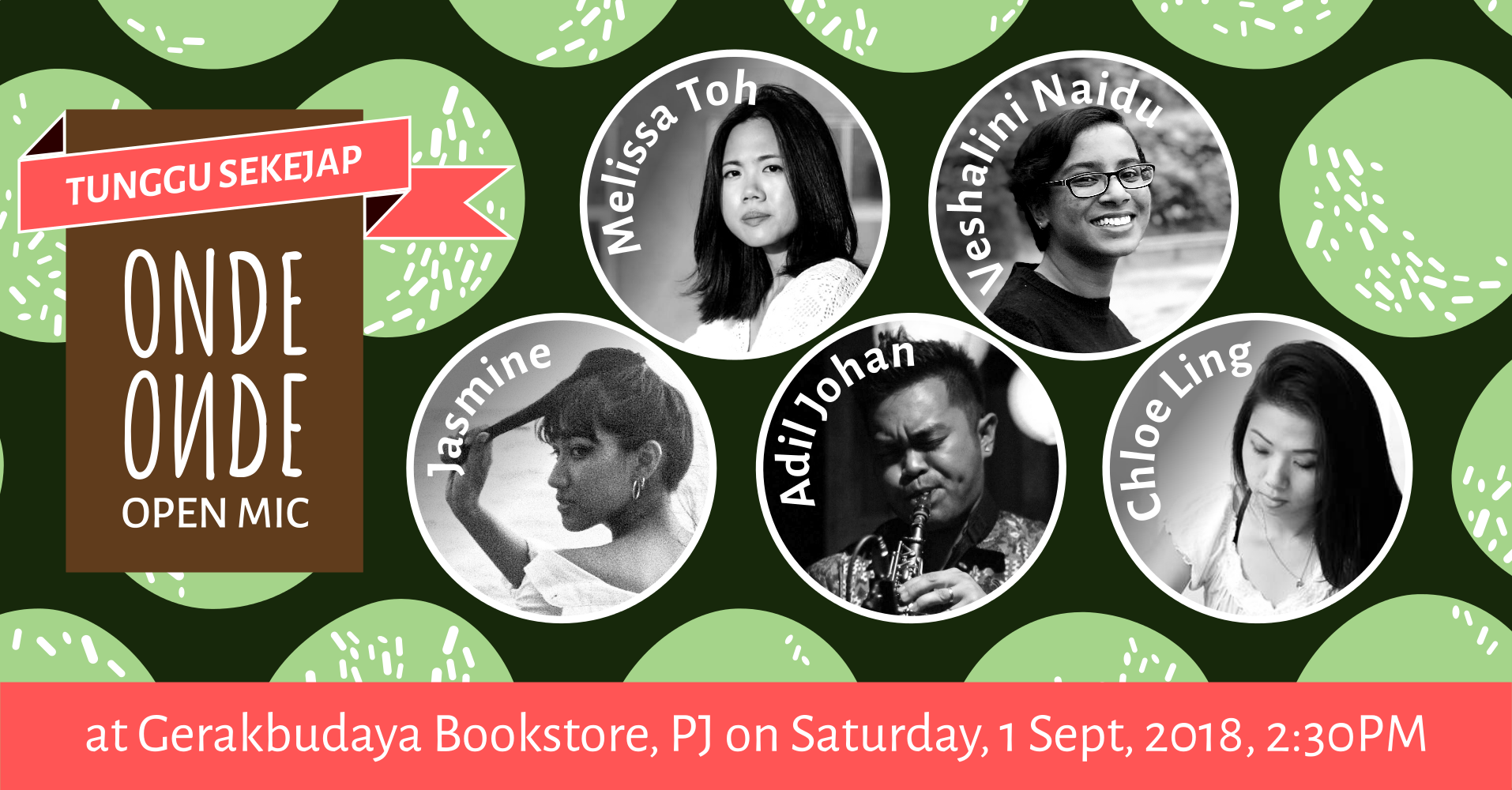 Tunggu sekejap wahai kasih
Kerana hujan masih renyai
Tunggu sekejap dalam pelukan
Asmara ku …
('Tunggu Sekejap' from the film Sergeant Hassan)
Sergeant Hassan and Salmah must wait longingly to be united as he joins the Malay Regiment and goes to war defending the nation. 'Tunggu Sekejap' is both love song and patriotic anthem. "Intimacy is intertwined with national identity … [a] notion that may have roots in the Malay culture of loyalty to a sultanate as in [the tale of] Hang Tuah." The song's waiting and longing "parallels the protracted and tumultuous nation-making process in post-war Malaya." ('Cosmopolitan Intimacies' by Adil Johan, p. 82)
—–
Celebrate love, loyalty, and sacrifice at Gerakbudaya's Merdeka open house of music, stories, and poetry! Onde Onde Open Mic is one of the only recurring live gigs in Malaysia held at a bookstore. It is a monthly-ish multi-genre showcase of local secrets and narratives — with childhood snacks, discounts on select books, and no cover charge.
FREE ADMISSION
GERAKBUDAYA — 'movement of cultures' — is a publisher, community hub, and bookstore of critical and alternative perspectives and hidden histories of Southeast Asia and the wider world.
Onde Onde is part of Gerakbudaya's Annual Sale and Merdeka Festival 2018. 10% to 100% off on ALL books!
FEATURED ACTS:
ADIL JOHAN is a research fellow at the Institute of Ethnic Studies (KITA), The National University of Malaysia (UKM). His educational and professional background in jazz performance, music education, and cultural anthropology led him to pursue a doctoral thesis in ethnomusicology, awarded by King's College London. He currently has a book published with NUS Press titled 'Cosmopolitan Intimacies: Malay Film Music of the Independence Era', which examines postcolonial nation-making, cultural intimacy, and the cosmopolitan music of Malay-language films in 1950s and 1960s Singapore and Malaysia. His current research interests include cultural nationalism, the cultural politics and cultural consumption of popular music, music and technology in film and media, the politics of ethnicity, and historiographies of postcolonial nation-making. As a musician, he currently plays the saxophone and sings for his own jazz-funk group AJQ, the folk-rock collective Azmyl Yunor & Orkes Padu, and the Malaysian-cultural-fusion band Nadir.
CHLOE LING writes to help her navigate through the messy, chaotic terrain that is life. She hopes you find a bit of home, in the pages of her stories. [Photo by @jee photography]
JASMINE is a baby Spoken Word Poet who writes to help herself grow and for others to know that they're not alone in their struggles. She writes about everything and anything dear to her soul.
MELISSA TOH is vocalist for the KL-based indie pop band Battle Bloom.
VESHALINI NAIDU is an illustrator, spoken word poet, thespian, and co-founder of Coal Island Theatre in Port Dickson. Notable performances include the Actors Studio Seni Rakyat's "Still Taming & S'kolah" (2016), "LIFE SDN BHD: People" (2017), theatrethreesixty's first spoken word immersive theatre show "Malaysia Throws Herself A Birthday Party" (2017), Theatresauce's "4.48 PSYCHOSIS" (2017), and "The Bee" (2018), a writer for the critically acclaimed production of "IndicineliVe" (2018), and has represented Malaysia with "Still Taming" at the Asian Youth Theatre Festival in Singapore (2017) and St. Petersburg, Russia (2017). She is also co-producer and curator of KLPAC's Malam Sayu Berpuisi, a spoken word theatre styled open mic and was also a featured poet at "Poetically Correct" in conjunction with KLAB and the Cooler Lumpur Festival, Projek Dialog's Pesta Puisi Kota, and The Georgetown Literary Festival closing ceremony in 2017. She is currently making her directorial debut with "SKIN & FLOWERS:InTend(er)" at the Yayasan Sime Darby Arts Festival 2018, a devised piece that tackles gender and sexuality in Malaysia, inspired by her ongoing watercolour series, Skin & Flowers; a visual interrogation of our ideals of womanhood, race, sexuality, masculinity, and softness. [Photo by Ali Motamedi @motamedida]
Hosted by TASHA LIM, aspiring poet @penciledwords and author of the zine '21'.