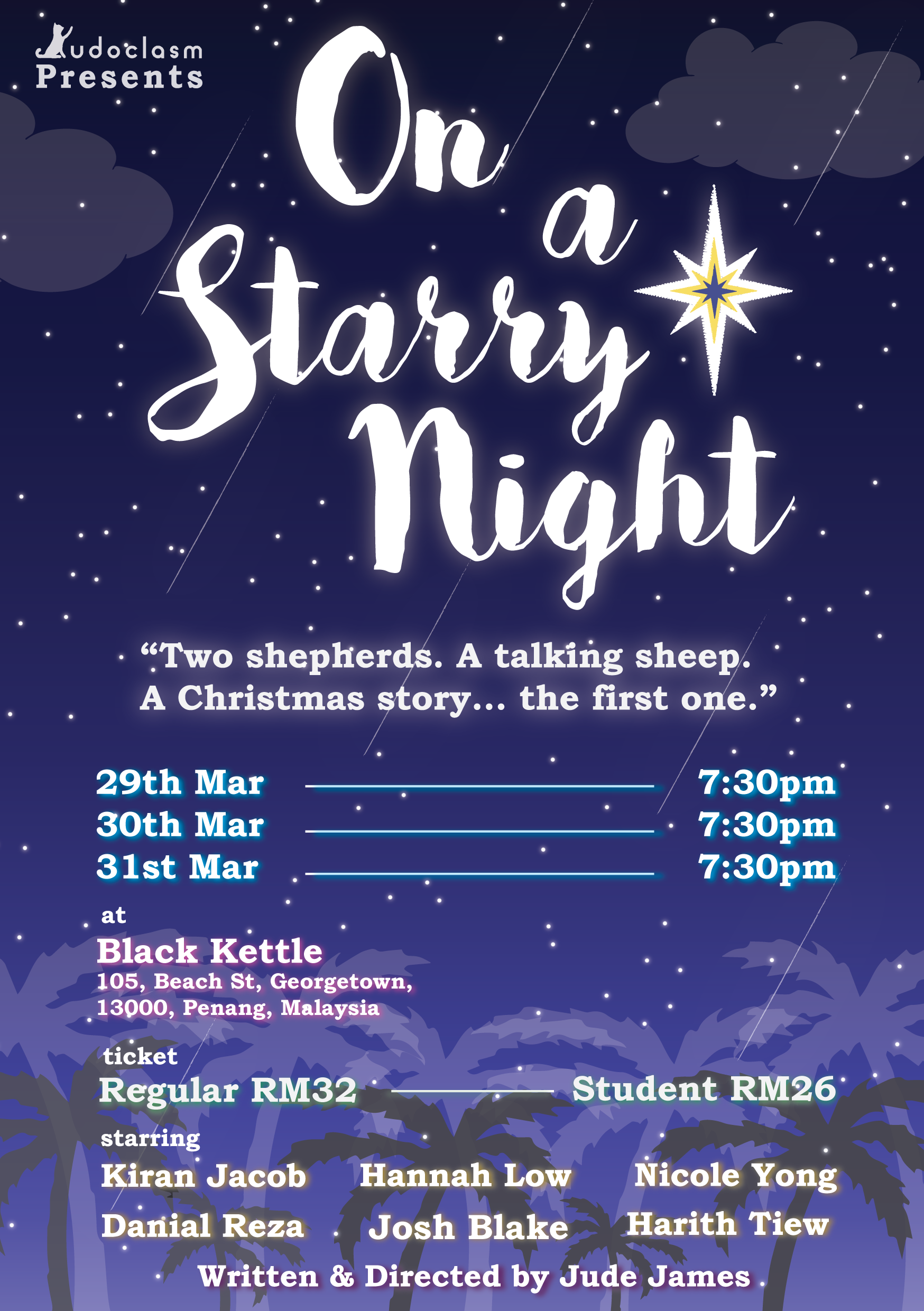 Kudos Production presents On a Starry Night for the first time in Penang in collaboration with Black Kettle Penang!
About On A Starry Night
On A Starry Night is a tale of two shepherds on an unlikely adventure in 0 A.D. Thomas and Luke are two shepherds who find themselves in an unlikely adventure when Angie, the angel appears to them to deliver a message of good news, when she realizes she has appeared to the wrong shepherds. Adventure, danger and laughs, On A Starry Night is a Christmas story for all ages. On A Starry Night is Kudoclasm's homecoming to the Malaysian theatre scene and promises to deliver laughs, adventure and a tinge of dangerous mystery for the entire family. You could call it a Christmas show but in truth, it is a Christmas you can see any time of the year as it aspires to bring hope at all times.
About Kudoclasm
Kudoclasm was founded in 2016 by its founding partners Jude James, Kiran Jacob and Hannah Low. The three storytellers founded the production company with the hopes of sharing their vision of what stories mean to them whether it be in the genres of fantasy adventure, reinterpretations of classical literature, horror, mystery and the occasional comedy. Kudoclasm believes in the heart of the story and that every story has the power to make a difference. Kudoclasm met in 2015 while working for at the Short and Sweet festival hosted by KLPAC (Kuala Lumpur Performing Arts Centre). The three of them soon found friendship and companionship in the common belief in how they view stories and their unified passion led to the formation of Kudoclasm.
Address:
105, Beach St, Georgetown, 10300 George Town, Penang
Tickets:
Regular seats RM32
Student/OKU RM26
For more information, please contact:
Nicole Yong 0165982699
Harith Tiew 0164419601
Follow us on:
Instagram @thekudoclasm
Facebook @ www.facebook.com/kudoclasm