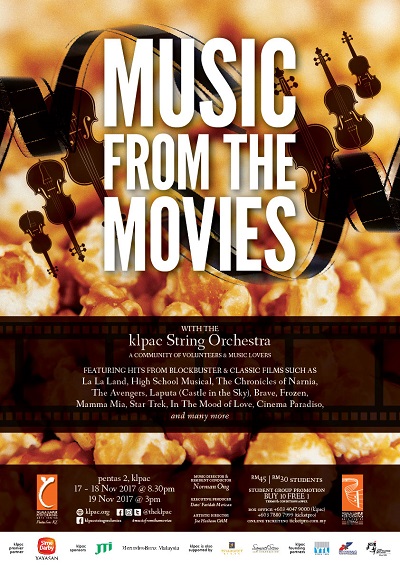 Date & Time: 
17th & 18th Nov 2017 @ 8.30pm
19th Nov 2017 @ 3pm
Venue: Pentas 2, KLPAC
Tickets:
Regular: RM45
Concession (Student): RM30
All inclusive of RM3 ticket handling fee and 6% GST. All categories available via online purchase.
Ticket Promotion:
Group Student Booking: Buy 10 free 1 (For Concession tickets only)
*Only available via walk-in or call klpac Box Office.
The KLPAC String Orchestra, formerly known as KLPAC String Ensemble, has grown into a bigger group with more than 40-regular members under the baton of Norman Ong since 2015. From the sold-out concerts such as Double Joy in 2015 to Mad For Mozart and Just Dance in 2016, to the recent Double Joy 2.0 in June 2017, the KLPAC String Orchestra hopes to continue serving as a platform for young string instrumentalists to play music and enjoy the music-making journey.
In November, the KLPAC String Orchestra will be performing music which were scored for the big screens. They will be playing some of the recent blockbuster hits like La La Land, High School Musical, Narnia, The Avengers, popular animated films such as Laputa (Castle in the Sky), Brave, Frozen as well as classics such as Mamma Mia, Star Trek, In The Mood of Love and Cinema Paradiso. All these sweeping melodies will have your toes tapping and feet swinging!
Program includes:
Alice in Wonderland
Cinema Paradiso
High School Musical
Theme from Laputa: Castle In The Sky
Let It Go from Frozen
Music from Brave
Music from La La Land
Music from The Avengers
Selections from Mamma Mia
The Chronicles of Narnia – The Lion, The Witch And The Wardrobe
Theme from Game of Thrones
Theme from In The Mood Of Love 《花樣的年華》
Theme from Star Trek
Presented by: The Kuala Lumpur Performing Arts Centre (KLPAC)
Music Director and Resident Conductor: Norman Ong