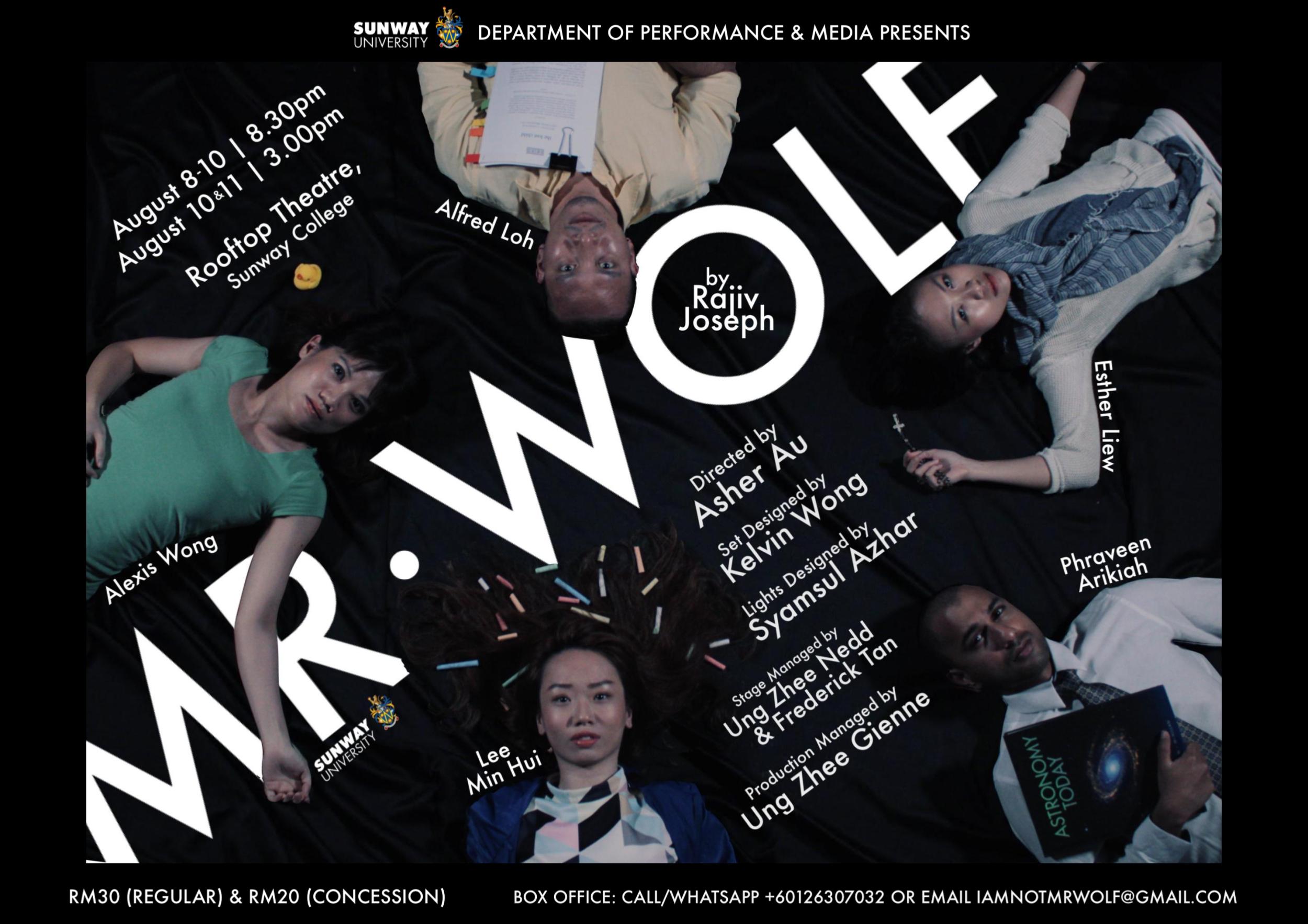 After a year-long hiatus from the creative side of theatre, emerging director Asher Au returns to the local scene with a mission — to put up his first full-length production shortly before leaving to the UK for his theatre degree. Written by the award-winning American playwright Rajiv Joseph, Mr. Wolf makes its Malaysia premiere with an intimate and immersive take at Sunway College's Rooftop Theatre.
Mr. Wolf follows the journey of Theresa, a precocious, antic child with a firm grasp on concepts of the multiverse, duel existence and time as a construct. One day, she jumps at the late return of her mentor, Mr. Wolf, who then warns her that "the world is coming", and they will be separated. But she remains confident they will be reunited in a parallel universe. As the world reveals itself, Theresa embarks on a trip of discovery, whether physics will remain as her coping mechanism for a world full of cruel conundrums.
This timeless play expands the inner spirals— both the beautiful and the ugly — of young stockholm syndrome victims, while highlighting their families' heartbreaking attempts to reconnect, head, and rebuild their world. How does one convince their child, who bears no memory of them, that their genuine love for someone who has 'parented' them for a lifetime, is a mistake?
Mr. Wolf premiered with South Coast Repertory, California in 2015. Featuring notable local thespians Phraveen Arikiah, Lee Min Hui, Esther Liew, Alfred Loh and Alexis Wong. Set design by recurring BCAA nominee Kelvin Wong. Also in the team are Sun-U's performing arts diploma alumni Syamsul Azhar (Lighting Designer), Ung Zhee Nedd and Frederick Tan (Co-Stage Managers), Ung Zhee Gienne (Production Manager) and Asher Au (Director). Mr. Wolf is presented with support from Sunway University's Department of Performance and Media.
#iamnotmrwolf
Mr. Wolf runs August 8 – 11, 2019 at Rooftop Theatre, Sunway College. Performances run 8.30pm Thursday to Saturday and 3.00pm matinees Saturday and Sunday. Each performance runs for about 120
minutes with a 15-minute interval. Regular tickets at RM30, concessions RM20. Student bookings with free theatre workshops available.