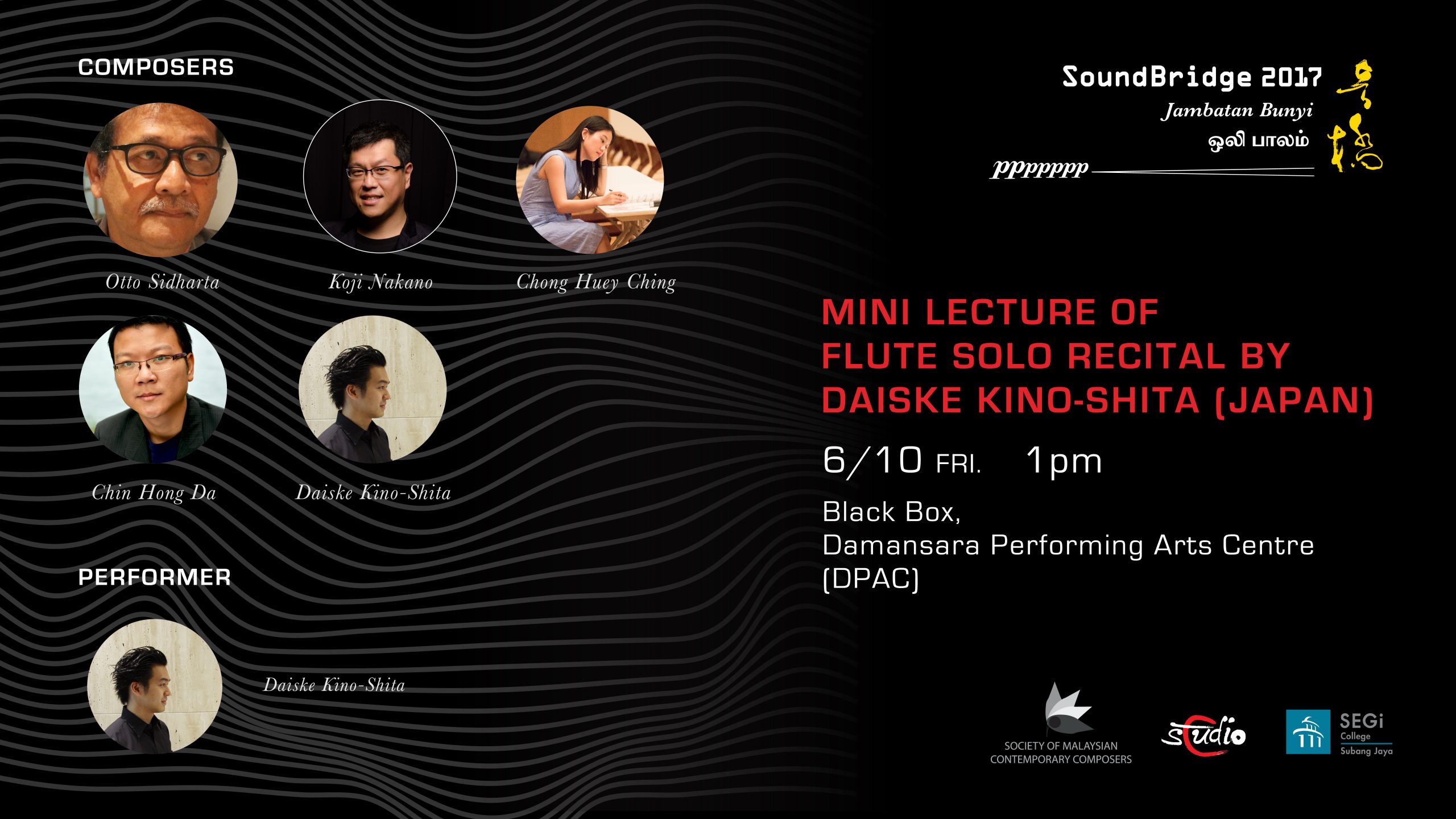 Mini Lecture of Flute Solo Recital by Daiske Kino-Shita (Japan)
All the works will be presented in its entirety, and will be accompanied by Daiske Kino-Shita's explanations of works and the various playing techniques that are involved in performing the works.
小型音乐讲座:木埜下大祐(Daiske Kino-Shita)长笛独奏音乐会
木埜下大祐将演奏5部长笛独奏作品,从中讲解分析作品的特点与风格,充分挖掘作品所蕴涵的音乐美。
Date: 6th October 2017
Time: 1:00pm-2:00pm
Venue: Black Box, DPAC
Enquiry: +6017-382 8637
Free admission with registration.
Online registration form: https://goo.gl/forms/huv23yHlVXzH15ce2
Featuring works by:
1. Malaysia Premiere of "After the Gentle Wind…" (2011/rev. 2014) by Prof. Koji Nakano (Japan)
2. Malaysia Premiere of "Switch" (2015/rev. 2016) by Chong Huey Ching (Malaysia)
3. "Conversations between wind and water" (2011) by Chin Hong Da (Malaysia)
4. World Premiere of "Gila" for flute solo (2017) by Otto Sidharta (Indonesia)
5. World Premiere of "Farbe I" (2017) by Daiske Kino-Shita (Japan)
ABOUT DAISKE KINO-SHITA
Daiske Kino-Shita was born in 1977 in Kanazawa, Japan. He pursued his music studies at Hamburger Konservatorium, and Hochschule für Musik und Künste, Bremen. Daiske Kinoshita received numerous prizes and scholarships, including the Asahi Contemporary Music Competition (jury special prize), the Ishikawa Prefecture Dispatched Overseas Program, and residency scholarship by Tokyo Wonder Site. Kinoshita was the principal flutist of Guiyang Symphony Orchestra, and after that, he is active internationally as a soloist and also a chamber musician. He has performed at many international music festivals, including the Donaueschingen Festival (Germany) and East Asian International Contemporary Music Festival (Thailand). In addition, Kinoshita is also active as a composer. His first opera, "Tokyo Faust" (2013), was well received. Kinoshita is the chairman of Asian Contemporary Music Society (ADOK), music director of Kanazawa Citizen's Art Center, and Associate Professor of Tokyo Seitoku College.
Presented by Society of Malaysian Contemporary Composers (SMCC)
Co-organized by Studio C & SEGi University & Colleges
Executive Produced by Checkmate Creative
Supported by Goethe-Institut
UiTM
DPAC
Graceful Piano
The Guitar Store
Composer Society of Singapore
Fele and Cat Handcrafted
Skate Strange Studio
99 Speedmart
Printing Supported by Modernsign & DBOX Innovation
#SoundBridge #SoundBridge2017 #ContemporaryMusicFestival #SMCC #SocietyofMalaysianContemporaryComposers #StudioC #SEGi #CheckmateCreative #GoetheInstitut #UITM #DPAC #GracefulPiano #THeGuitarStore #ComposerSocietyofSingapore #FeleandCat #SkateStrangeStudio #Modernsign #DBOXInnovation #99Speedmart