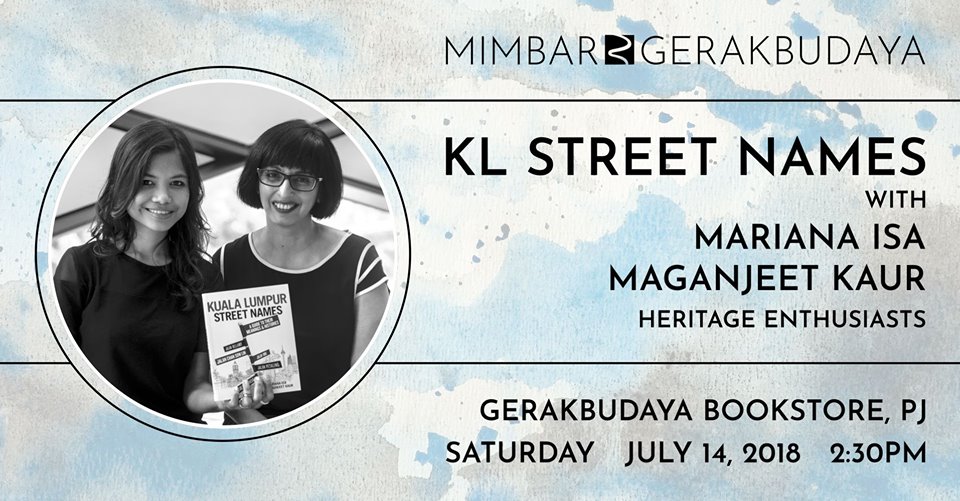 The street names of KL reflect its rich mix of cultures and its growth from a small tin mining settlement to the pulsating capital it is today. Discover the stories behind the names and how they shape the collective identities of KL people.
Founders of Heritage Output Lab, MARIANA ISA and MAGANJEET KAUR are independent researchers of Malaysian and Southeast Asian history. As heritage enthusiasts, they are actively involved in organising activities and projects to promote local history and heritage in Kuala Lumpur. Through Heritage Output Lab, they provide research-based services to organisations and individuals requiring further background for print, audio and film projects. Research on Kuala Lumpur's street names is a personal interest that has been ongoing for the past three years. Mariana received her Bachelor's degree in Architecture from Universiti Teknologi Malaysia and an MSc. in Conservation of Historic Buildings from University of Bath. Maganjeet holds a Bachelor of Applied Science degree from Universiti Sains Malaysia and graduated with an MSc. in Information Technology (Royal Melbourne Institute of Technology).
Mariana and Maganjeet authored Kuala Lumpur Street Names (Marshall Cavendish, 2015) and The Towns of Malaya: An Illustrated Urban History of the Peninsula Up to 1957 (with Dr. Neil Khor, EDM, 2017).
—–
Mimbar is Malay for platform. MIMBAR GERAKBUDAYA is an informal platform for scholars, writers, artists, activists, and more to share their passion.
Entry and coffee/tea are by donation. For more information, please contact 03-79541355 or [email protected]
—–
GERAKBUDAYA — 'movement of cultures' — is a publisher, community hub, and bookstore of critical and alternative perspectives and hidden histories of Southeast Asia and the wider world.