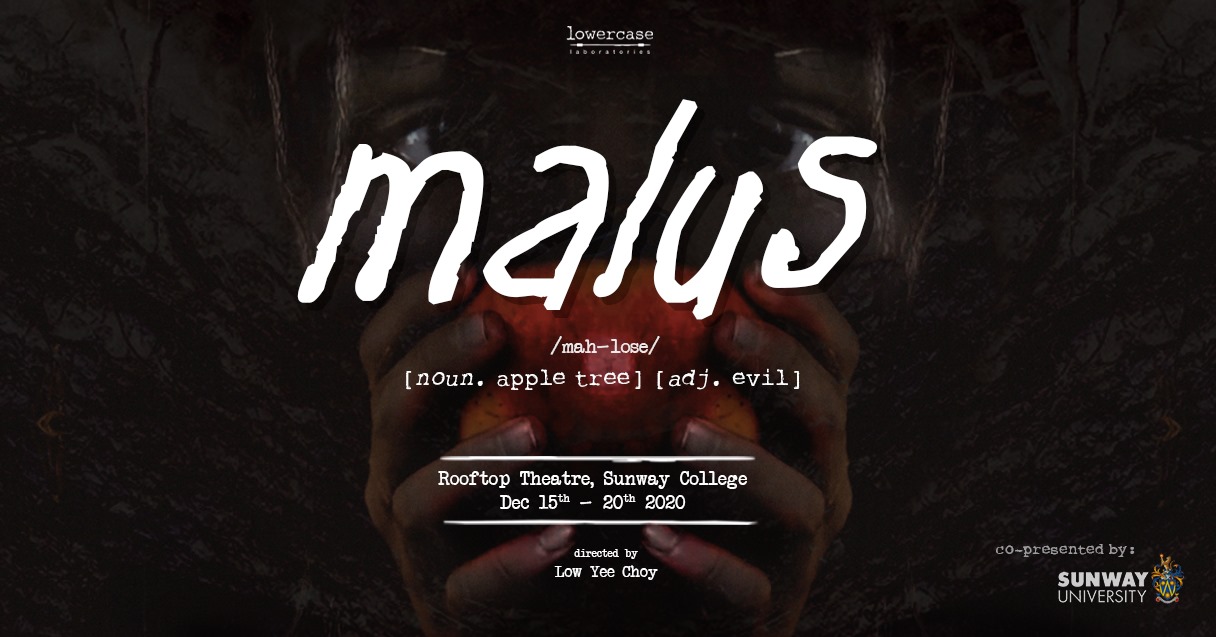 TICKET SALES BEGIN ON NOVEMBER 1, 2020!
malus (mah-lose) is a gritty and foreboding re-imagination and reinterpretation of the Adam and Eve story, moments before the fall of humanity. malus asks a gripping question: what if the forbidden apple eaten by Eve shows Adam glimpses of their future – the state of the world that we are living in right now? Would Adam still eat the apple and follow Eve? Or would he choose to follow the Creator? Could Adam and Eve even escape the Serpent's temptation?
malus, which means evil (adjective) and apple tree (noun) in Latin, is a devised, physical movement piece that relooks into this all too familiar ancient tale.
Featuring Jad Hidhir and Tiara Anchant. Scenic Design by Bryan Chang, Choreography by Riena Aisya, Lighting Design by Syamsul Azhar. Stage Managed by Wong Hansern and Koo Shao Hang. Publicity Design by Jazzie Lee, Production Managed by Coco Lee.
Directed by Low Yee Choy.
#malustheatre is co-presented by the Department of Film and Performing Arts, School of Arts, Sunway University.
WHEN
Tuesday, Dec 15* – Sunday, Dec 20, 8.30 pm
Saturday, Dec 19 – Sunday, Dec 20, 3.00 pm
* Paid preview
TICKETS
RM 35 (Regular)
RM 15 (Preview on Dec 15)
STRICTLY FOR MATURE AUDIENCES
While malus is a creative reinterpretation of the Adam and Eve story, this new work does not, in any way, dispute the canonical account of any of the Abrahamic religions.
COVID-19 RELATED SOPS
Sunway University has comprehensive measures in place including compulsory mask-wearing, health screening, physical distancing measures, sanitisation & disinfection and contactless experience via e-ticketing.
The new MKN guide dated 15 July states that those aged 12 and below and above 60 are not encouraged to attend whereas the earlier guide stated 'not allowed'.
In this unprecedented time for the cultural sector, and as a production that receives no subsidy, we need donations to help the team to continue to thrive in the future. If you are able, please donate what you can to help us continue to share our stories. If you would like to support us, you can donate here. We appreciate any voluntary donations at this time. Your support is critical for our future.
http://bit.ly/malusticket