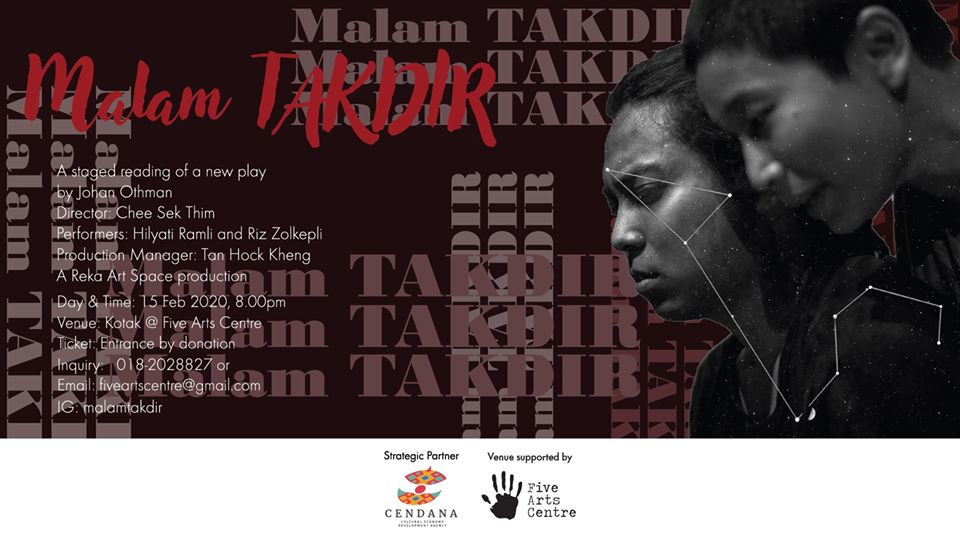 Malam Takdir
– a staged reading of a new play by Johan Othman
Directed by Chee Sek Thim
Featuring Hilyati Ramli & Riz Zolkepli
Synopsis:
Inspired by an episode from the Mahabharata, Malam Takdir imagines a conversation between king Dhritarashtra who was born blind, and his advisor Sanjaya, who is gifted with foresight. This conversation takes place just before the epic Kurukshetra War where the Kaurava brothers – all 100 of them – are killed by their cousins, the 5 Pandava brothers.
The advisor wants the King to stop the war as he sees no other way out of its tragic conclusion. But the King believes nothing can change the cards that have been dealt and chooses to not take any action.
Background:
Johan Othman is a composer and musician whose oeuvre includes the opera "The Conference of the Birds", "The Dancing Mouse" for soprano, clarinet, cello and piano, orchestral works "Topeng 1 & 2", & 3 Bagatelles for solo piano. His current project is to develop a play that includes a libretto for an opera which is scheduled for performance in November 2020.
Johan Othman started work on Malam Takdir in December 2018 and it was performed as a work-in-progress a year later in Penang. This staged reading in KL will start with a short introduction to the developmental process by Johan, and will end with a Q&A.
Malam Takdir is Reka Art Space production and supported by a grant from CENDANA, venue sponsored by Five Arts Centre.
Free of Charge!
Inquiry: 018-2028827 or Email: [email protected]
IG: malamtakdir