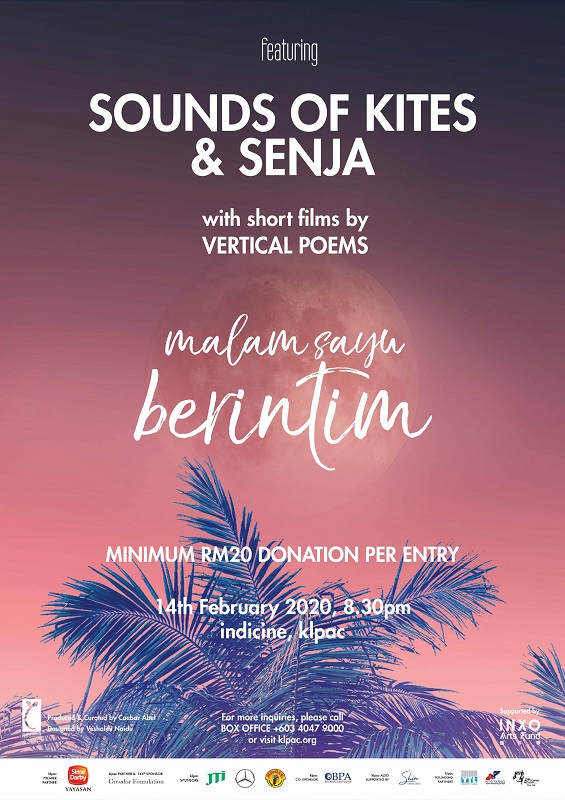 Dim lights, scented candles, sights of nature, and a close up with your favourite artistes, this series is a live-to-video performance aimed at you who wants a more intimate setting for your dose of local music or to satiate your curiosity of local music without the usual chaos. Featuring Sounds of Kites and Senja with short films by Vertical Poems.
SHOW DETAILS
Presented by The Kuala Lumpur Performing Arts Centre (klpac)
Supported by INXO Arts Fund
Tickets: Entry by Minimum RM20 Donation
THE TEAM
Executive Producer | Dato' Dr. Faridah Merican
Artistic Director | Joe Hasham OAM
Producer | Rezza Coebar
Co-Producer | Jad Hidhir
Co-Producer | Veshalini Naidu
SOUNDS OF KITES
Wan Umar Shahid Wan Ibrahim is a Malaysian singer-songwriter, musician and composer, who performs under the stage name of Sounds Of Kites. An avid listener of folk music, experimental and post-rock, Sounds Of Kites is his amalgamation of sound ideas blending together in an effort to create the images he pictures. With soldiers of guitars behind him on stage, coupled with a baritone vocal, the songs he plays paint the audience pictures ranging from the galloping sounds of taking a ride on a steam-engined locomotive, to the soundscape that is justifiable only by drifting in a vast black sea.
SENJA
Senja is a three-piece all-girl band that plays experimental pop music- "Mataharindie", for the lack of a better term. We're influenced by a myriad of genres of music that inspires our compositions, as all three members have different personal tastes and ranges. Senja has played shows at Urbanscapes, Levi's Music Week and others just to name a few!