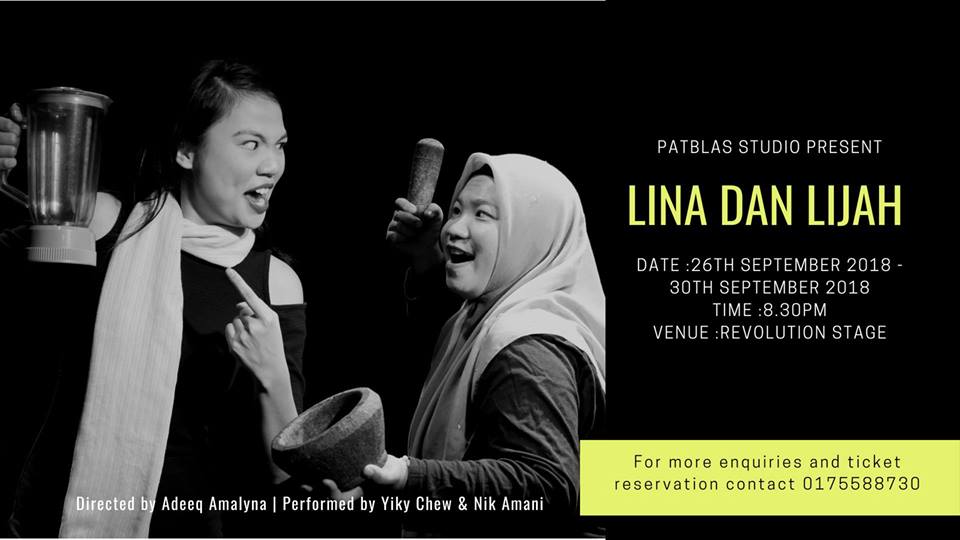 Lina dan Lijah – Rumah menjadi medan perang bagi seorang wanita Melayu dan menantu perempuan Cinanya melalui perbezaan agama, budaya dan generasi mereka.
Segala perbezaan membawa kepada satu persamaan antara keduanya. Apakah rahsia yang disimpan dan mengapa mereka berkelakuan begitu?
Apakah benar tiada kasih dan sayang antara mereka?
A home becomes a battlefield a Malay woman and her Chinese daughter- in-law work through their differences in religion, culture and generation.
All differences lead to one similarity between them.
What secrets are kept and why are they behaving like that?
Is there really no love and affection between them?
Lina dan Lijah
Presented by/Dipersembahkan oleh Patblas Studio
Written by/Karya oleh Namron with/dengan Marlenny Deen Erwan (Lenny Erwan) & Jerrica Lai (First premiered in Kuala Lumpur in year 2000)
Directed by/Arahan oleh Adeeq Amalyna
Featuring/Lakonan: Yiky Chew & Nik Amani
Ticket/ tiket RM 25.00 (umum/general) & RM 15.00 (pelajar/student)
Performance start from 26th September and runs until 30th September at Revolution Stage, Petaling Jaya AT 8.30PM.
For more enquiries and tickets reservation contact +6 017 558 8730 (Wanny).
Event Dates
Venue
Website