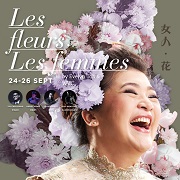 Presented by: DPAC
Strategic Partner: Cultural Economy Development Agency (CENDANA)
Supported by: Graceful Piano
It is said that a woman is like a flower: beautiful, strong. Though its petals will eventually wither, its sweet fragrance is never forgotten.
There are hundreds of types of flowers, such as the noble peony, the soft jasmine, the delicate rose, the arrogant plum blossoms, each of them with their own meaning and significance.
This is the first jazz/aria collaboration between Evelyn Toh and Malaysian jazz pianist Tay Cher Siang. A beautiful soprano who has had her fair share of performing many roles, Evelyn now takes on the role of being a mother. She recognizes that in life, the parts women play are ever-changing, and with that comes the ability to take on new identities. [la fleur de femme] is her tribute to life and to all women.
The concert [la fleur de femme] archives the many facades of womanhood and a woman's love. Each song, like a flower carefully plucked by Evelyn, allegorizes the differences of femininity, from a woman's fiery passion to a mother's gentle affections.
Vocal: Evelyn Toh | Pianist & Composer: Tay Cher Siang | Saxophonist: Yow Weng Wai | Bassist: Aj Popshuvit | Drummer/Percussionist: Adriel Wong
Date/Time:
24th September 2020 (Thu), 8.00 PM (LIVE BROADCAST)
25th September 2020 (Fri), 8.00 PM (STAGE PERFORMANCE)
26th September 2020 (Sat), 8.00 PM (LIVE STREAM)