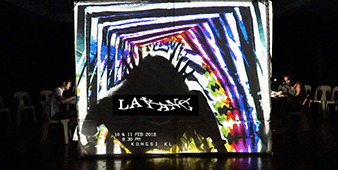 Main Wayang is pleased to present Layang, its latest multimedia theatre performance that thematically explores the nature of migration, displacement, and isolation; both in its physical act and consequent psychological and spiritual implications, through a single performer-driven narrative. It acts as an attempt to communicate stories and contemporary issues affecting the human condition via a language familiar to the artists involved – tools of technology, movement and motion of the human body – to audiences, staged within the sparse yet spirited confines of a warehouse doubling as an up-and-coming arts venue in Kuala Lumpur.
The performance is minimal in design and structure, yet also incorporates various theatrical elements such as physical theatre, shadow theatre, visual effects, virtual reality, and electronic soundscapes. By incorporating these diverse set of mediums across the traditional-contemporary divide, a fluid, dynamic performance that explores and engages with both media and movement takes shape.
——————–
ABOUT MAIN WAYANG
Main Wayang is a performing arts collective focused on exploring new ways of storytelling using multidisciplinary theatrical elements; seeking alternative ways to create a full theatre experience that employs minimal elements and a minimal production. Together, they have staged performances at the 2014 Yayasan Sime Darby Arts Festival, KLPAC and recently in 2017 at Pandora Experimental Box, Kwang Tung Dance Company.
When not performing, the collective acts as facilitators for a multimedia theatre workshop project they founded in 2015, called Sekolah Main Wayang, geared towards training underprivileged youths in conceptualizing and producing their own theatre performances.
MAIN WAYANG consists of three principal members:
Fairuz Sulaiman
He combines digital and analogue formats in his multidisciplinary practice, producing music videos for local bands, live video projections, animation for short films, designing visuals for stage using stop-motion, puppetry, hand-made masks, 3D animation and live video mixing. He conducted a research project on the usage of media in the performing arts in Japan, as a recipient of The Japan Foundation Asia Center Fellowship program.
Sudarshan Chandra Kumar
He is a musician who has contributed vocals and live electronics to bands such as HKPT, T!T!T!, and Takdir. His live setup is comprised of loopers, synths and effects pedals which are used to create improvised soundscapes. A staple at local electronic and experimental music venue mainstays, he is also a committee member of the Kuala Lumpur Experimental Film, Video and Music Festival (KLEX) in his capacity as Technical Director.
Ayam Fared
He is a founding member of notable Malaysian theatre collective, Rumah Anak Teater, and is a prolific writer, director, artistic director and performer. As the director of the play Short Eyes (2011), he was awarded the Best Director award at the 2012 BOH Cameronian Arts Awards.
———————
Main Wayang believes strongly in making our performances accessible to the public. In keeping with that belief, the performance will not be ticketed and entrance will be free to create greater accessibility for a diverse set of audiences.
Help us cover production costs by contributing to our crowdfunding campaign!https://www.mystartr.com/projects/layangbymainwayang
———————-
Seed funding for the project has been graciously provided by the INXO Arts Fund in 2017.