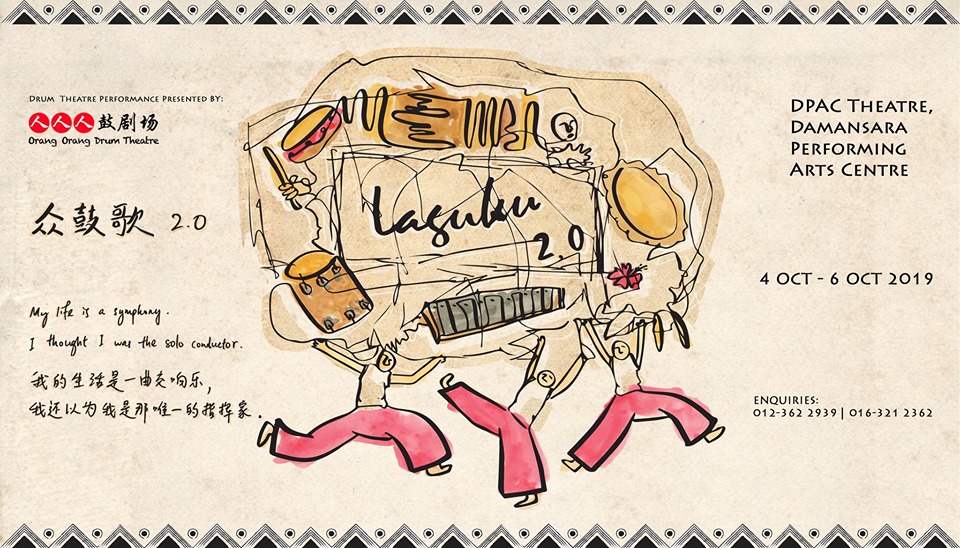 "我的生活是一曲交响乐,我还以为我是那唯一的指挥家。"
人。车。楼。
很多的人。很塞的車。很高的楼。
光。暗。
失焦的光。专注的暗。
城市,喧囂,是一场永不停歇的巨型演奏會,人人都是指挥家,交互奏起自己的命运交响曲。有些人照着乐谱老实指挥,有些人迷失在音符里,有些人找不着谱,有些人完全不靠谱。
你的命运交响曲,你是那唯一的指挥家嗎?
《众鼓歌2.0》是人人人鼓剧场的第五号公演作品,持续以敲击乐為主调,結合多种表演元素,把生活观察与态度转化为视听飨宴。距前作《众鼓歌》已有四年,主创者依然紧抓那些在繁華城市里潜隐的孤独不放,要在它們身上敲打出個所以然,就算過於喧囂。
这一次,人人人蓄积了更多的创作与表演能量,要把城市草根的生活图景,纳进交响乐的结构里,奏出偶尔拍子稳健,偶尔荒腔走板,很这个城市的《众鼓歌 2.0》
"My life is a symphony. I thought I was the solo conductor."
People. Cars. Buildings.
Crowded. Congested. Crammed.
Light. Darkness.
Unfocused light. Focused darkness.
City, chaos, an unending grand symphony. Everyone is a conductor, directing his own melodic destiny. Some follow exactly the music score, some are lost in the notes. Some can't find the score, some don't even care about the score. Are you the only conductor in your symphony of destiny?
'Laguku 2.0' is Orang Orang Drum Theatre's 5th production. Maintaining percussion as the main ingredient and incorporating different elements, this piece turns the observations and attitudes in life into a feast for the ears and eyes. It has been four years since the last 'Laguku', and this new piece continues to capture the hidden loneliness in the chaos of the prosperous city, releasing it in a cacophony of rawness.
Armed with more creativity and energy, Orang Orang blends the everyday life of the grassroots of the society into the framework of the symphony, sometimes keeping in step, sometime completely throwing all structure out of the window, as is the life in this city.