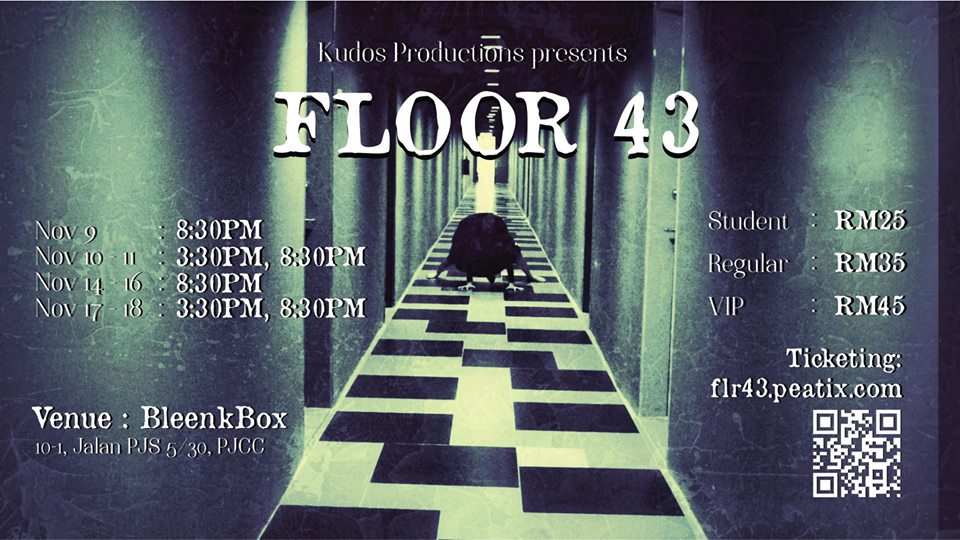 Floor 43 – On the 43rd floor, two men awaken to a nightmare. John (Josh Blake) and Harun (Nabil Musawir) are being held captive by an ancient demon.
Both men must find a way to unite, before their souls are lost to them forever.
The demon awaits. She is cruel. She, is angry. She, is hungry.
Kudos Productions presents FLOOR 43, an original psychological thriller horror adventure by the team that brought you "On a Starry Night" and "After Earl: Before the Fall".
Featuring Josh Blake, Nabil Musawir, Jazz Yap and Aaron Lee; written and directed by Jude James.
Details:
Venue: BleenkBox
10-1, Jalan PJS 5/30, Pusat Dagangan Petaling Jaya Selatan (PJCC)
Dates:
Nov 9 : 8:30PM
Nov 10 – 11 : 3:30PM, 8:30PM
Nov 14 – 16 : 8:30PM
Nov 17 – 18 : 3:30PM, 8:30PM
Tickets:
VIP Seats – RM45
Regular Seats – RM35
Student Seats – RM25
For more information and bookings, please contact:
Nicole Yong – 0165982699
About Kudos Productions:
Kudos Productions is a collective of storytellers with the united belief that stories can make a difference. The prime core of Kudos Productions is headed by Nicole Yong (Producer, Actor), Josh Blake (Actor, Acting Coach, Creative Director) and Jude James (Writer, Director, Artistic Director). Kudos believes in delivering 3 tenants within their stories:
1) ENTERTAIN through the stories and current thoughts of humanity.
2) HIGHLIGHT the awareness of pop culture, social structure, beliefs, fears and joys of the modern world.
3) REMIND everyone that we are flawed beings with ambitions and desire, but also have hope.
Follow us!
Instagram @kudosproductionsmy
Facebook @www.facebook.com/kudosproductionsmy/
Event Dates
Venue
Website
Tickets Link