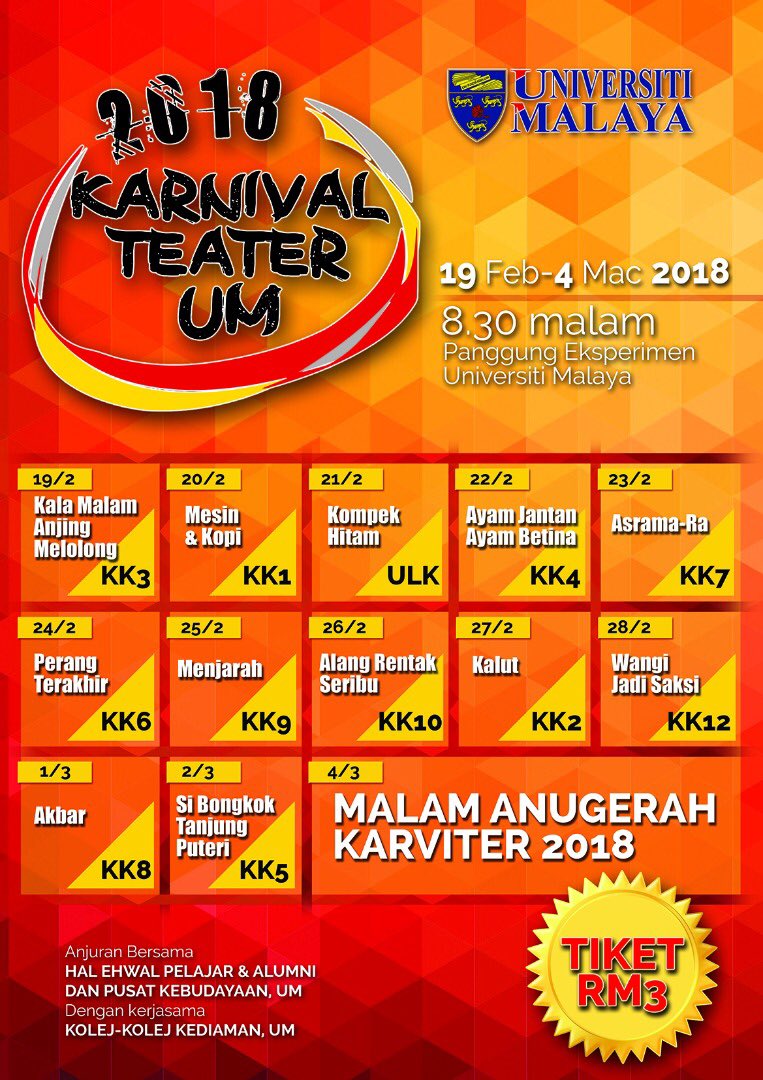 Karnival Teater Universiti Malaya (KARVITER) merupakan acara tahunan anjuran bersama Bahagian Hal Ehwal Pelajar Universiti Malaya (HEPA UM) dan Pusat Kebudayaan UM dengan kerjasama kolej-kolej kediaman UM.
KARVITER merupakan pertandingan teater antara kolej-kolej kediaman dan juga Unit Luar Kampus.
Untuk KARVITER 2018 yang akan berlangsung bermula 19 Februari 2018 hingga 4 Mac 2018, 12 pasukan terdiri daripada 11 kolej kediaman dan Unit Luar Kampus akan mempertandingkan 12 teater bagi merebut gelaran juara.
Bertempat di Panggung Eksperimen UM, setiap persembahan bermula pada pukul 8.30 malam.
Kaunter tiket dibuka pada 7.00 malam (walk-in).
Teater-teater yang dipertandingkan adalah seperti berikut:
19 Feb 2018: Kala Malam Bulan Mengambang
20 Feb 2018: Mesin & Kopi
21 Feb 2018: Kompek Hitam
22 Feb 2018: Ayam Jantan Ayam Betina
23 Feb 2018: Asrama-Ra
24 Feb 2018: Perang Terakhir
25 Feb 2018: Menjarah
26 Feb 2018: Alang Rentak Seribu
27 Feb 2018: Kalut
28 Feb 2018: Wangi Jadi Saksi
1 Mac 2018: Akbar
2 Mac 2018: Si Bongkok Tanjung Puteri
4 Mac 2018: Malam Anugerah KARVITER 2018
****
Karnival Teater Universiti Malaya (KARVITER) is an annually held event co-organized by UM Student Affairs Division and UM Cultural Centre with participation of UM residential colleges and Off-Campus Students Unit.
KARVITER is a theatre an inter-residential college (including Off-Campus Students Unit) theatre competition.
For KARVITER 2018 which runs from 19 February 2018 until 4 March 2018, 12 teams made up of 11 residential colleges and Off-Campus Students Unit will put forth 12 theatre shows to have a chance be crowned as champion.
Held at UM Experimental Theatre, each show starts at 8.30 pm.
Ticket counter will be open at 7.00 pm (walk-in).
The shows are as follows:
19 Feb 2018: Kala Malam Bulan Mengambang
20 Feb 2018: Mesin & Kopi
21 Feb 2018: Kompek Hitam
22 Feb 2018: Ayam Jantan Ayam Betina
23 Feb 2018: Asrama-Ra
24 Feb 2018: Perang Terakhir
25 Feb 2018: Menjarah
26 Feb 2018: Alang Rentak Seribu
27 Feb 2018: Kalut
28 Feb 2018: Wangi Jadi Saksi
1 Mar 2018: Akbar
2 Mar 2018: Si Bongkok Tanjung Puteri
4 Mar 2018: Malam Anugerah KARVITER 2018