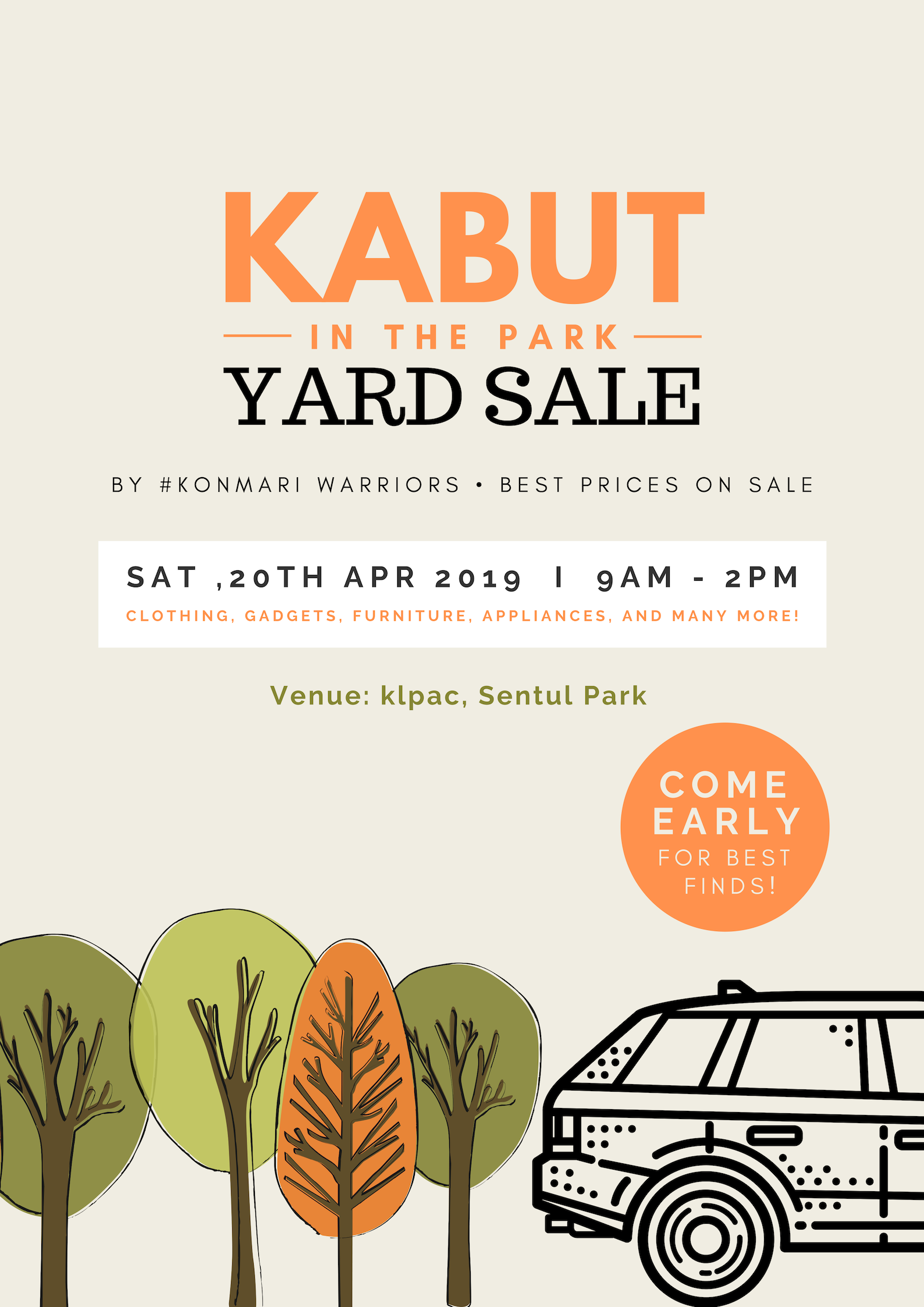 Kabut in the Park
Yard Sale by KonMari Warriors
Kabut in the Park is a platform for #Konmari warriors to connect with bargain seekers. The first edition of this yard sale will take place on 20 April from 9am to 2pm at The Kuala Lumpur Performing Arts Centre (klpac).
The idea is for sellers to get rid of good condition items that no longer spark joy or need, buyers to get a real bargain – and for everybody to be happy; all whilst reducing the waste of these "items" from piling up the landfills. So, even Mother Earth will be happy!
Founded by Evangeline Lim – an advocate for sustainable living, Kabut in the Park is a non-profit initiative in collaboration with klpac. It aims to make this a less-hassle experience for the sellers hence the concept of selling from car boots. Buyers on the other hand can look forward to some new items, some preloved but good functioning stuff, or some vintage finds. As the saying goes "one man's trash is another's treasure", let's not forget too that some "old is gold".
To enrich the experience for buyers and sellers, the Car Boot Yard Sale Events would be hosted at the carpark of The Kuala Lumpur Performing Arts Centre (klpac) – a 117 year old cultural icon within a park, with a lake view. Old is gold, indeed! Sellers are charged a minimal token that goes directly to klpac, a non-profit arts organisation. The Organiser does not take a single cent.
Sellers and Buyers are encouraged to enjoy the lush greenery around the yard sale. Feel free to bring a mat, some snacks and your kids. Meet and mingle with like-minded people. Vendor registration for the first edition has closed but if you are interested to participate in future Kabuts, please e-mail [email protected]
Kabut in the Park hopes that this initiative will contribute to help those who are embarking on their #zerowaste journey, and those in need of items but are unable to purchase at its retail price, at the same time creating a circular economy towards a better Earth.
Find out more here https://www.facebook.com/kabutinthepark/