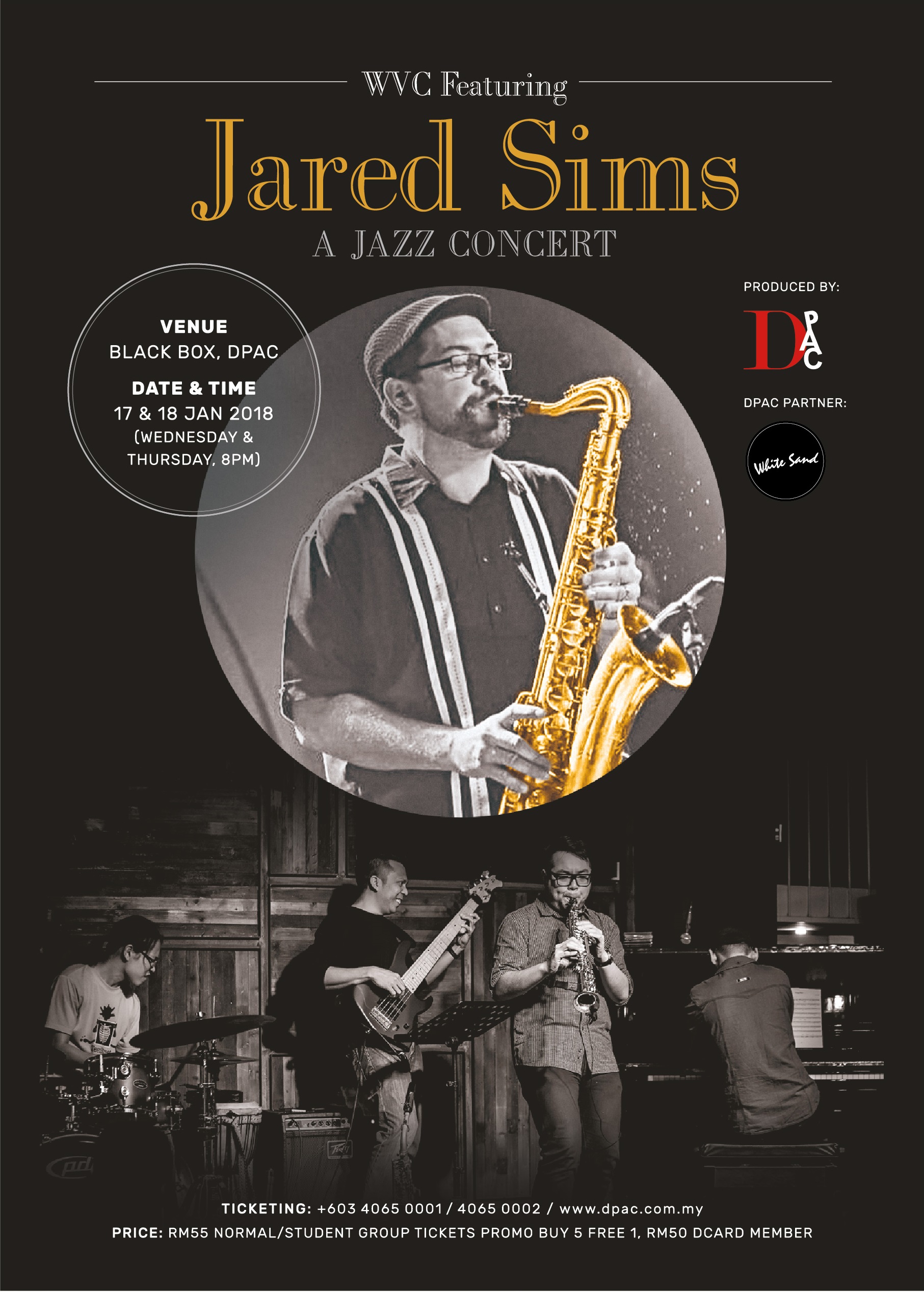 Jared Sims – A Jazz Concert featuring WVC, a well-known Malaysian Jazz group, and co-presented by Dr Jared Sims, a leading jazz saxophonist from the United States, will be held on 17th and 18th January 2018 at Damansara Performing Arts Centre (DPAC).
The main contributor to the concert is Malaysia's very own well-known international jazz pianist –Tay Cher Siang. In June 2017, during his participation in the WVU Piano Festival in West Virginia, Tay met Dr. Jared Sims, who made a profound impression on him. After his second performance, Tay was very impressed with Dr. Jared Sim's skills, his voice and strong musical traits. Won't you regret it if you see the beauty of the world all alone and not share it with anyone? At that moment, he decided to invite Dr. Jared Sims to Malaysia.
With the knowledge that Dr. Jared Sims will be attending the Saxophone Symposium in Bangkok, Tay invited him to perform in Malaysia. As far as he is concerned, jazz is based on communication and spontaneity, so it is more difficult to find and schedule suitable locations and dates than to arrange tracks.
Jazz originated in the United States, focused on improvisation, and based on the swing characteristics of the Shuffle rhythm. Because of its nature, the essence of jazz-soul has penetrated every corner of the world. The jazz scene in Malaysia has been thriving over the past few decades. Even though different lifestyles, cultures and the environment may separate us, the spirit of jazz has always been to communicate, understand and respect each other. This set of jazz ancestry from American jazz mixed with Malaysian characteristics will be a spectacular creation.
Tay Cher Siang Intro
When Malaysian jazz pianist and founder of WVC, Tay Cher Siang started playing the piano learning classical music, he took an interest in jazz during his teenage years and pursued his musical journey as a jazz pianist. He received his Master's in Jazz Pedagogy under the tutorage of Dr. Miltenberger and Professor Scea. He immersed himself in the education of jazz and taught at UCSI University, the University of Malaya, The Yamaha Music Academy and University Putra Malaysia. He is also teaching at his private studio, giving master classes, and running jazz clinics throughout Malaysia.
Tay has been active in the Kuala Lumpur music scene since his return. In addition to teaching, he has performed in a variety of music festivals. Other genres include Unit Asia, Forest Earth, Gruv Avenue (Malaysian Light Jazz), The Inner Voices, The Boplicity (traditional jazz band) and Yudi & The Band (modern jazz band).
Dr Jared Sims Intro
Dr Jared Sims, a renowned musician and sound engineer, specializes in saxophone, clarinet, flute, woodwind, jazz and funk music. He has toured the United States, Europe, South America and India, and under his own name, he has also participated in other combo performances.
He has produced more than thirty different albums crossing multiple genres. His other recorded works include music for theme parks, television commercials, and video games.
He performs regularly in Pittsburgh, New York City, Boston and beyond. Currently the Director of Jazz at West Virginia University, Sims is the former Assistant Director of Jazz at University of Rhode Island and has previously taught at the University of New Hampshire and Southern New Hampshire University.
Sims started playing the baritone in the fifth grade, but only became dedicated to this most colossal of saxophones after bringing a tenor to a class at the New England Conservatory (NEC) and having his instructor chide him he would never be great on it because he would be following in the footsteps of too many legends.
Far from taking offense, Sims took his teacher's words to heart. "There are a lot of gold standards on tenor," he says. "I was trying to find a way to move past those influences. Playing the baritone felt really natural to me. I felt like I could do something personal and interesting with it." A compelling example of this is Sims's "Seeds of Shihab," a tribute to baritone great Sahib Shihab, which luxuriates in the brawny, bottom-rich sound of the instrument.
Sims attended his first jazz concert, by Michael Brecker, in tenth grade, and saw the World Saxophone Quartet perform the following year. His fascination with the saxophone went "over the top" after he spoke with members of the WSQ following the show.
According to reports by Cision PRWeb, a popular American online media, Sims earned a reputation as a "Saxophone Colossus," at a performance in Boston.
WVC Intro
WVC is a well-known Malaysian jazz music band. Drawing inspiration from the many facets of modern life influenced by Malaysian and other Asian cultures, the music of WVC cuts across many musical genres and defies any kinds of classification. Tunes such as "The Art of the Wind Up Alarm Clock", "Found and Lost", "Standing in the Rain on Euclid Avenue", "Lost in Different Time Zone", and "Waiting for That Day" examine and express human conditions in modern life using the art form known as "jazz" as its stylistic musical vehicle.
The group has toured extensively in the region, heralding back the spirit being "on the road" of touring jazz bands of old. Through these regional tours, it has brought its music to many corners of Malaysia, Singapore, China, Taiwan, Thailand, and Macau. On one of these tours, the quartet travelled extensively over 18 cities and performed 23 concerts within a month, using different means of transportation, and playing in several types of venues.
WVC has five instrumental albums – "WVC TRiO" (2008), "ELEVEN" (2009), "In the Dark, I See Her" (2011), "Waiting For That Day" (2014) and "Do Not Go Gently" (2016) – which explore diverse musical genres (while maintaining the spirit of jazz as its core) and combinations in its line-up. Most of the recorded tunes are originals written by its members. In addition, the band also experiments with transforming unlikely pop tunes, Chinese classics, and mainstream music into new jazz rearrangements, in the spirit of great jazz musicians of old.
They marked another milestone for the band in the Malaysian jazz scene, and garnered 10 nominations at the prestigious Boh-Kakiseni Cameronian Arts Awards, with three wins: "BEST SOLO PERFORMANCE – INSTRUMENTAL BEST GROUP ORIGINAL PERFORMANCE – INSTRUMENTAL BEST ORIGINAL COMPOSITION".
The present incarnation of WVC consists of bandleader/composer/arranger/music director/pianist, Tay Cher Siang, bassist, AJ, drummer, KJ Wong and saxophonist, Julian Chan. The band remains one of the most active units in the Malaysian performance circuit and is one of the most sought after jazz bands for Hi-Fi recordings and live performances.