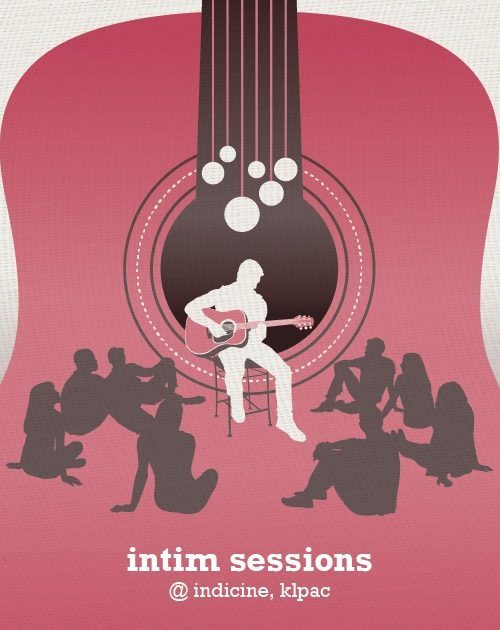 Date & Time: 18 November @ 8:30pm
Venue: Indicine, KLPAC
Admission: Entry by minimum donation of RM15
intim sessions is on to its fifth and final one of the year! To close off the fine run 2017 has given us, we are expanding the aesthetics and going with the feels.
The fifth installment will feature Endee Ahmad who has rapidly secured a local and international following in under five years. Endee's music delivers a melodic fusion of Folk, Rock and Blues – with content emphasising positive messages – such as bringing public attention to the plight of the homeless, and addressing social issues such as racism. In addition to performing as a solo artiste, he often collaborates with other musicians to deliver unique performances, music and initiatives. He has appeared in Rock the World 2014, Fete de la Musique 2016 and Urbanscapes 2016.
Joining Endee will be Aina Abdul who is no stranger to Malaysia's music scene . Fondly known as Aina Mentor, the title derived from the national prime reality television singing competition MENTOR which she got selected to participate in 2014. She came into the limelight after becoming the first runnerup of the show under the apprenticeship of Malaysia's Queen of Rock , Ella. This was not the only highlight of her achievements in that particular year. She later surprised Malaysia and the world as she rose to win the Senior Grand Vocalist Champion's title in the World Championships of Performing Arts (WCOPA) held in Hollywood, Los Angeles. This young lady can certainly take any stage by storm!
Presented by | The Kuala Lumpur Performing Arts Centre (klpac)
Executive Producer | Dato' Faridah Merican
Artistic Director | Joe Hasham OAM
Producer | Rezza Coebar
Senior Production Manager | Gan Eng Cheng
Production Manager | Soo Choy Wah
Assistant Production Manager | Olivia Saw & Benedict Chin
Lighting Operator | Khairil Imran
Sound Engineer & Operator | Khairil Imran