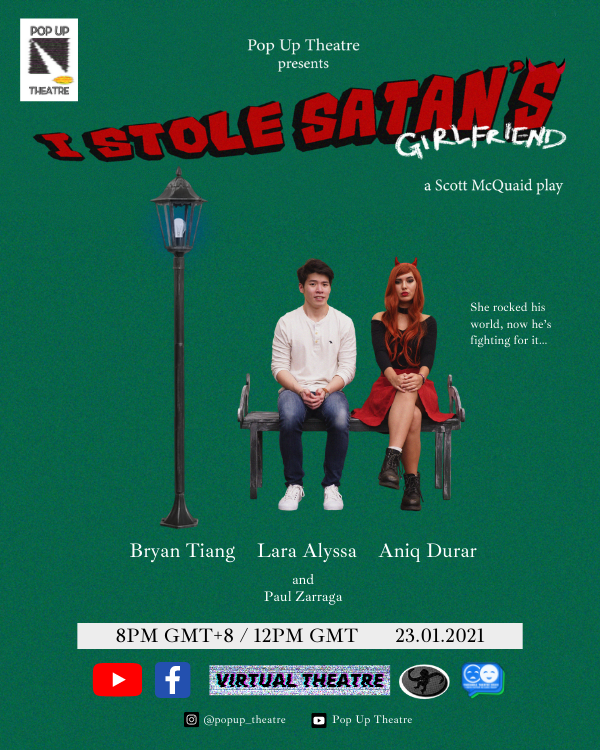 Pop Up Theatre presents the virtual theatre black comedy play, 'I Stole Satan's Girlfriend', written and directed by Scott McQuaid!
SYNOPSIS:
"She rocked his world, now he's fighting for it…"
A banal man known as Dan, sits quietly in the park one evening, when he is approached by the wild and sexy extrovert, Lucinda. Her playful, provoking exchange leads them to a one-night stand. Dan has unknowingly found love with Satan's girlfriend, and the result of their actions is catastrophic. Now Dan has to make things right and restore the world's natural order.
–
CAST
Bryan Tiang as Dan
Lara Alyssa as Lucinda
Aniq Durar as Satan
Paul Zarraga as News Anchor Voiceover
TICKETING
Available through a small USD$3 donation via the link below!
Ko-Fi.com/ThornhillTheatreSpace
HOW TO PURCHASE A TICKET
1. Go to Ko-Fi.com/thornhilltheatrespace
2. Buy a 'coffee' for just $3!
3. Forward your receipt to [email protected] to exchange your 'coffee' for a ticket!
4. You'll then be sent the links to the private Facebook page or YouTube LIVE premiere.