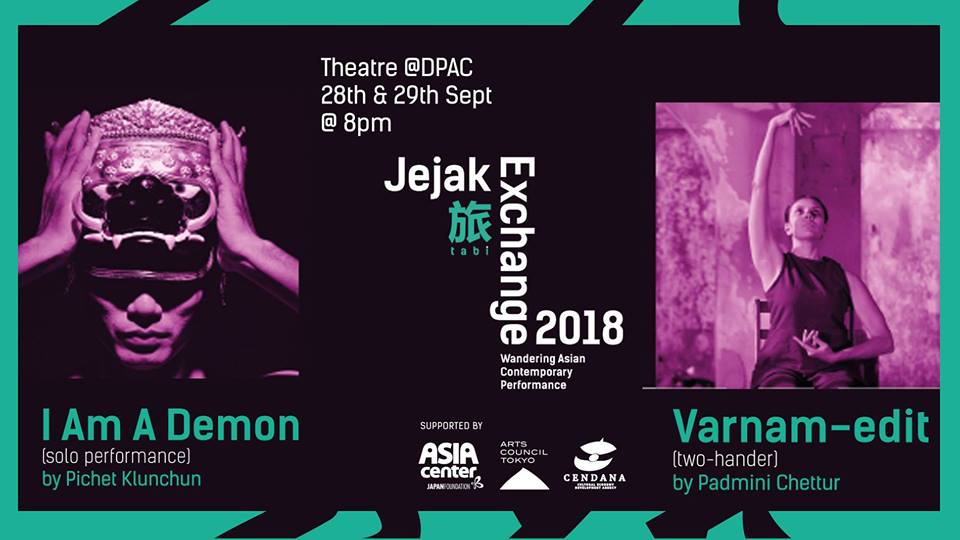 Double bill of Pichet Klunchun's I Am A Demon (solo performance) and Padmini Chettur's Varnam (two-hander)
1. "I Am A Demon"
Presented by: PICHET KLUNCHUN (Bangkok, Thailand)
"I Am A Demon" presents an individual's fierce passion for his art, which also reveals the fragile human condition.
It is rigorous and virtuosic as well as it is tender and lyrical.
Created in 2005 to commemorate the 3-year death anniversary of his beloved master,
"I Am Demon" tells the story of passing down the art form from one generation to the next, as well as a relationship between master and student.
2. "Varnam – Edit"
Presented by: PADMINI CHETTUR (Chennai, India), BHEDA ADITI SHARAD
The 'Varnam' in the traditional dance repertoire of Bharatanatyam occupies the central position of any performance.
The opening lines of the Mohanaama Varnam drag us immediately and relentlessly into the heroine's complex world through classical Indian dance.
A story of lost love, abandonment and, pining, it is also, in its original interpretation, a glorified description of God's divine love and lovemaking.
In this work, which re-engages this iconic material and music, the dancers – some classically trained, others not – begin to unravel the meaning of the text, to re-physicalize the known language.
Into the grid of the Varnam, they invite references of contemporary text and their own personal voices of womanhood, body, and sexuality.
Date & Time:
28th September 2018 (Fri), 8.00pm
29th September 2018 (Sat), 8.00pm
Venue: Theatre, DPAC
Tickets: RM68 (Normal) / RM60 (DCard Member) / RM50 (Student)
Online purchase: www.dpac.com.my
Enquries: DPAC (+603)4065 0001, 4065 002
Event Dates
Venue
Website
Tickets Link