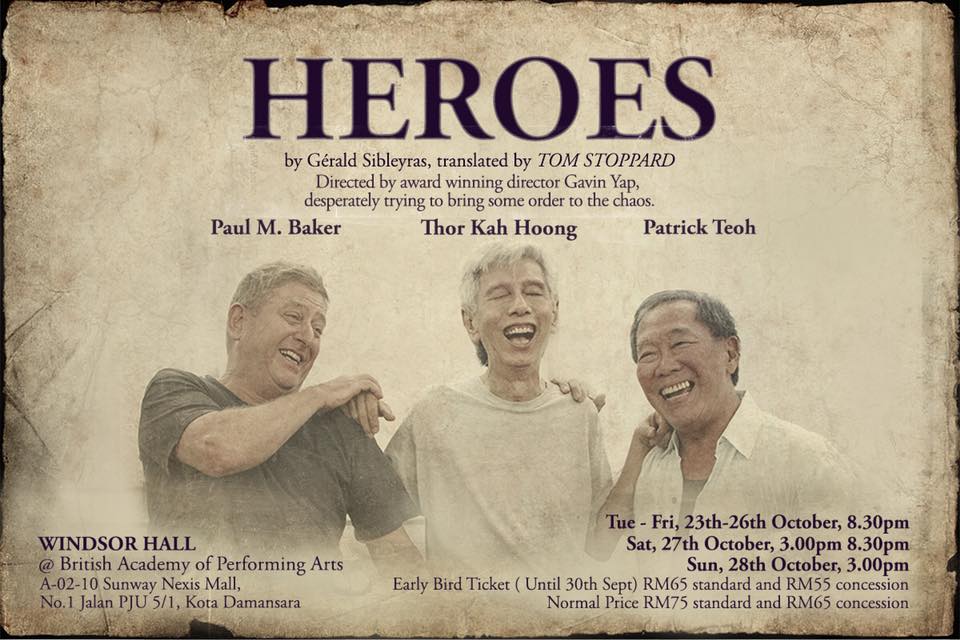 Veteran actors Patrick Teoh and Thor Kah Hoong with newcomer Paul M Baker, three grumpy yet hilarious old men, will be messing around together in demented chaos in HEROES from October 23rd to October 28th 2018 in The Windsor Hall at The British Academy of Performing Arts in Kota Damansara.
Come and watch them as they try to convince themselves they're still young enough to actually DO anything…. with predictably ludicrous results.
The 3 have been loosely organised by award winning director Gavin Yap, desperate to try and bring some kind of order to the chaos. Get your tickets now to find out if he's managed to succeed.
Tues- Fri 23rd Oct – 26 Oct 2018 8.30pm
Sat 27th October 3.00pm / 8.30pm
Sun 28th October 2018 at 3.00pm
at
WINDSOR HALL
British Academy of Performing Arts, 2nd Floor Sunway Nexis Mall,
Kota
Damansara.
Tickets RM75 and RM65 (concessions). Early Bird (until 30th September) RM65 and RM55.
Email [email protected] Tel 0376244740
Event Dates
Venue
Website
Tickets Link