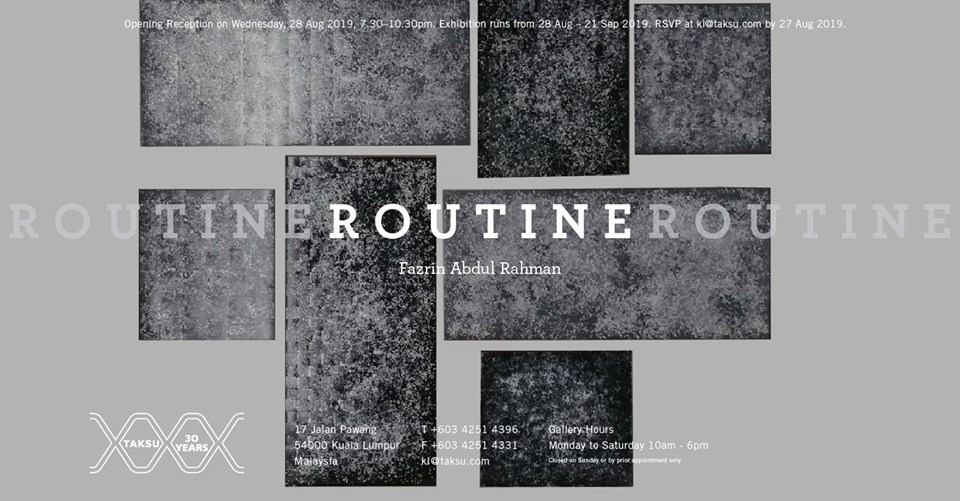 TAKSU Kuala Lumpur is pleased to invite you, family & friends to "Routine", a solo exhibition by Fazrin Abd Rahman. This solo exhibition will be Fazrin's second solo show with TAKSU after the solo exhibition, "Maze", in 2016.
In April 2019, Fazrin's been awarded the prestigious Malaysia Emerging Artist Award (MEA). MEA Award is a biennial competition that honours the most promising young artists in Malaysia. Its main goal is to recognize the country's top emerging talents and to give them the opportunity to break into the local and international art scenes.
"Routine" will be showcasing new works by Fazrin Abd Rahman. The exhibition offers a significant opportunity to engage with the artworks that demonstrates his progress in art-making over the years.
For this latest series of work, it is fashioned from the thorough observation of the artist's reflection and impression of his surroundings, whilst various attempts using experimentation with different materials in projection an allegory of meanings.
Opening Reception
Wednesday, 28 August 2019 | 7:30pm – 10:30pm
RSVP by Tuesday, 27 August 2019
Venue
17 Jalan Pawang, Datuk Keramat, 54000 Kuala Lumpur
Exhibition Period
28 August – 21 September 2019
Monday to Saturday, 10am – 6pm
Closed on Sunday & Public Holidays
Free admission
#taksugalleries #taksuexhibitions #malaysianartist #fazrinabdrahman #soloexhibition #routine #contemporaryart