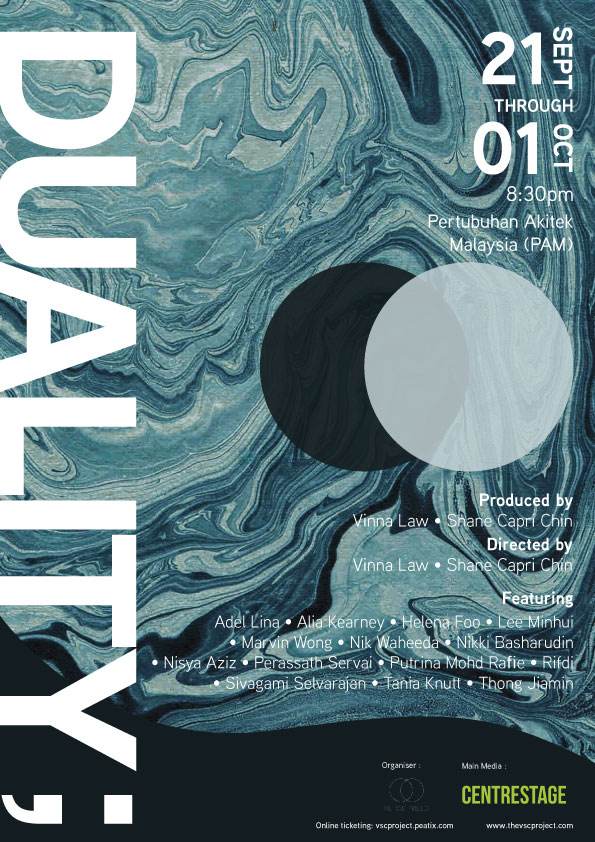 The symbol of the VSC Project is that of the Vesica Piscis; a symbol made from two circles of the same radius, intersecting in such a way that the centre of each circle lies on the circumference of the other.
Or in our words, the symbol of balance, acceptance and understanding.
The first stage in our project will be a presentation of an experimental theatre piece called DUALITY; an immersive multidisciplinary performance that explores themes surrounding gender. Accompanied through movement, monologue and stillness, the performers will take you through the landscape of Gender.
Why Now?
With widespread hatred and violence throughout our world. From the bombings in Manchester, to the stripping of women reproductive rights in the US, and cutting off medical support for trans individuals. Something closer to home, the death of a teenage boy who fought society daily to be himself. Acceptance is most needed NOW, more than ever.
Why here?
We live in a country where we, by default, divisive primarily in terms of race, religion and belief.
The recent death of a teenage boy should NOT act as a wake-up call for us to break the silence. We should be loud and unapologetic daily for basic human rights. Speak out on what is deem taboo for most Malaysians. Speak up on the prevalent issue that society has placed on gender-identity.
Why us?
Because we are the reaction towards a society that desires nothing more than to mould its people into something that they are not.
Because we believe that hatred stems from fear and can only be overcome by acceptance and love.
Co Producers: Vinna Law & Shane Capri Chin
Co Directors: Vinna Law & Shane Capri Chin
Stage Managers: Jiacy Chuah & Illya Syaheera
Official Media Partner: Centrestage.my
Venue: Pertubuhan Akitek Malaysia
Featuring:
Alia Kearney
Adel Lina
Lee Min Hui
Tania Knutt
Putrina Mohd Rafie
Thong Jia Min
Rifdi
Helena Foo
Marvin Wong
Nisya Aziz
Perassath Servai
Sivagami Selvarajan
Nikki Basharudin
Nik Waheeda
BUY TICKETS:
http://vscduality.peatix.com/
Visit our website for more information/fund the project:
www.thevscproject.com
———————————————————————————————————————————–
《DUALITY;二元性》
如果一个人的生殖器官与他们的身份和行为无关,那会是怎么样的一个社会?我们又该如何应对?《DUALITY;二元性》;第一个VSC演出,将深入探索无视性别差异的理念和境界。
为何是此地?
我们生活在一个被种族、宗教和各种思想意识所分裂的国家。
最近发生的一宗少年被虐待致死事件,并不该是唯一唤醒我们的警铃。我们应该以毫无保留的态度,为争取马来西亚人的基本人权而发声;我们应该大声谈论那些被视为禁忌的话题;我们更应该勇于发表与性别认同相关的问题。
为何是我们?
这个社会存在一套消除个体差异性的准则,它只要把人们塑造成一个样子,我们希望针对这个现象提出异见、做出回应。我们相信仇恨源于恐惧,因此希望通过传达爱与包容的讯息,来化解这些仇恨。
表演形式
这部作品的结构不像一般的戏剧,观众并不会在一旁静坐观看表演。在《DUALITY;二元性》中,观众将被邀请到一个自由空间,在那里他们可以四处漫游,寻找自己的方向。同时观众也被邀踏入演出者的世界,听他们诉说关于身份、性别的故事。
公开预演(公众):
21/09/2017, 8:30pm(星期四)
首演:
22/09/2017, 8:30pm(星期五)
普通演出:
23/09/2017 – 24/09/2017, 8:30pm(星期六及星期日)
28/09/2017 – 01/10/2017, 8:30pm(星期四至星期日)
地点
Pertubuhan Akitek Malaysia (PAM Centre)
99L, Jalan Tandok, Bangsar,
59100 Kuala Lumpur,
Malaysia
票价
普通票 RM55
学生票 RM40
优惠票 RM35 (残障人士及老年人 )
套票A RM135 (3张票)
• 网上购票 : http://vscduality.peatix.com
USEFUL LINKS
Official Website 官方网站: www.thevscproject.com
Facebook Page : https://www.facebook.com/thevscproject/
Vimeo : https://vimeo.com/user67257252