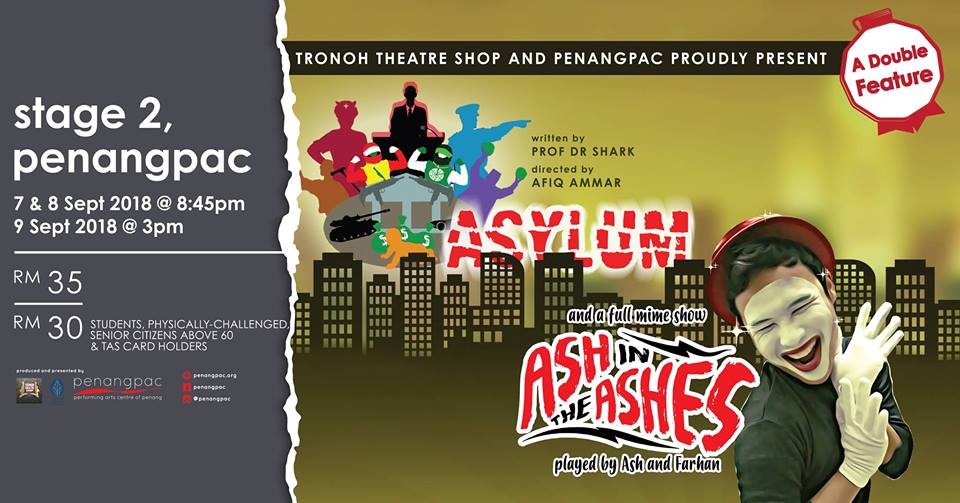 'Asylum' is a theatre, showing how the Psychotic Theatre Unit, a group of mentally-ill, who wants to present their play during the opening ceremony of a new asylum in Penang Island, the National Psychotic Centre. This story aims to insinuate those who forget God's revelation. In the end, they have to reap what they sow and pay for their sins when an earthquake strikes. Audiences are advised not leave before the show ends, as you will miss out on the message from sponsors.
'Ash in the Ashes' is a full mime show which revolves around the life of Ash, a supermodel looking for the love of her life. What is the meaning of love?  Is it worth fighting for? She finally finds her soulmate on a dance floor and they got married. When everything seemed to be going well for her, tragedy strikes her one by one. What will happen to Ash?
Witness the one and only full mime show presented by Ash and Farhan.
TICKET PRICING
RM35 – Adults
RM30 – Students, Physically-challenged/TAS, Senior Privilege Card Holders, and Senior Citizens above 60.
TICKETS CAN BE PURCHASED THROUGH www.ticketpro.com.my .
Event Dates
Show Times
Venue
Website
Tickets Link