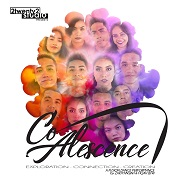 CO-ALESCENCE 
presented by TWO TWENTY TWO STUDIO
"We dance for laughter, we dance for tears, we dance for madness, we dance for fears, we dance for hopes, we dance for screams, we are the dancers, we create the dreams." ― Albert Einstein
CO-ALESCENCE is a fusion dance performance which explores combining different dance genres such as street-dance, contemporary and lyrical dance, jazz, Broadway and Malaysian traditional dances. The result is an explosive, heart pumping, feet stomping dance extravaganza.
Choreographed by our 2017 World Championship of Performing Arts Senior Dance Group gold medallists Zaidy & Fiqah, and Budak Joget(s) Faruq & Fuzzwayne, with the support of the very creative ensemble. Come and be entertained by  your favourite dance personalities – Budak Joget, Walawei Crew, 2twenty2 Squad who, in many instances, will be dancing out of their comfort zones! They will draw you in with their energy, captivating dance moves and rhythm, and their infectious personalities! 
Date/Time:
08 November 2017 (Wed), 8.30 PM
09 November 2017 (Thu), 8.30 PM
10 November 2017 (Fri), 8.30 PM
Venue:
Theatre, DPAC
Ticket Information:
RM55.00 (Normal
RM35.00 (Student/Senior Citizen/Disabled)
***EARLY BIRD TICKET PRICE IF PURCHASED BY 17/10/2017***
RM45 (for normal tickets)
No promotion for Concession tickets
Ticket Office:
1.H-01, DPAC, Empire Damansara, Jalan PJU 8/8, 
47820 Petaling Jaya, Selangor, 
Enquiries: +60 3 4065 0001, 4065 0002 / www.dpac.com.my
Facebook: https://www.facebook.com/thedpac/
2. KASMAWATI SULONG – 012-3173219
DPAC ticket entitles you to enjoy all our special savings* at DPAC's Partners at Empire Damansara! The Promotions is running until 31st December 2017! So, please hold on to your DPAC tickets and take this fabulous opportunity (valid for a one-time use and a week from the performance date itself at any partnership restaurant or shop for each ticket)! T&C apply.