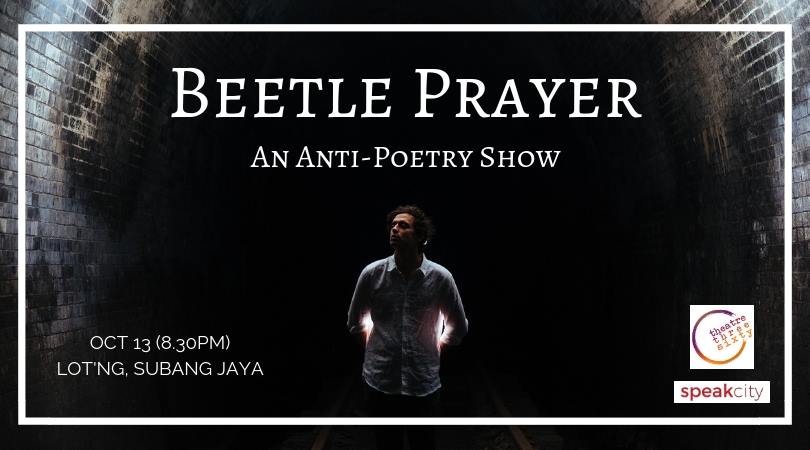 Beetle Prayer: An Anti-Poetry Show –
One-night only spoken-word theatre engagement
Presented by SpeakCity and hosted by theatrethreesixy
Written and Performed by Philip Wilcox (AUS)
Boy walks down the aisle of his small hometown church carrying the front left-hand corner of his dad's coffin. Boy almost dies but is saved by 7-foot kangaroo. Boy sets sunflowers on fire in shopping cart (names it 'love'), cuts kite string (names it 'grief'), plays scarecrow in cloud of Christmas beetles (names it 'hope'). A show that examines how life is often a battle between storyteller and the events being told, how language deceives us and how poetry can make it beautiful.
Beetle Prayer is part comedy show, part poetry set; a theatrical production that kicks you in the heart and tickles your ribs.
Duration: 1-hour
+++
ABOUT THE WRITER & PERFORMER
Philip Wilcox is a former Australian Poetry Slam champion and two-time New South Wales Poetry Slam champion. He tours nationally and internationally and has performed with Harry Baker, Sarah Kay and Phil Kaye. Philip is a regular at a variety of writers' festivals including Sydney Writers' Festival, Beijing Bookworm Literary Festival, Ubud Writers' and Readers' Festival, Byron Bay Writers' Festival, and Wollongong Writers' Festival. Last year he was granted a residency at Banff Centre for Arts and Creativity for spoken word where he completed his first manuscript, a collection of poems called Beetle Prayer. Philip was recently the artist in residence for the WORD series at Sydney's Museum of Contemporary Art. He has a passion for education and teaches and performs poems full-time. He is also a playwright having written and directed the most popular production of the 2015 Sydney Fringe Comedy Festival 'Thursday'.
+++
Evening performance: Saturday, 13 Oct @ 8.30pm
Venue: Lot'ng Arts Space, 32-2, Jalan USJ 10/1E, 47620 Subang Jaya
Website: http://www.facebook.com/upstairsatlotng
Online Tickets:
RM 40 standard rate
RM 30 concession rate for students and the elderly
Online Promotions:
Deal #1: RM 70: Bring a Friend (1+1 ticket set) package
Deal #2: RM 90: Three's a Great Company (2+1 ticket set) package
Walk – In tickets at the door:
RM45 standard rate
RM35 concession rate for students and the elderly
Purchase tickets online for the performance at: https://beetleprayer-my.peatix.com and at the door.
Any Enquiries? Email us at: [email protected]
Event Dates
Venue
Website