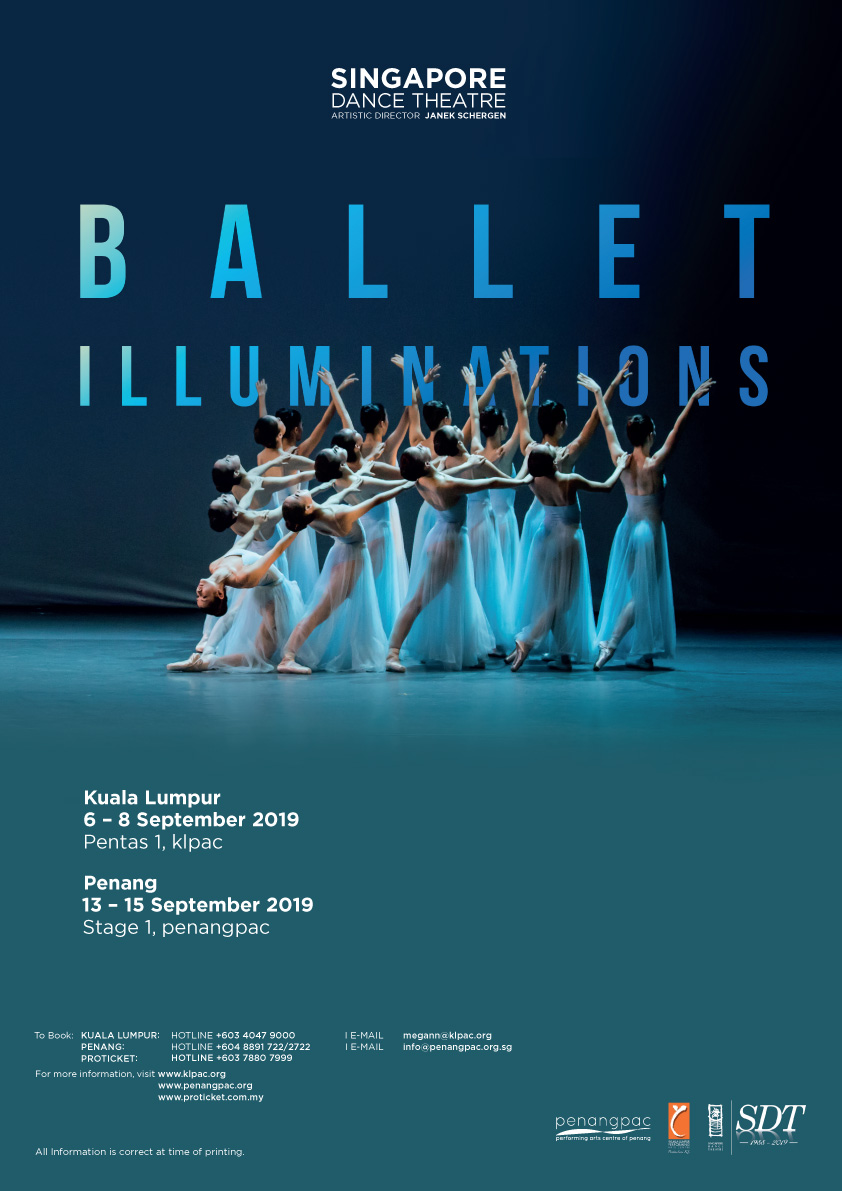 Singapore Dance Theatre (SDT) will present Ballet Illuminations in Malaysia this September. This will be the tenth year that SDT will be performing at Kuala Lumpur Performing Arts Centre (klpac) and the fifth year at Performance Arts Centre of Penang (penangpac). SDT will be offering its annual Master Class with Artistic Director Janek Schergen on Saturday, 7 September, 10am – 11.30am, at klpac and Saturday, 14 September, 10am – 11.30am, at penangpac. Ballet Illuminations is a joint collaboration between Singapore Dance Theatre, klpac and penangpac.
Artistic Director of Singapore Dance Theatre, Janek Schergen comments, "This year, in Kuala Lumpur, we are bringing a selection of ballets of unparalleled distinction. The evening begins with one of the most famous pieces of the ballet repertoire with George Balanchine's masterpiece of choreography Serenade. P.I. Tchaikovsky's remarkable score, Serenade for Strings, was the initial inspiration. The centerpiece of the evening will be Theme and Variations, originally created for American Ballet Theatre, also by George Balanchine. The culmination of the evening is a ballet made especially for us by Timothy Harbour. It is full company work called, Linea Adora, and was made for us as a highlight of our 30th Anniversary season in 2018. The ballet features every member of the company and was composed to a recent composition of Philip Glass. Timothy is a resident choreographer of The Australian Ballet and has an international career as an acclaimed choreographer. "
SHOW DETAILS
Presented by Singapore Dance Theatre & klpac
Date & Time:
6th & 7th Sep 2019 @ 8.30pm (Fri & Sat)
7th Sep 2019 @ 3pm (Sat)
8th Sep 2019 @ 2pm (Sun)
Venue: Pentas 1, klpac
Ticket:
6th Sep 8.30pm: RM 25
7th Sep 3.00pm & 8th Sep 2.00pm: RM 38
7th Sep 8.30pm: RM 48
Facebook: @Singapore Dance Theatre
This performance is made possible with the support of YTL Corporation Berhad, National Arts Council, klpac and penangpac.
Masterclass with Janek Schergen (Artistic Director of SDT)
Date: 7 September 2019, Saturday
Time: 10am – 11.30am
Venue: Pentas 1, klpac
Regular Price: RM 75 per person
Purchase 1 Ballet Illuminations Ticket: RM 68 per person
Purchase 2 Ballet Illuminations Tickets: RM 64 per person
Purchase 4 Ballet Illuminations Tickets: RM 60 per person
Register with Devaki at [email protected] by 19th August 2019 (Monday), 6pm.
Age Limit: 12 years old and above (Intermediate level)