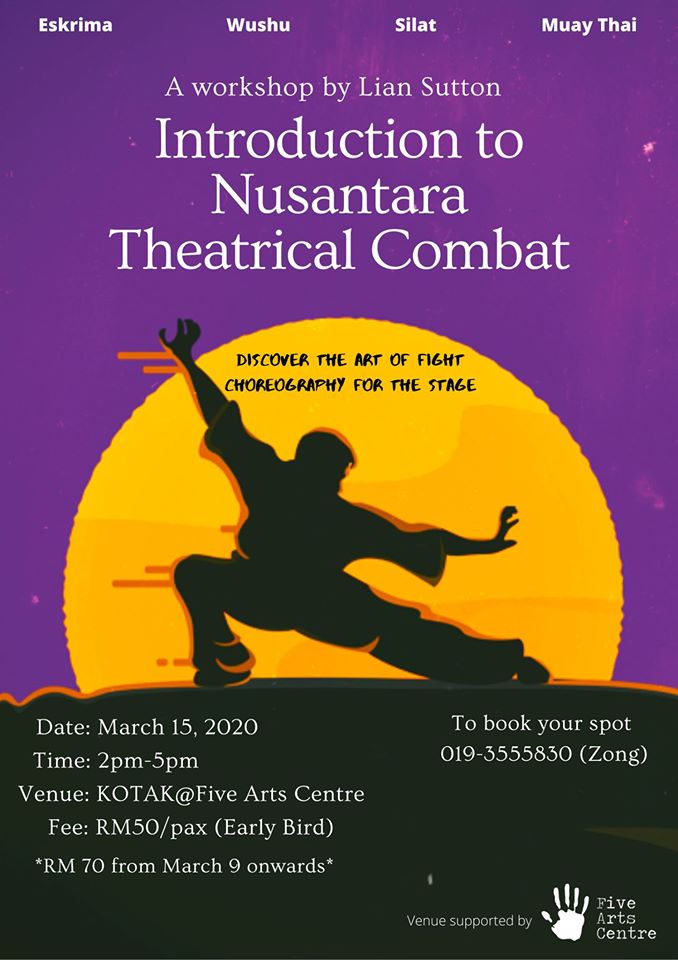 An Introduction to Nusantara Theatrical Combat
– A workshop by Lian Sutton
In this introductory workshop, participants will experience some of the core philosophies and practices of Nusantara Theatrical Combat which takes inspiration from a number of traditional martial arts native to or practiced by the people of Southeast Asia. Expect a fusion of traditional martial arts strength and conditioning drills, basic armed/unarmed theatrical combat techniques, as well as the exploration of connecting image, imagination, and the performer's body by incorporating elements from Silat, Eskrima, Wushu, and Muay Thai. Experience a martial examination of the role of violence and combat in performance and its value in the training of the contemporary performer.
Date: 15 March 2020 (Sunday)
Time: 2.00 – 5.00 pm
Venue: [email protected] Arts Centre
Price: RM50* per person
*Early bird price
**RM70 from 9th March 2020 onwards
Note on clothes: Wear anything you feel comfortable and can move in
To book your spot, please contact 019-3555830 (Zong)