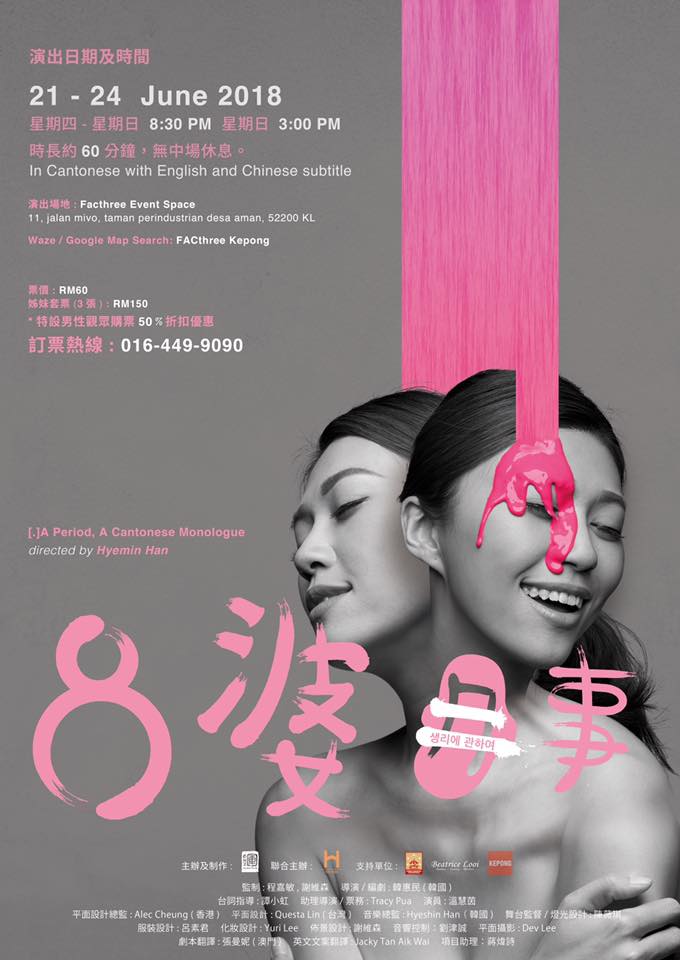 (written and directed by Hyemin Han who is from Korea) is a play which sees the life of a woman through the keyword, 'a period'. (…) The daily episodes of the main character mirrors the taboos of ourselves and society regarding menstruation. (…) As the show goes on, the laugh of embarrassment from the audiences at the beginning turns to the laugh of empathy, and after the show the audiences find themselves who speak about 'a period' without constraint. That is the biggest virtue of the piece.
《Pat Poh》Season 2: '[.]A Period ' continues Onz Production focus on "Woman issue" as usual, this time even having a "Asia region" discussion: South Korean female director Hyemin Han, Malaysian actress Vivienne Oon, and female producer Suzuki Cheng, who you unable to determine whether she is from Macau, Japan or Malaysia, famous Malaysian female costume designer Beatrice Looi and female Korean script translator Man Nei Cheong, who is from Macau. Everyone behind the scenes are woman, we want to discuss with everyone, mainly on 'menstrual cycle', which every woman will face before menopause! This 'menstrual cycle' is not only related to girls, it is also greatly affect guys' "happiness"!
Gentleman, Why didn't u thought off, your mum/wife/girlfriend/sister/colleague and other woman,
once a month they like
Calm like water
Horny like Japanese AV
Moody like depression
Angry like u feel life is threaten
Lots of questions? let your big sister teach you how to court girls, so you can survive every month's critical moment . Special 50% off only for Gentleman . Do not miss! Purchase your ticket now!
Audience and Media Feedback in Korea :
I hope many man can watch this
I could understand better about woman
I felt like it was my story
it was fresh and new theatrical experience
Show Date and Time
21/6/2018 Thur 20:30
22/6/2018 Fri 20:30
23/6/2018 Sat 20:30
24/6/2018 Sun 15:00 | 20:30
Venue: Facthree Event Space
11, jalan mivo ,taman perindustrian desa aman , 52200 KL
Waze : FAC3 @ Kepong (https://waze.to/lr/hw286204sm)
Duration : 60 minutes with no intermission.
Language : Cantonese ( with Chinese and English subtitle )
Ticket Price:RM60 ( Special 50% off only for Gentleman)
Sister Package (3 Pax) : RM150
Making a block booking (min 20 Tickets, RM30/ticket) kindly contact us at 016-4499090 or [email protected]
Ticketing Hotline : 016-449-9090
Ways to buy ticket:
1)Ticketing Hotline : 016-4499090 (call/whatapps/ wechat)
2) Fill in the following form : https://goo.gl/forms/tyllGlpsHKRMkOkk1
Organizer: Onz Production
Co-Organizer: Theatre H ( Korea )
Supported by:DCP, Facthree Kepong , KEPONG , In Between Culture
Producer : Suzuki Cheng , Sam Chia
Director/Script Writer : Hyemin Han ( Korea )
Lines Instructor : Tammi Tam
Assistant Director/Ticketing : Tracy Pua
Artist : Vivienne Oon
Publicity Art Director : Alec Zhong ( Hong Kong )
Music composer : Hyeshin Han ( Korea )
Stage Manager /lighting Designer : Veeky Tan
Costume Designer : Beatrice Looi
Makeup Designer : Yuri Lee
Set Designer : Sam Chia
Photographer : Dev Lee
Graphic Designer : Questa Lin ( Taiwan )
Script Interpreter : Man Nei Cheong ( Macau )
English Interpreter: Jacky Tan
Project Assistant:Weisee Chew