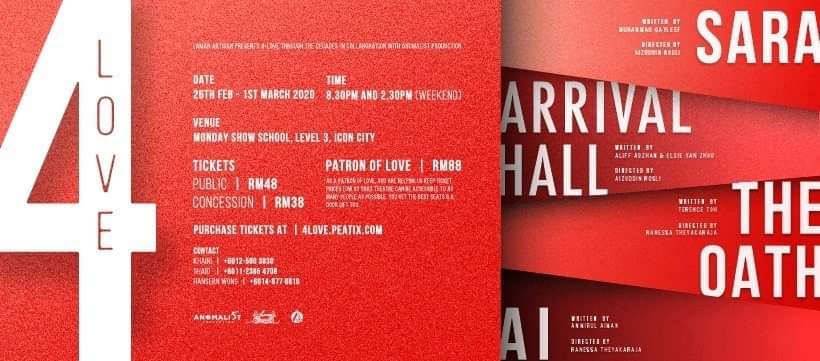 Laman Artisan presents 4-LOVE THROUGH THE DECADES in collaboration with Anomalist Production.
SARA
Getting pregnant during her last year of Secondary School was the last thing Sara expected.Now,she has to face her boyfriend and mother,as both parties make their own decisions.This leads Sara into a hopeless state,where Love will be the only thing that can save her.
ARRIVAL HALL
A love story of a grieving widow who lost her husband in plane crash, she falls for a guy resemble to her late husband, but with different race and faith. Their inter-faith marriage faces challenges which then questioning their stand and acceptance of the love they believe in.
THE OATH
During a tense time of racial confrontations, a doctor must make a tough decision. Does he follow his impulses, or uphold his medical duties?
AI
AI tells the story of a bold lady, Izzah, and his fiancée, Awang, amidst the World War II. When Awang got caught for leading the resistance to free Tanah Melayu, Izzah looked for him and met Tadashi, a Japanese captain. Tadashi promised Izzah he would release Awang, but on conditions.
PATRON OF LOVE | RM88
Be a Patron of Love! We want to keep ticket prices low so that theatre can be accessible to as many people as possible. How? You can help us by purchasing a PATRON OF LOVE ticket for only RM88. PATRON OF LOVE ticket gets you the best seats in the house with an extra special box of treats AND a fuzzy feeling that you've played a special part in allowing everyone to enjoy their love for Malaysian theatre.