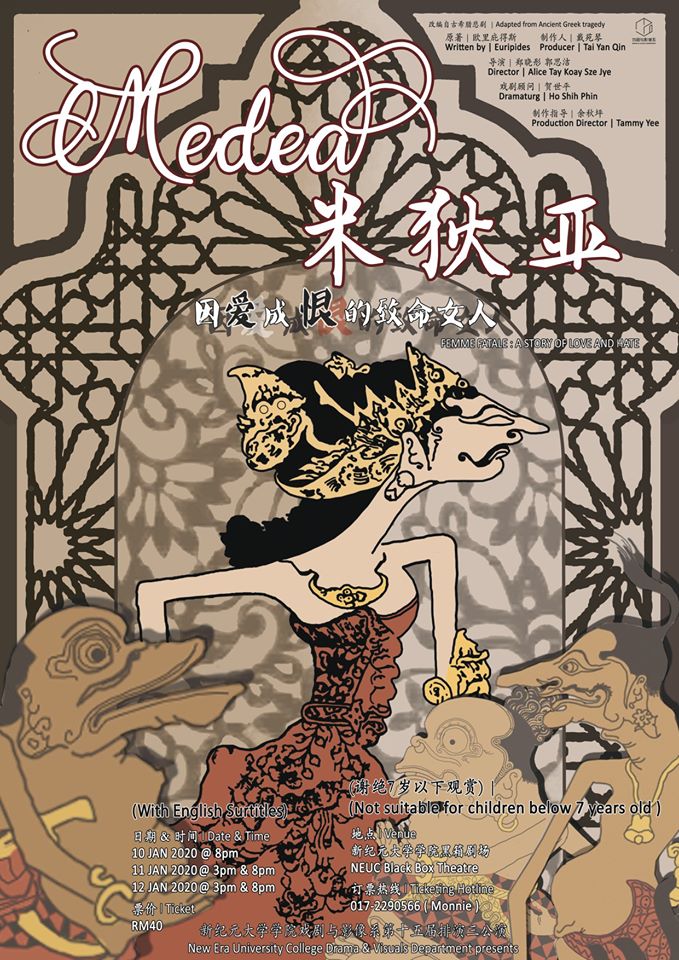 Classic Tragedy presented by New Era University College, Department of Drama and Visuals
Femme Fatale: A Story of Love and Hate In a world filled with love, from ancient times to the modern world, the biggest harm one can bestowed upon is betrayal. When a third person appears in a marriage, family happiness also embarks on the road of destruction. The protagonist portrayed in the ancient Greek tragedy "MEDEA" is a femme fatale who was loved and hated by her husband. For more than two thousand years, this tragedy has continued happening to us, allowing this classic script to forever be praised upon. The 15th batch students of The Drama and Visuals Department of New Era University College have decided to adapt this script and change the time setting of the story from the ancient times to the Malacca dynasty, a woman who is extremely good at witchcraft falling in love with a warrior named Jasin. She abandoned her home and fled to a neighboring country with him. However, her husband betrayed her. What does love means to a woman? What makes a woman who experienced unfortunate marriage to turn into a murderer with a lust for revenge?
In order to show the audience traditional Malay cultures, we do have live performances for sound. We have invited Thong Yong How to be our director of audiography. We have also invited fashion designer Beatrice Looi to craft the costumes for the actors and inject strong local Malay tradition moods into the costumes. We have also invited Ng Eng Wei to be our dialect coach to strengthen the expression of the actor's lines.
MEDEA is co-directed by Alice Tay, Koay Sye Jye and Tammy Yee. We are led by them for 3 months for preparation work of the production. They have let the students to analyze the script, conceive the idea of the entire design and hands-on production until the show complete. The Head of Department, Ho Shih Phin is responsible to adapt the script and also play a role as a consultant to the directors. Together, we are eager to recreate this eternal classic that transcends love and hate, as well as sin and responsibility. This performance is planned to represent New Era University College in Beijing, China in May next year to participate the 6th Asian Drama Academy College Student Drama Festival.
Language : Mandarin(English surtitle will be provided)
Presented by : 15th Batch Students of Department of Drama and Visuals of New Era University College
Date: 10th January 2020(Friday) @8pm
11th January 2020(Saturday)@3pm; 8pm
12th January 2020(Sunday) @3pm; 8pm
Venue::Black Box Theatre, New Era University College
Ticket:RM40 (Not suitable for children below 7 years old)
Ticketing hotline :017-2290566(Monnie)
Official FB :@2019MEDEA
2020 年新纪元大学学院戏剧与影像系呈现古典悲剧《米狄亚》
因爱成恨的致命女人
—
《 米 狄 亚 》
从古至今的爱情世界里,最大伤害就是背叛。当婚姻关系中出现第三者,家庭幸福也 会走上破灭之路。古希腊悲剧《米狄亚》刻画的主人公就是一位被丈夫背板而因爱成 恨的致命女人。两千多年来,这个悲剧持续不断地发生在我们身边,让这个经典剧本 可以历久不衰地演绎下去。新纪元大学学院戏剧与影像系第 15 届学生决定在 2020 年 将这个经典剧本改编,把发生的时空转移到马六甲王朝,述说一位精通巫术的女子米 狄亚爱上一位勇士伊阿信,不惜爲他抛弃家园,追隨他逃亡到邻国。之后米狄亚竟遭 受丈夫的背叛,导致她以杀人做出最无情的报复。爱情对一个女人來说究竟代表什么? 以至遭遇婚姻不幸的她最後狠心下毒手毁灭一切。
为了带给观众马来传统戏剧的特色,此演出采用现场演奏,邀请唐勇豪老师指导学生 演奏马来传统乐器。同时邀请时尚界设计师Beatrice Looi担任造型指导,为演员们打造角色造型,以马来服饰注入浓厚的本土色彩与情调。为了加强演员的台词表达,请来 练声先生黄英威老师担任语音指导老师。
《米狄亚》由该届学生郑晓彤和郭思洁联合导演,余秋坪老师担任制作指导,带领学 生们经历三个月的筹备与制作过程。让学生们由分析剧本、构思设计、动手制作直到 演出完成。系主任贺世平担任戏剧顾问,负责改编剧本,提供学生导演相关的意见参 考,共同重现这一部超越爱与恨、罪与责的千古经典剧作。此演出计划将于明年 5 月 代表新纪元大学学院到中国北京参加第六届亚洲戏剧院校大学生戏剧节。
剧名 :《米狄亚》
语言 :中文(备有英文字幕)
呈现单位 :新纪元大学学院第十五届戏剧与影像系
演出日期 :2020 年 1 月 10 日(星期五)晚上 8 点
2020 年 1 月 11 日(星期六)下午 3 点,晚上 8 点
2020 年 1 月 12 日(星期日)下午 3 点, 晚上 8 点
演出地点 :新纪元大学学院黑箱剧场
票价 :RM 40 (谢绝 7 岁以下观众)
订票热线 :017-2290566(Monnie)
面子书专业 :@2019MEDEA