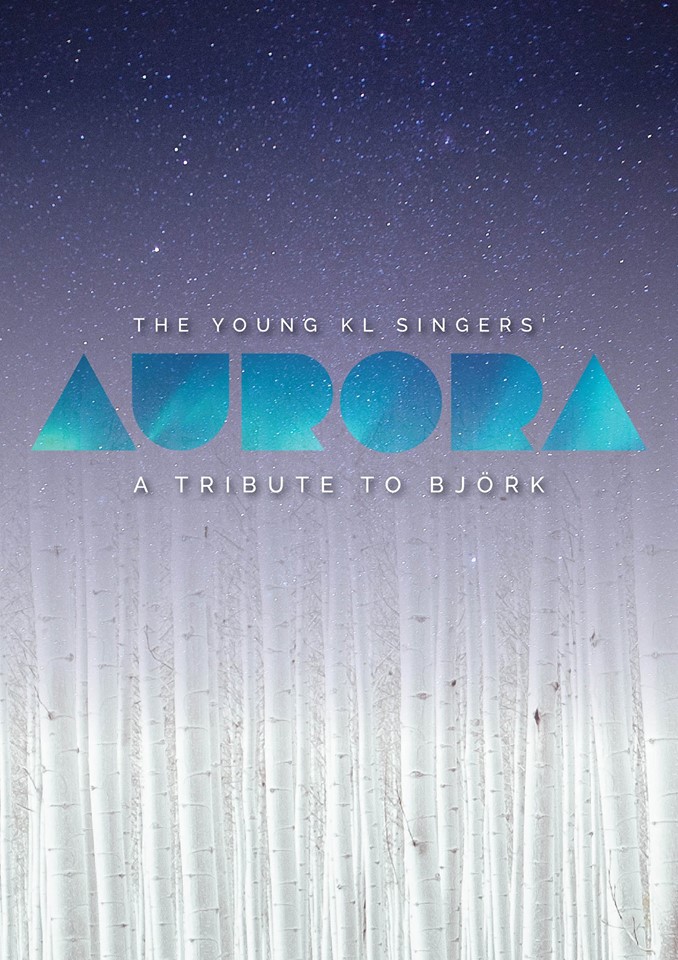 In this boundary pushing event, titled "Aurora", the Young KL Singers (YKLS) show choir will be exploring the music of Björk, the multi-hyphenate Icelandic artist. The Aurora tribute celebrates the diversity of Björk's music across the years.
Paying homage to Björk's infusion of visual and sensory elements into her work, it will be creative, experimental and eclectic, topped off with YKLS' signature quirkiness. Audience members will be placed right into the mix of the performance, giving them an intimate and entirely unique way of experiencing choral singing.
The members of YKLS have developed their own unique arrangements of Björk's music, experimenting with percussion, acapella, music processing and even choreography. Furthermore, this production will feature visual projection designs by the students of Saito University College, one of the most reputable design colleges in Malaysia.
The YKLS show choir, directed by Ian Chow, and Mak Chi Hoe (who is also the Music Director), will be the first choir in Malaysia to stage a production of this nature.
Whether you are a fan of this visionary artist, or someone new to her music, Aurora promises a fresh, and innovative experience that will excite your senses.
— Performance Details —
When: Aug 9, 2018 – Aug 12, 2018
Where: Pentas 2, The Kuala Lumpur Performing Arts Centre (klpac)
Showtimes: 9 – 11th August @ 8.30pm, 11 – 12th August @ 3pm
To buy tickets: https://www.ticketpro.com.my/concert/2322848-klpac-YKLS-Aurora-A-Tribute-To-Bjork.html
— About The Young KL Singers —
YKLS is a diverse group of people from all walks of life and professions who share a common passion – music. They strive to surprise audiences by experimenting with different genres of music in each season. In the 16 years of their existence, this award-winning show choir has thrilled audiences with various styles of performances, ranging from Broadway musicals to traditional folk music to rock music, while staying true to their maverick spirit and show choir roots. For more information, visit the Young KL Singers or Instagram (@youngklsingers) pages.