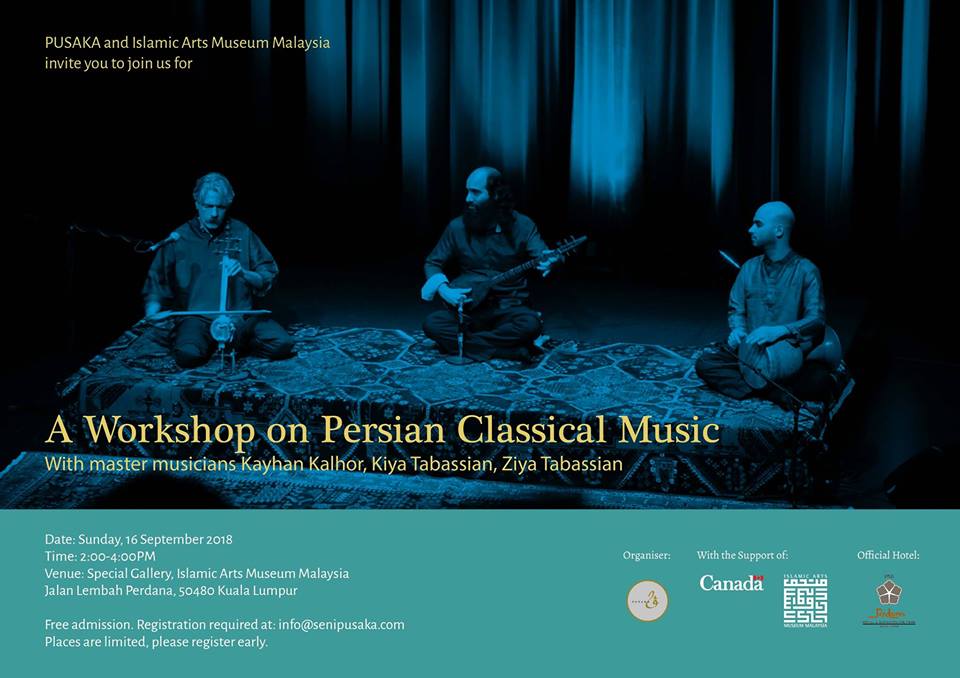 A Workshop on Persian Classical Music
With Kayhan Kalhor, Kiya Tabassian, and Ziya Tabassian
World-renowned Persian musicians Kayhan Kalhor, Kiya Tabassian and Ziya Tabassian take participants on a journey through the history and development of Persian classical music, from its ancient origins to its expression in contemporary times.
Participants will learn about the instruments, aesthetics, modes and rhythms of Persian music, the fundamentals and techniques of improvisation, as well as connections between the Persian musical tradition and other art forms such as poetry and painting.
Suitable for music students, musicians, or general public with an interest to learn about Persian music.
Date: Sunday, 16 September 2018
Time: 2:00-4:00PM
Place: Special Gallery, Islamic Arts Museum Malaysia
Jalan Lembah Perdana, 50480 Kuala Lumpur
FREE ADMISSION.
Registration required at: [email protected]
Places are limited, please register early.
Event Dates
Venue
Website