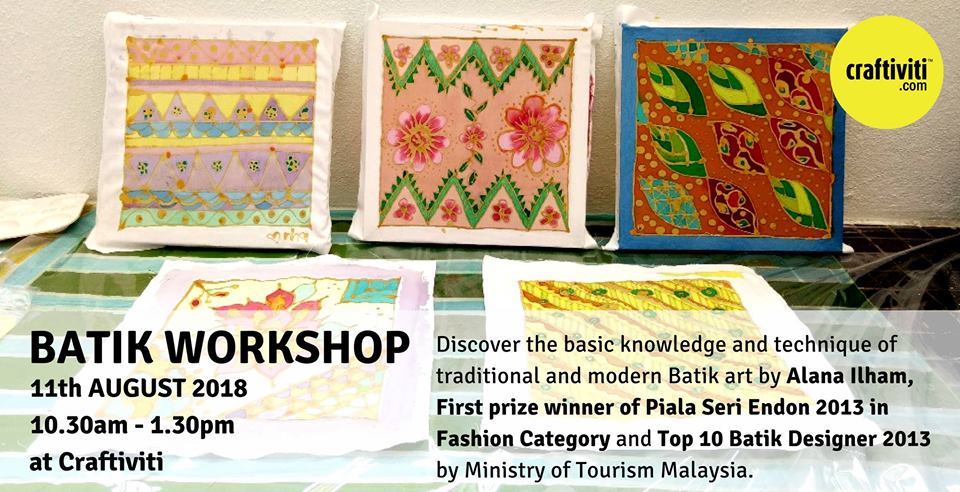 BATIK WORKSHOP
Date: 11 August 2018
Time: 10.30am – 1.30pm
Fee: RM250 per pax
Venue: Craftiviti – D-1-46, Block Dahlia, 10 Boulevard, PJU6A, Petaling Jaya.
*LIMITED SEATS AVAILABLE SO BOOK EARLY
**Any cancellations after booking will incur a 20% cancellation fee
Alana Ilham by Nik won first prize for Piala Seri Endon 2013 in Fashion Category and was consecutively named
Top 10 Batik Designer 2013 by Ministry of Tourism Malaysia. Her love of Batik painting, sewing, arts and crafts and translating ideas into a finished product takes constant learning, reading and research. From the runways, Nik moved on to managing her workshop – Bengkel Kami.
Here's what you'll learn:
– Basic knowledge of traditional batik method – tools, supplies, technique
– Using hot wax with canting on a stretched fabric
– Learn to use cold wax pen, a modern take on canting
– Batik painting on a zipper pouch
Here's what you'll take home:
– Personalized batik painted handkerchief
– Personalized batik painted zipper pouch
– 10% discount for one time purchase at Craftiviti
*All materials and tools will be provided to be used in the workshop only.
Email [email protected] for booking.