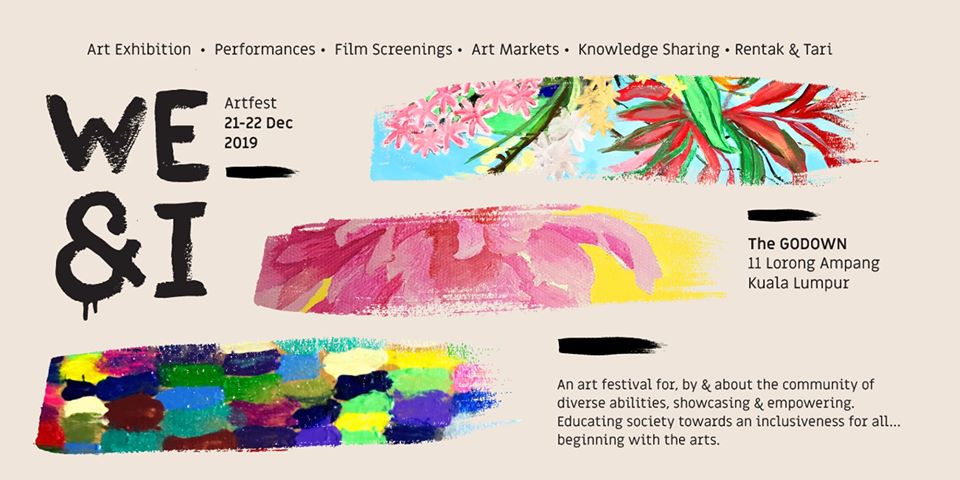 WE&I ARTFEST is inspired by the community of diverse abilities
Created For The Differently Abled Community By The Differently Abled Community with support from ALL .
to EMPOWER the differently abled community towards INDEPENDENCE, INCLUSIVITY and SUSTAINABILITY.
The WE&I ARTFEST 2018 was a first of its kind differently abled festival to be held annually in which the most relevant art and social work practices are bridging diverse abilities communities . They were given platforms which includes visual art exhibitions, a creative marketplace, live performances, sharing sessions , music and art workshops, film screening , a community art mural wall and even an art fun parade.
This was held in DECEMBER the same month of THE INTERNATIONAL DAY OF PERSONS WITH DISABILITIES 2018 themed : Empowering Persons With Disabilities And Ensuring Inclusiveness And Equality
This year's WE&I ARTfest 2019 will still be celebrated in DECEMBER . This is in celebration of THE INTERNATIONAL DAY OF PERSONS WITH DISABILITIES which falls on 3rd December. As we continue to spread awareness alongside partners with a common goal, we are also empowered to be able to contribute to heritage conservation , and cultural preservation . In respect for the community WE & I will collate the findings and salient points from the forum to draft an OKU Charter towards a sustainable future . You will find :-
I Intellectual Art Discourses I Sharing sessions , Seminars & Workshops I Meet the artist & live Art Demonstrations I Creative Programmes All Leading To Grand Finale I SPECIAL EXPRESSIONS III visual arts exhibition of the WE&I ARTfest 2019 I Special invite Hi Tea for charity featuring a fashion show with models from the differently abled community I Workshops & collaborative works between selected professional artist and the exhibiting artists to be showcased . I Performing Arts & spoken words , Film screening of submitted works from the MMHF 2019 & many more leading into the 2nd day….