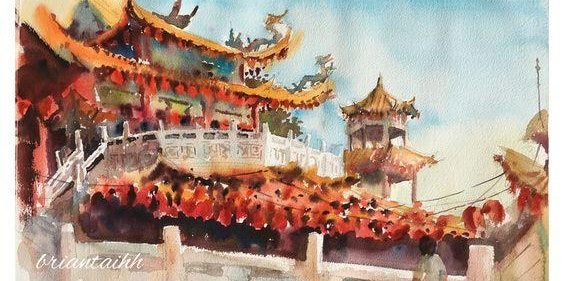 Students will need to bring their own watercolor and brushes for the class. Watercolor paper will be provided. If you do not have any of the required materials, they can be purchased at the store at a 10% discount on the day of the workshop. The instructor will also advise on suitable materials available in store. If you have any questions about the existing materials you have, do bring them along and he will guide you along as well.
Workshop Itinerary:
2.00pm Introduction of artist
2.10pm Getting to know watercolor (material and tools)
2.30pm Color contribution (base color & tone)
3.00pm – 3.10pm Short break
3.10pm Light and shadows
3.30pm Theory of 3 layers watercolor work
3.45pm Artwork sketching
4.00pm Step-by-step work to add color
5.30pm Sharing session
6.00pm End
About the Instructor:
Brian Tai is not only a talented artist but also a math/physics tutor with over 26 years of experience in watercolor, acrylic and oil painting.
Involvement in Art
Administrator of Sketchwalk Kuala Lumpur
Member of Scenic Ranger (Singapore )
Exhibition Participation
Ecoworld "Journey of art " exhibition 2017
Blossom Art Festival 2017
Sketchwalk Kuala Lumpur 3rd Anniversary membership exhibition 2017
Incheon Global Art Exhibition 2017
Commercial Art participation
2 artworks selected as Buncho 2018 Table Calendar images
Ecoworld Resident Club artwork Artist