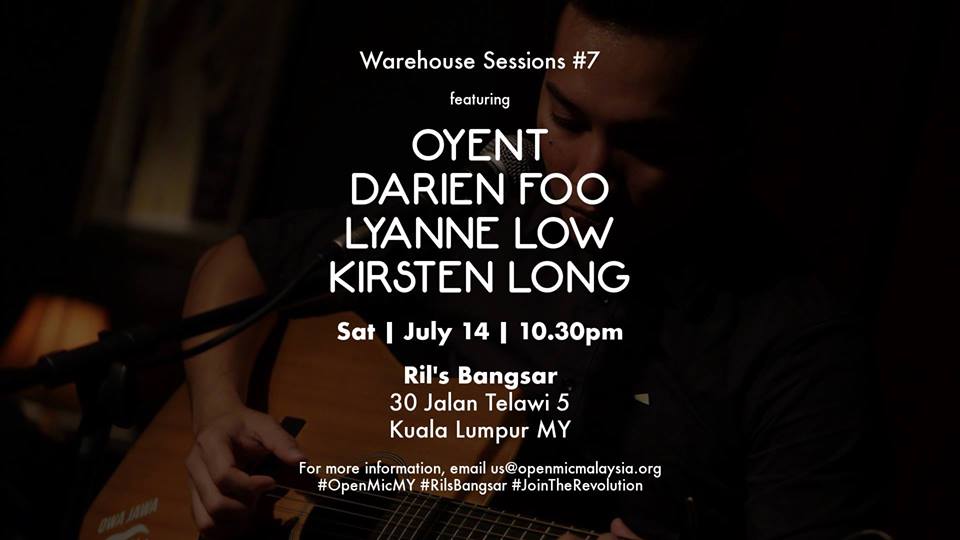 …and the Warehouse Sessions is back but this time as a curated evening of independent wholesome indie goodness happening once a month on a Saturday! Come with an open mind, and you will surely have a blast 😉
***OYENT***
Oyent has been smashing the local pub scene with his live-wire energy, strong stage presence and exceptional fluency with Spanish hits, which won the hearts of many. He has had extremely successful years in music in the local night-life and pub scene with his cover bands "Acoustica" and 'Magnifico'. A graduate from the National Arts Academy (ASWARA), his strong voice enables him to sing a variety of tunes while playing percussions.
In 2014, Oyent was selected to perform live for musical maestro AR Rahman at the press conference of his Infinite Love concert here in KL. Oyent moved to East Africa soon after and thought music as a volunteer with several NGOs.
Since returning to Malaysia, Oyent has made a remarkable comeback as a singer-songwriter, winning the Bronze award for his Malay song 'Gemilang Deepavali' in the JALAKX –VIMA Deepavali Song Contest 2017 and being the third recipient of the SKOWT Music Fund award. He is also a spokesperson for the Drug-Free Youth Association and actively shares his voice and personal experiences to educate the youth on the dangers of drug abuse, and how to rise again after a fall.
His repertoire consist of English, Malay, Spanish, Latin, Chinese and Tagalog cover songs by Zainal Abidin, Man Bai, The Gypsy Kings, U2, The Beatles, Ed Sheeren, etc. Oyent brings along with him his superb showmanship, spontaneous antics and naturally pleasant personality.
Follow him: https://www.instagram.com/oyent.official/
***DARIEN FOO***
Known for his soul-foo vocals and big personality, Darien never fails to entertain with his contagious smile and ever-engaging stage presence. Armed with his six strings and his voice, he has improved musically by leaps and bounds since starting out just over two years ago. Darien is currently in pursuit of his first single and debut album.
Follow him: https://www.instagram.com/darienfoo/
***LYANNE LOW***
Lyanne Low is a singer-songwriter and pianist from Subang Jaya, Malaysia. She is a Foundation in Music graduate from the International College of Music, Kuala Lumpur, and is currently pursuing her Bachelor of Music, majoring in Songwriting and minoring in Stage Management, at the Berklee College of Music and the Boston Conservatory at Berklee, Boston, U.S.A.
​
Lyanne's songwriting styles include RnB, Rock and Rap, as well as Musical Theater, but she enjoys singing and experimenting with Jazz Standards too. She places strong emphasis on her lyricism, and loves to interweave messages that she feels strongly about into rhyme and rhythm.
Some of Lyanne's influences and favourite artists include The Reign of Kindo, Lianne La Havas, Esperanza Spalding, and Ella Fitzgerald. She has studied with some of the industry's greatest: including author of "Writing Better Lyrics", Pat Pattison and composer of Car Talk: The Musical!!!, Michael Wartofsky.
Follow her: https://www.instagram.com/lyanneeelow/
***KIRSTEN LONG***
A classical pianist and jazz vocalist who loves folk and rock.
Classically trained on the piano since the age of five, Kirsten Long graduated with First Class Honours from University of Malaya with a Bachelor's Degree in Performing Arts (Music), majoring in Jazz Piano.
Over the years, Kirsten has performed at multiple venues and events such as the Butterworth Fringe Festival, No Black Tie, Medini Live, MPO Unplugged and the Taipa Houses-Museum in Macau, sharing the stage with musicians, namely Az Samad, Kevin Theseira, Joe Pruessner, Julian Chan and Zalila Lee. Currently, she teaches classical and contemporary (jazz and pop) piano as well as vocals (jazz, broadway, pop).
Follow her: https://www.instagram.com/kirstenl8/
For more information, email [email protected] 😀
#OpenMicMY #RilsBangsar #JoinTheRevolution
~
Open Mic Malaysia is the brainchild of Shaneil Devaser, frontman of The Endleaves. Established in 2012 and currently operating in Sabah, the Klang Valley and Penang, Open Mic Malaysia aims to create sustainable avenues for bedroom musicians, singer-songwriters and professional musicians to share their music and experiences with each other and the public, over evenings of wholesome indie goodness. In partnership with Ian Tai of The Propositions, Jaime Gunter of Volatile and Boy Sunny of Meteor Crates, Open Mic Malaysia aims to… Make Malaysia Great (for indie music) Again.