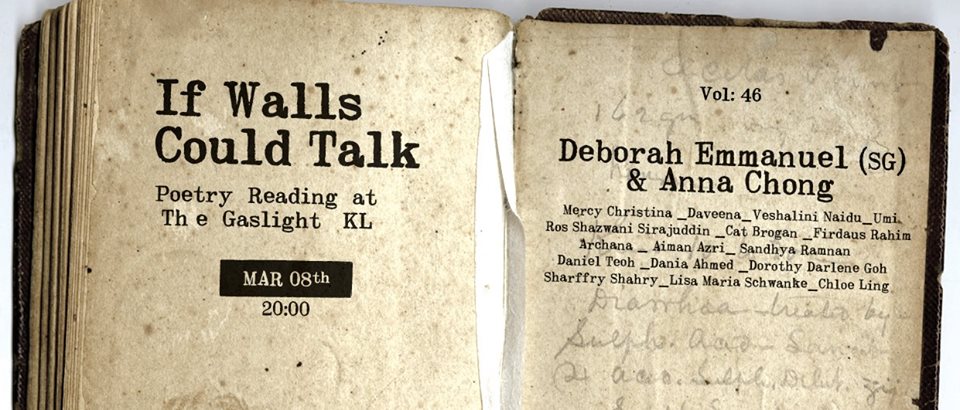 Poets and poetry lovers, we welcome you to the 46th session of our poetry open mic at The Gaslight, Kuala Lumpur. In conjunction with International Women's Day, we are featuring two amazing women and their stories.
FEATURED ACTS:
DEBORAH EMMANUEL (SG) is a Singaporean poet, performer, and four-time TEDx speaker. As a slam poet she has featured at festivals like the Makassar International Writers Festival and the Queensland Poetry Festival and won competitions in Singapore, Germany and Australia. Her performance work has featured in places like Bali, Berlin, London, New York City and Kathmandu, and she has toured alongside people like Anthony Anaxagorou and Sarah Kay. Deborah's first collection, When I Giggle In My Sleep, was published by Red Wheelbarrow Books early 2015. Her foray into creative non-fiction, Rebel Rites, launched in 2016. When not making poems, she can be found making music with Wobology, Mantravine, The Ditha Project, and Kiat, performing on stage and facilitating workshops.
ANNA CHONG is a composer, producer. Anna has recently launched her second album named 'A Reset of Earth' in December 5th, 2017, and debut album entitled 'Tack' in July 29th, 2013. In year 2015, 'Tack' album has awarded the 'Best Indie Album' by Malaysia PWH Music Award, and nominated in the 'Best Album' by AIM Music Award 2016.
OPEN MIC-ERS:
Veshalini Naidu
Daveena
umi 
Ros Shazwani Sirajuddin 
Cat Brogan 
Firdaus Rahim
Archana
Aiman Azri
Sandhya Ramnan
Daniel Teoh 
Dania Ahmed 
Sharffry Shahry
Lisa Maria Schwanke
Chloe Ling
Hosted by: MELIZARANI T.SELVA
COVER CHARGE: RM20 (inclusive of one drink)
We would like to pay our featured acts and eventually afford to bring in other great poets of the world to our stage. Your donation will go a long way in helping the spoken word community do so. Gratitude to you.
HOW TO GET HERE?
1. Look for ENOTECA at Plaza Damansara. On the right side of the restaurant, you will see a stairwell, a Blue Light will be projected on the floor. Walk up the stairs, you will see Blue Elephant, keep walking upstairs, you will hear 60s music, you are close so keep walking up and you'll see a huge banner saying GASLIGHT cafe. That would be the one.
2. Try WAZE or Google Maps to Gaslight Cafe.
3. If all else fails, call Meliza 0124298464
INSPIRED AND INTERESTED?
To be part of the next open mic session, send an email to [email protected]
OR fill up our form http://bit.ly/iwct-poets
OR send us a message on our Facebook Page.