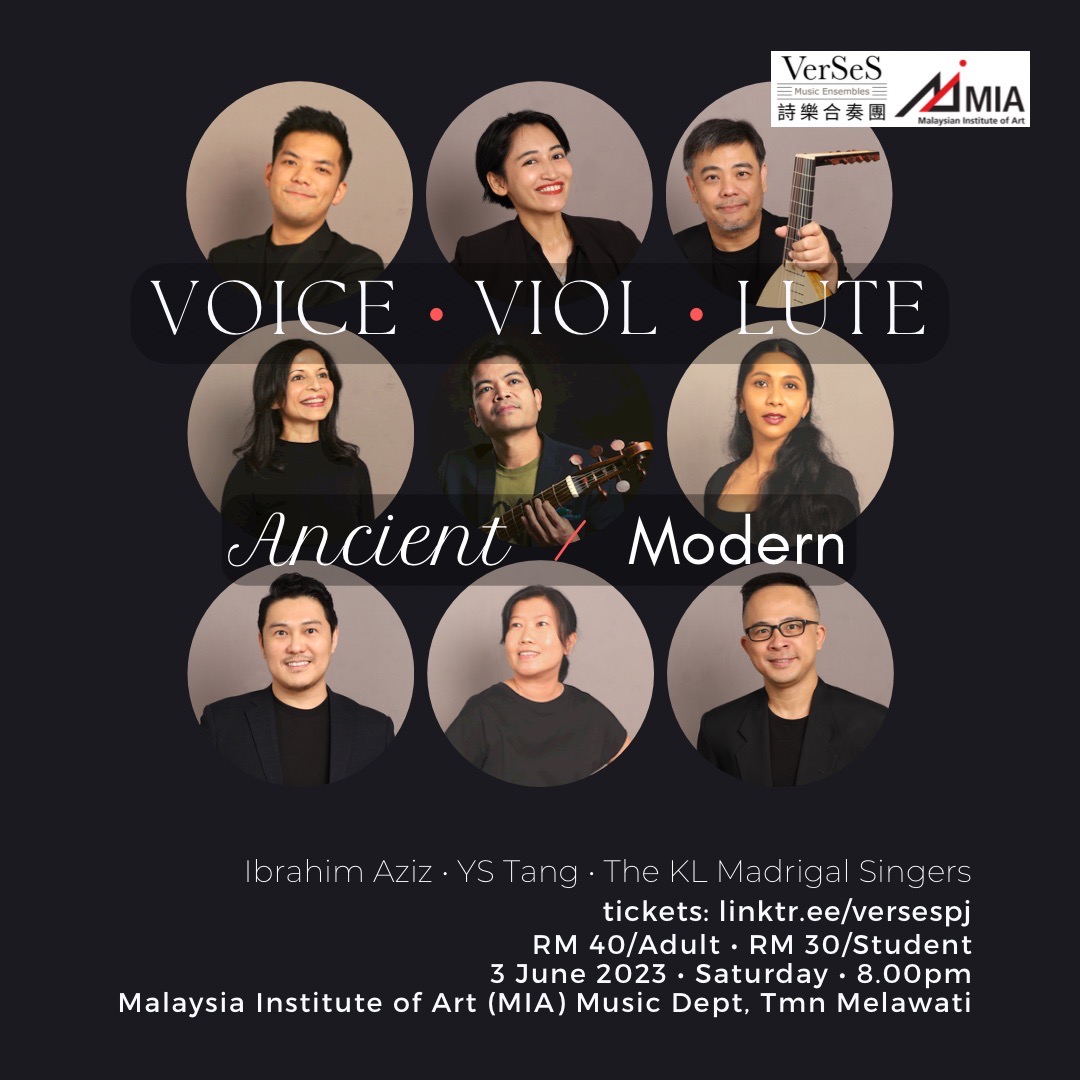 The lecture recital aims to showcase these unique and rarely seen instruments: the Renaissance Lute & the Viola da Gamba (or viol), performed by KL based YS Tang & London based early music specialist, Ibrahim Aziz, respectively. The session will include introductions to these instruments, as well as brief lectures on chord progressions, history of the instruments, and live demonstrations on them. In addition, the KL Madrigal Singers will add in live vocal works that demonstrate the progression of early a capella music, originally for churches and chapels, to more modern and recent a capella works that showcase the evolution and changes that took place through the ages. The performances would include works of renaissance composers, Diego Ortiz and Cipriano de Rore, with pieces such as the Passamezzo Antico & Moderno and Anchor che col partire; Dowland & Purcell with selections from the very first and famous English opera, Dido & Aeneas, as well as madrigals from Dowland, thus ensuring an evening of rich music comprising the voice, the viol and the renaissance lute.
Musicians's line up:
Ibrahim Aziz, Viola da gamba
Ibrahim Aziz divides his time between the concert platform performing old and new music on different sizes of viola da gamba ('viol', or 'gamba' for short), and various music courses and workshops, mostly in the UK but sometimes in other parts of the world too. While a lot of his work involves collaborating with other musicians and different ensembles, he also gives recital on his own and enjoys introducing the sound of his slightly unusual instrument to audiences far and wide. Described by the American Record Guide as a musician whose 'fine tone and technique are coupled with feeling and power', Ibrahim has recorded many kinds of music ranging from Tudor, Jacobean and baroque to contemporary, and even has two critically acclaimed solo albums to his name on First Hand Records. When not preoccupied with the viol (or the piano – another story!) Ibrahim usually spends his spare time experimenting in the kitchen, coming up with fusion recipes with varying degrees of success.  www.ibiaziz.com
YS Tang, Renaissance Lute
A seasoned concert performer, Malaysian classical guitarist YS Tang teaches classical guitar principal at local colleges. A scholarships recipient from Del Mar College, Texas A&M University-Corpus Christi, and Texas Tech University School of Music, where he received his teaching assistantship, classical guitarist Mr. YS Tang has a Master's degree in Music performance. Mr. Tang keeps an active performance schedule and conducts public seminars in various classical guitar related topics. Mr. Tang works closely with VerSeS – KL Madrigal Singers, actively engaging in outreach program to promote classical music / operatic arias / madrigals to the general public, especially to younger audience.
The KL Madrigal Singers: Sharlene Rani, Asha Menon, Athirah Ibrahim, Chow Yee Mun, Maximus Tan, Scott Woo, Paul Khoo
VerSeS Music Ensembles was formed in 2002 and currently comprises acapella ensemble, solo voice ensemble and instrumental ensemble within the collective. The Kuala Lumpur Madrigal Singers is the soloist ensemble within the collective, with a wide interest in music from renaissiace madrigals, to arts songs of Germany, Italy, and China, to opera scenes and arias. Apart from providing live music entertainment and 1-to-1 music lessons, VerSeS also conducts non-profit education and outreach programs, such as "The Singing Balcony"; lecture recital series and historically informed concert programs, often in collaboration with local tertiary education institutions and private music schools. Follow us on www.Instagram.com/versespj
For tickets:
RM 40/Adult, RM 30/Student
https://linktr.ee/versespj.com
Whatsapp 011-5423 6828