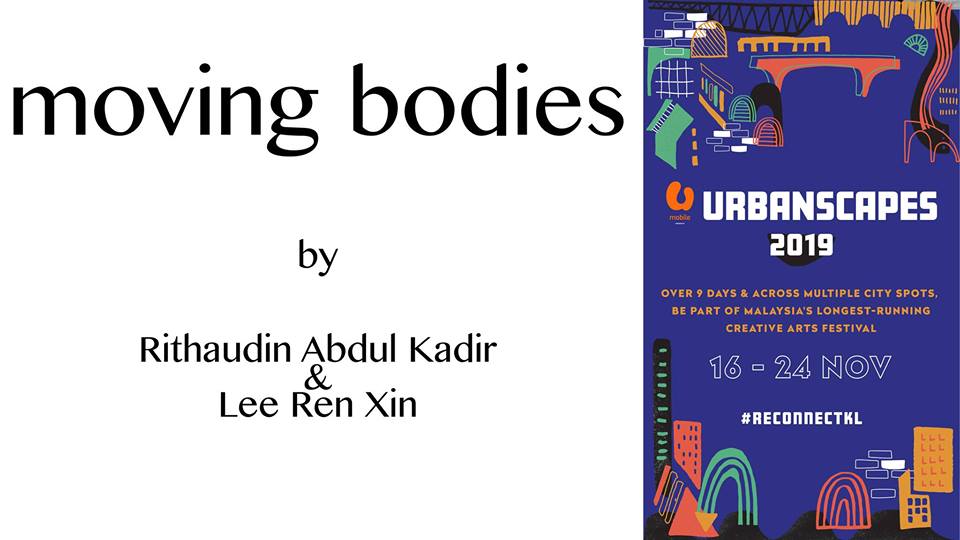 Under the HuRu-HaRa banner of TerryandTheCuz, 'Moving Bodies' is a dance performance performed by renowned dancers Rithaudin Abdul Kadir and Lee Ren Xin.
Narrative:
Nusantara or the Malay Archipelago was the centre of the world due to its unique location between China and India. Chaos reigned here and out of the chaos arose cities, kingdoms and countries where artisans strived. Artistes defined that chaos through music, sculptures, literature, murals as it continues to do today. To create, we must first destroy and when there's destruction, there is chaos. HuRu-HaRa or 'chaos', serves as the subconscious of these Nusantara people who are drawn to create.
In Moving Bodies, Rithaudin Abdul Kadir explores our collective identities by examining how our past has framed our future, while Lee Ren Xin explores how capitalism, greed, waste and plastic has shaped our modern self and how we now live in a time where the projected image of us is how we define ourselves.
About the dancers:
Rithaudin Abdul Kadir
Rithaudin believes that dance is culture imprinted on body. Thus, any dance is a living proof of the culture of the beholder. Hailing from Sabah, Malaysia, which is rich in ethnicity, he loves to experiment with the different mix of traditional cultures that he have been exposed to and learnt. A dance graduate from University of Malaya, his work has already been recognised in the local and international scenes especially for 'site specific' performances. He tries to make his work as an edu-tainment for the audience. As a dance enthusiast, Rithaudin has been active as a MyDance Alliance member and also works part-time as a dance lecturer in KDU University College. Apart from that, he is also known as a costume and props master and even as a make-up artist. His works also can be seen in film (Interchange), tv drama (Little Nyonya – drama series based in China, Taiwan and Singapore) and many dance showcases and festivals in Malaysia.
Lee Ren Xin
Lee Ren Xin is an independent dance artist and performance-maker based in Petaling Jaya and Kuala Lumpur. She studied at the Nanyang Academy of Fine Arts in Singapore, and completed her BFA in Dance at Purchase College, New York. Ren Xin first started choreographing in 2009 in T.H.E. Emerging Choreographers curated by her then mentor Kuik Swee Boon.
Her work B.E.D., supported by Krishen Jit Astro Fund 2014, was presented in five different chapters in Malaysia, Festival BO:M 2015 in Seoul, and Festival/Tokyo 2016, with a brief residency at the Morishita Studios. In 2016, Ren Xin was also invited as a Fellowship Grantee to the Festival Teaterformen in Braunschweig, Germany. In 2017, she collaborated with Singaporean dance artist Lee Mun Wai for their duet Where's The Speficifisfety, and presented a work-in-progress Spare Rib? Spare Me! at the Incheon Arts Platform during a short residency in South Korea. She also experimented with an initial version of her Private Dance Show project in KL.
In the past few months, she collaborated to devise and perform Version 2020 led by Mark Teh of Five Arts Centre in Malaysia. The work has toured to Festival SpielArt in Munich and to Theater Commons Tokyo, before showing at home in Kuala Lumpur in March 2018.
At present, she is working on a long-term research based on daily ritual/practice, investigating and inhabiting the local neighbourhood and city. In April 2018, she is invited as an artist-in-residence by the Department of Cultural Studies, Chinese University of Hong Kong for research and creation
Performance Schedule:
16 and 17 Nov, 8pm & 10pm – Rithaudin Abdul Kadir
23 and 24 Nov, 8pm & 10pm – Lee Ren Xin