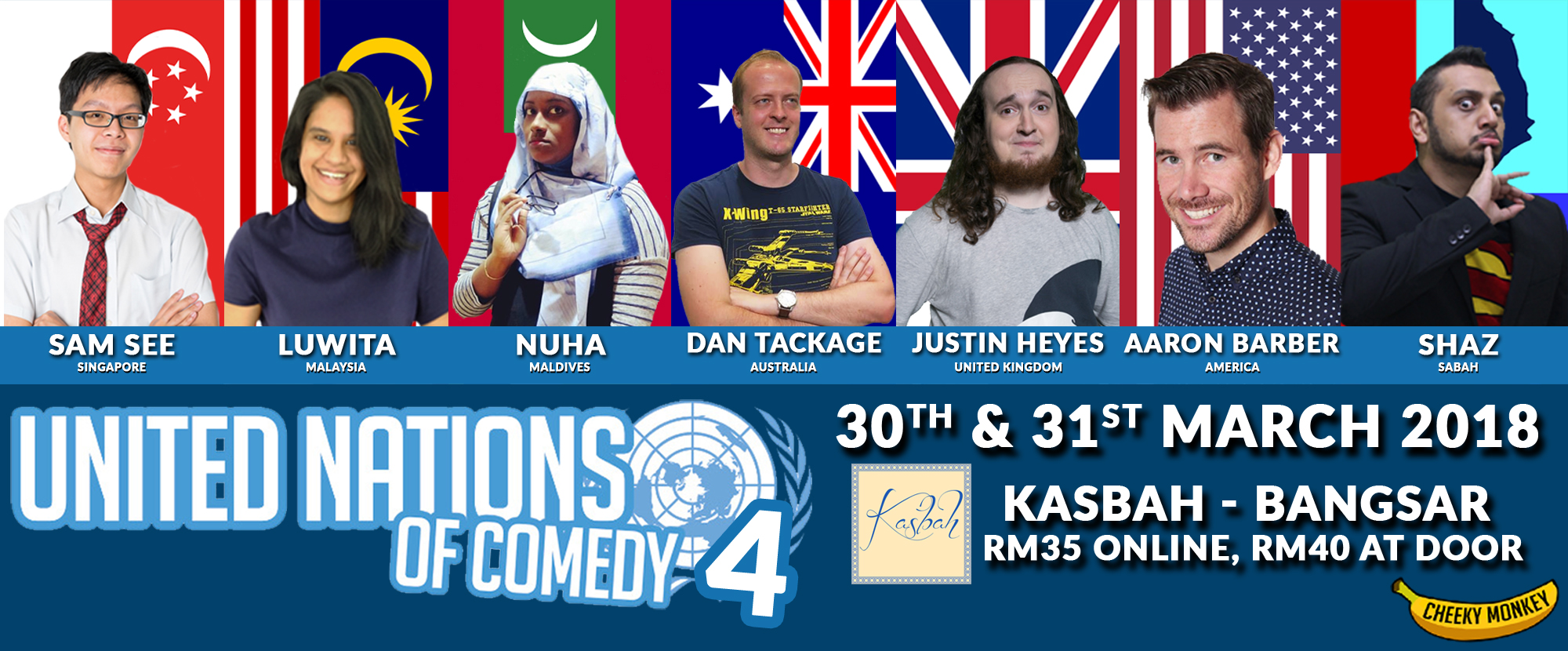 After 7 sell-out shows in Malaysia, and 2 sold-out shows in Singapore, the United Nations Of Comedy is back! Featuring the best expat-comedians in Malaysia and Singapore, as well as locals Luwita (MY) and Sam See (SG), the United Nations of Comedy promises to unite audiences through laughter.
When : 30 & 31 March (9.00pm)
Where : Kasbah, Bangsar
Price : RM35 (Online) RM40 (On The Door)
How: Visit http://unocmy.peatix.com
*Pick the day that you would like to catch the United Nations of Comedy Team by selecting the date shown on Peatix.*
Featuring:
Sam See – Singapore (Host)
Sam See is part of the region's new wave of stand-up comedians, with the wit, skill, and liver capacity to entertain audiences of all kinds. Based in Singapore, he has opened for comedians like Harith Iskander, Bert Kreischer, Gina Yashere, Kevin Bridges, Dara O Briain & Ed Byrne. He has also performed in numerous comedy festivals in Asia, including the Singapore Comedy Fringe Festival, Manila Improv Festival and the Kuala Lumpur International Comedy Festival.
Sam has also been working with Comedy Central Asia since its inception for both live and televised performances, earning him a spot as one of their featured comedians online and on screen. His comedy chops in both stand-up and improv have also led him to numerous overseas performances, entertaining audiences in Melbourne, Taiwan, Malaysia, Tokyo, Hong Kong, Macau, Myanmar and the Philippines.
Justin Heyes – United Kingdom
Justin Heyes is one of the UK's most lovable comedy exports. A storyteller at heart, his honest reflections of his own experiences never fail to entertain a diverse array of audiences putting him in constant demand.
A crowd favourite, Justin has headlined numerous shows across the world, been a part of the 'LOLFest', 'Crackhouse Carnival', 'Singapore Fringe Festival', and was nominated for the Best Comedy Award at Perth FringeWorld 2018.
He has performed to audiences in Malaysia, Singapore, the Philippines, Vietnam, Indonesia, Thailand, Myanmar, Australia and the UK.
Justin has appeared on Malaysian television in the film 'Cinta Di Gerai', and sitcom 'Cakap Melayulah', and was the first English comic to perform stand up in Bahasa Melayu on Malaysian television when he appeared twice on 'Komediri'.
He has subsequently appeared on Malaysian television on 'Komediri 2', 'Komediri English', and 'Sembang Teh Tarik', as well as Malaysia's first online stand up comedy series, as one of the faces of the iFlix original 'Oi! Jaga Mulut'.
In his time on stage, Justin has opened for international stars such as Marcel Lucont, Butch Bradley, Pete Johansson, Brendon Burns, Paul Ogata, Glenn Wool, Imran Yusuf, John Robertson, Tom Rhodes, Bill Bailey, Ed Byrne, Dara O Briain and Gina Yashere.
Luwita Hana Randhawa – Malaysia (KL)
Ever since bagging the Best Female Youth Newcomer Award at the 2012 Short+Sweet Malaysia Stand Up Comedy Festival, Luwita Hana Randhawa has made a name for herself in the local comedy scene for her acerbic and understated wit. She is a regular performer at comedy shows throughout KL.
She has also performed at shows in Singapore, Cambodia, Hong Kong, London and New York and performed her first solo show, Nothing to be Done, at the 2014 New Zealand Fringe Festival. Luwita was included in the CLEO HotShots 2016 list, a sign of more things to come for this up and coming comic.
Dan Tackage – Australia
Dan Tackage as performed in Singapore, Japan, the Philippines, Thailand, Taiwan, Vietnam and Australia. He has also performed at the Crackhouse Comedy Festival and LOLFest in Malaysia. Despite having a fear of flying, only being able to speak English (barely) and being incredibly introverted, Dan's work forces him to mingle with all kinds of people from South East Asia, even those annoying expats.
This frequent travel leads to a steady number of misadventures which Dan shares with his audiences, although he sees it more as therapy. So come along and laugh at his misfortune.
Shahrizan Ferouz – Malaysia (Sabah)
Shaz has travelled all the way from the far off land of KK Sabah. Since arriving in KL in 2003 he has been involved in TV and radio and doing stand up. In 2016 he appeared on 'Komediri' and 'Sembang Teh Tarik'. During his set he will educate you on the basics of Malaysian geography. Lesson 1: Sabah is part of Malaysia. For 'Lesson 2' come and watch him perform!
Aaron Barber – USA
Aaron fled America to Malaysia as a refugee following Trumps election victory. He figured the two counties flags are almost identical so it seemed like the logical destination for a new home. The big Texan is one of the fastest rising comics on the comedy circuit in Kuala Lumpur.
Nuha – Maldives
Nuha is a humourous hijabi dedicated to spreading her brand of halal humour. A renaissance woman, Nuha is a playwright, secret poet, group chat lurker and previously did radio and Shakespeare back in the Maldives. She will be making her debut with the United Nations Of Comedy after making her mark on the KL open mic scene.