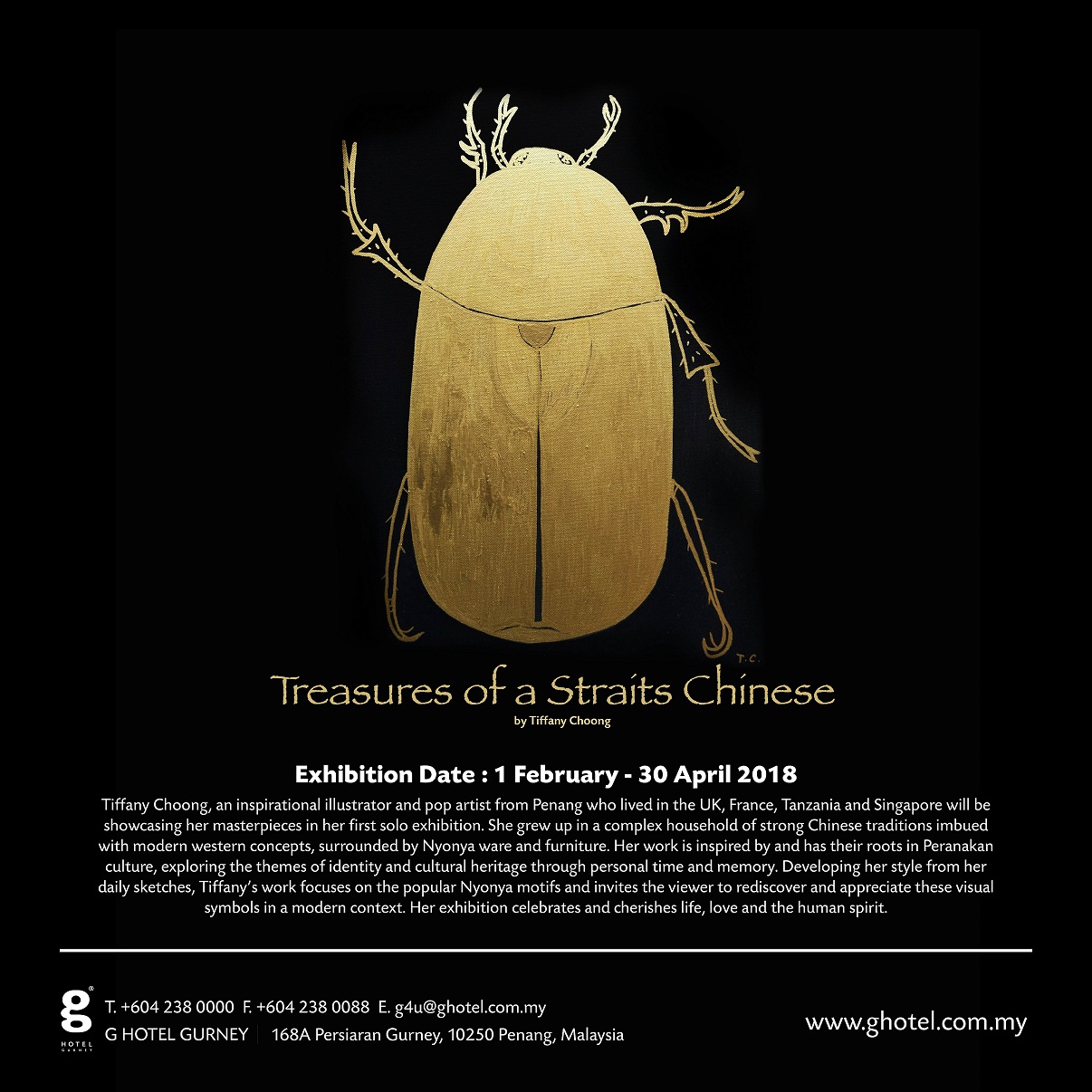 Treasures of a Straits Chinese is the long awaited solo art exhibition by Penang artist Tiffany Choong, held at the G Art Gallery in Penang.
Exhibition Date : 1 February 2018 – 30 April 2018
Time : 9.00AM – 9.00PM
Venue : G Art Gallery, G Hotel Gurney, Penang
*Those interested to purchase the paintings, you can get assistance from the Reception counter.

About the Exhibition
Seeing that this is her first solo art exhibition, the artist has raise the eternal question of "Who am I?" through her daily sketch project.  Art is a personal quest into her emotional inner world and this art exhibition explores the themes of identity and cultural heritage through personal time and memory.
The artworks are inspired and has their roots in Peranakan culture. She grew up in a balanced world of possibilities.  A household of strong traditions imbued with western concepts, surrounded by Nyonya ware and furniture as well as modern technology.  In a promised land that was called home but was really foreign. A world that was simpler, happier, when her grandparents and parents were still alive.  A time that has been lost, but hopefully not forgotten.
This exhibition celebrates and cherishes life, love and the human spirit.
About Tiffany Choong

Born on the island of Penang,  Tiffany's wanderlust cravings and curiosity for new experiences has lured her to different parts of the world. The free-spirited artist has studied and worked in the UK, France, Tanzania and Singapore.
Her art demands passion and it comes from the heart. Her work has a story to tell. An art journal becomes her trusted travelling companion. Through her sketches on her social media, it has connected her to the world and has inspired many others to start their own creative journey. You can follow her Instagram to see some of her daily sketches.
About G Art Gallery
G Art Gallery is a contemporary art gallery which was established in October 2011 in G Hotel Gurney to promote and support the arts community, both locally and internationally. Since then, G Art Gallery has featured renowned artists from different background and talents such as oil paintings, photography, watercolour, calligraphy, cooper tooling and others. G Art Gallery is open for public viewing at no charge. G Art Gallery looks forward to showcase more varied artists.