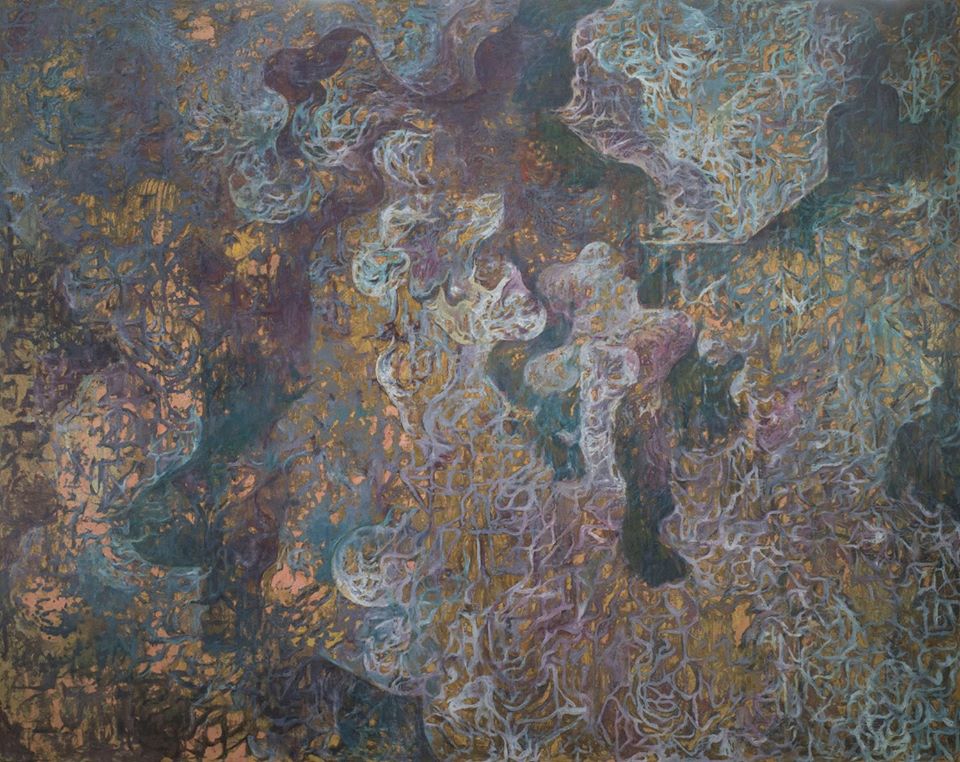 Richard Koh Fine Art (RKFA-KL) is pleased to announce Malaysian artist Zelin Seah's (b.1980) solo exhibition in Malaysia. Too Much, Too Empty is scheduled to run from 5 – 21 December 2019 at Richard Koh Fine Art, 229, Jalan Maarof, Bukit Bandaraya, Bangsar 59000, Kuala Lumpur. The artist will present 13 works on copper and a site-specific installation.
Born in Kuala Lumpur, Malaysia, Seah's practice draws upon his personal feelings and observations of his surroundings as well as his experience of being part of the Chinese community in the country. His semi-abstract paintings hint at an interconnected space, that forms the invisible structure and law in life, expressed through lines of contours and layers of painting and etching. Seah's preferred medium of copper is viewed as a testament, like a sculptor's monument, to the often-neglected aspects of one's surroundings and the journey in reaching spiritual fulfilment.
In Too Much, Too Empty, the acts of painting and etching are enigmatic, leading viewers to question where their focus should lie – on the subject, the negative space, or even the physical material of the painting? This deliberate ambiguity is a representation of the contemporary socioeconomic phenomenon; it creates entry points for viewers to contemplate what is real in daily life and to allow themselves to be immersed in the visual and tactile experience.
Amidst this chaotic world of contemporary life and the digital age, feelings of loneliness are not uncommon; the tendency to keep to oneself and be detached from society. Too Much, Too Empty is considered the artist's personal journey in overcoming this void and reconnect with his surroundings. Through the use of negative, an often-overlooked element in art, this body of works attempts to draw focus on the void one may feel in this routine world. The portrayal of familiar hollow forms encourages viewers to critically examine the contemporary socioeconomic landscape and one's identity and purpose within it.
…
Zelin Seah (b.1980) lives and works in Kuala Lumpur, Malaysia. Seah received BFA at University of Central England (2007). His works have been acquired for public and private collections including National Art Gallery Malaysia and University of Central England. He has exhibited widely in South East Asia, United Kingdom and Germany, including The National Art Center Japan (2011), Saatchi Gallery United Kingdom (2014), Art Stage Singapore (2015, 2016), and recently at Subject-Object Gallery Berlin (2018). Seah won several recognitions including, the Jury's selection of recommended works at the 14th Japan Media Arts Festival (2011), The Young Guns Awards Malaysia (2013), and 2 times of silver prizes in UOB Painting of The Year Malaysia (2016, 2017). Seah has been joining artist- in- residence and exchange programs in several countries including Malaysia, Myanmar, Philippines, Indonesia, and Germany for the two recent programs at Basis E. V Frankfurt (2017) and Cammin-Castle in Mecklenburg-Vorpommern (2018).