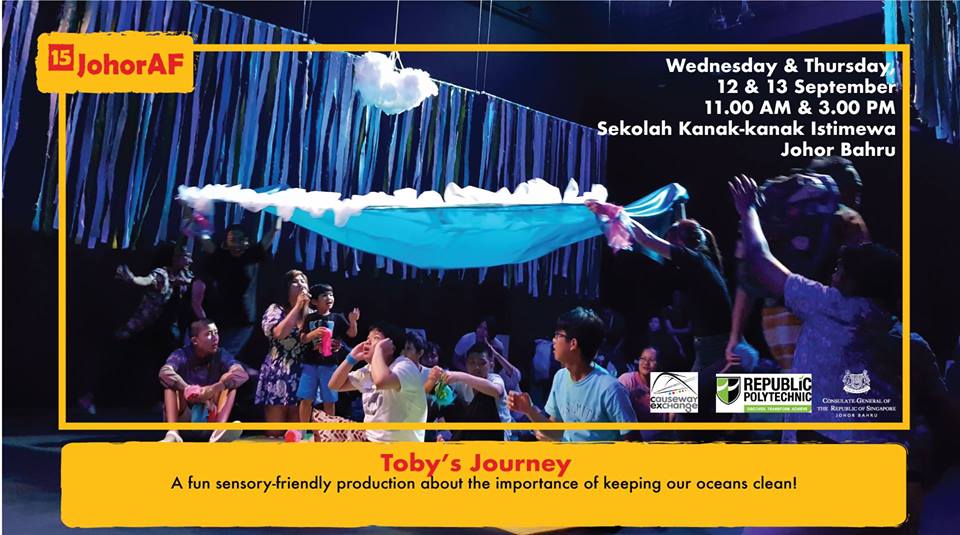 Toby's Journey at 15JohorAF – A fun sensory-friendly production about the importance of keeping our oceans clean!
Toby is a tortoise who lives in Johor Bahru. Toby wants to visit some friends who live in Singapore so Toby sets off on an adventure across the Causeway.
Join Toby and his friends as they explore the strange, unknown magical waters of the Straits of Johor.
This interactive performance provides a safe and sensory-friendly environment for children and families on the autism spectrum or with sensory sensibilities.
The exclusive sensory performance will include:
• Reduction of loud and sudden noises;
• Reduction of harsh and/or flashing lights;
• Modification of house lights during the performance;
• Accommodated house rules that will allow for audience members to talk and/or move around during the show;
• Sensory-friendly sets, props, and costumes that audience members can interact with;
• Pre-show activities that crafts that audiences can work on to be brought into the show
Event Dates
Show Times
Venue
Website