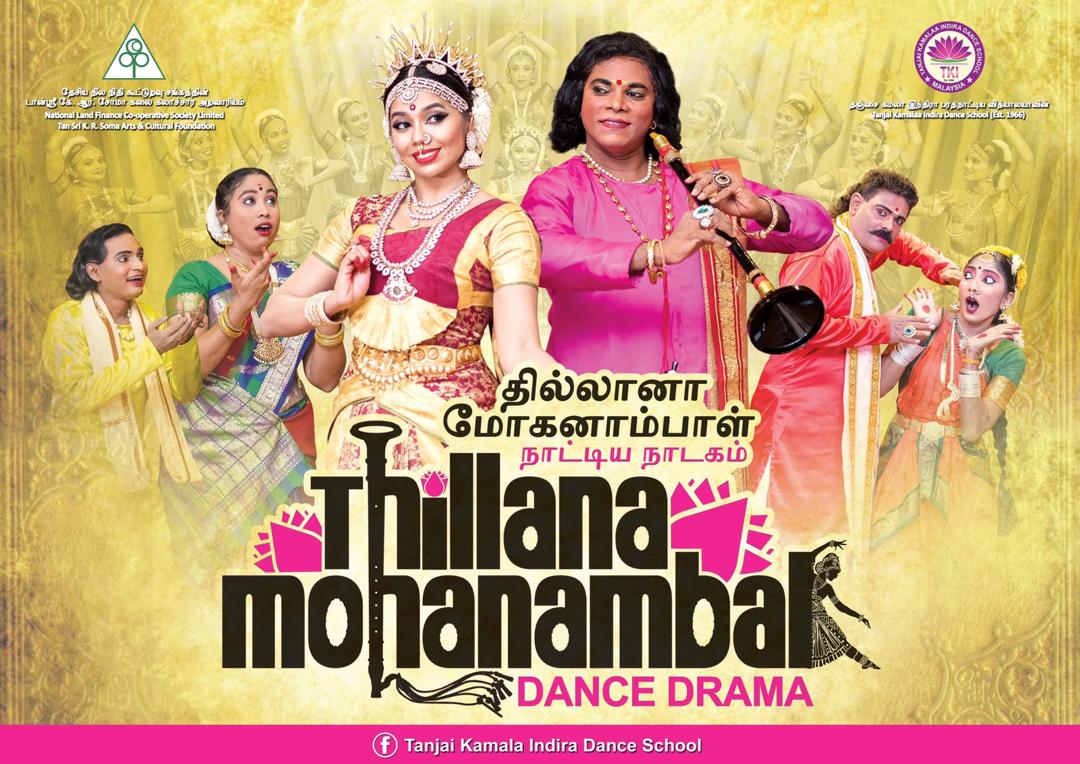 The Tanjai Kamalaa Indira Dance School in collaboration with NLFCS Tan Sri K.R. Soma Arts & Cultural Foundation is back again with another mega-production. After the success of Kannagi: The Wrath of a Chaste Woman, Shiva Thandavam and Sri Valli Thirumanam, the collaborative duo brings you, THILLANA MOHANAMBAL!
With a storyline steeped in the ancient traditions of classical dance and music, the production reflects the symbolic relationship between music and dance represented through an interesting love affair. This beautiful sequel portrays the love that blooms between a Bharatanatyam dancer, Mohana and a Nadaswaram artist, Sikkal Shanmughasundaram, both exceptional in their talents. The many hurdles in their love story meander along with Mohana's escapes from different men, ranging from kings to rowdies who desire to own her for themselves.
A true connoisseur's delight, this production revolves around the many tribulations faced by a woman, that too by one of high repute and stature in society. Get ready to laugh, cry, emote, sit straight and connect all at once as the story, acting, dance, song come together to make Thillana Mohanambal, wholesome entertainment for you and your family!
Date: 22nd & 23rd June 2019 (Saturday & Sunday)
Time: 7.30pm (Doors open from 6.30pm)
Venue: PJ Civic Centre (Dewan Sivik MBPJ), Jln Yong Shook Lin, Petaling Jaya.
Admission: All are welcome (Free Admission)
[***Note: Prior booking is not required. However, the audience needs to register at the door. Registration begins from 6.30pm onwards. We suggest everyone attend early to get the best seats. For further info, please call 03-22731250 / 0126065570]
*About Thillana Mohanambal*
Thillana Mohanambal (The Dance Queen Mohanambal) is a silver screen masterpiece which hit commercial success in 1968 and still reigns in the hearts of classic movie lovers. The Tanjai Kamalaa Indira Dance School (TKI) will be staging an adaptation of this masterpiece as a dance drama, conceptualized using the fine art of Bharatanatyam, the school's forte for over 50 years now. With decades of history in the production of dance dramas, the school is the first to take up this monumental task of bringing to live stage this unique musical drama film that was originally written as a serial story by the prolific writer Kothamangalam Subbu and featured in the copies of 'Ananda Vikatan' a weekly in the years of 1957 to 1958.
Artistic Direction & Choreography: 'Nattuva Thilagam' Mrs. Indira Manikam