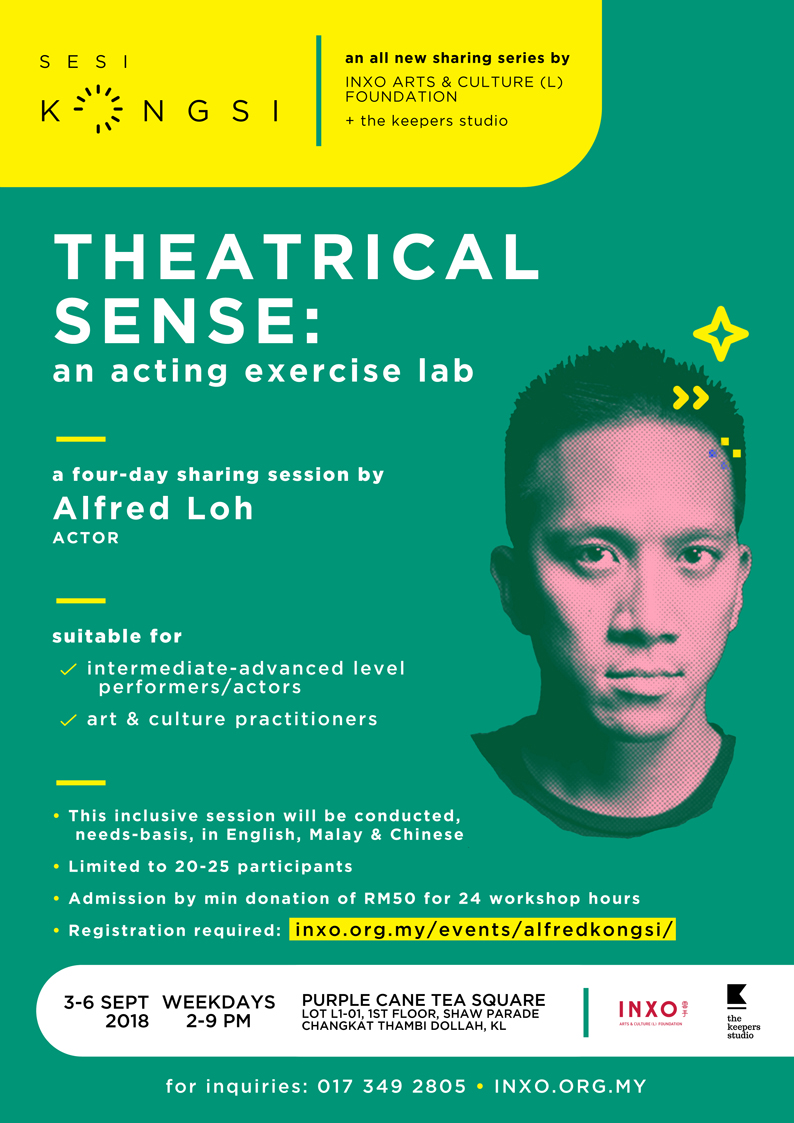 Alfred Loh, actor, aims to share some key learnings from his experience working with Manifesto Poetico in their recent production "Pulse". "Spatial dramaturgy" fosters a keen theatrical sense highlighting the use of space, literally and figuratively to heighten one's sense of theatrical awareness.
Alfred hopes by exploring these concepts together, interesting perspectives on the idea of 'space' will develop. Alfred also wishes to share a systemized and simplified devising process gleaned from his experience and hopes this will spur further creative growth for the participants involved.
Topics and principles to explore:
– verticality
– understanding and application of levels of tension
– physical openness
– exploration of 'theatrical' space
– a systematized, simplified devising process
– a sense of theatricality appropriate for the theatre
This open sharing format also encourages participants to share their perspectives on the exercises that will be conducted and hopes to be facilitated in an equal teaching-learning environment.
Details
—
– 3-6 Sept 2018
– Mon-Thurs, 2-9PM
– Sessions will be conducted, needs-basis, in English, Malay & Chinese.
– Full commitment: Limited to 20-25 participants
Limited Alternative Admission
—
– For participants with limited commitment
– 7-9PM
– Up to 25 pax
Admission Fee
—
– Min donation of RM50 for complete workshop hours
– Min donation of RM10 for daily evening participation (7-9PM)
Interested?
—
Registration: inxo.org.my/events/alfredkongsi/
Inquiries: 0173492805 (Producer: Azzad)
Disclaimer
—
All donations collected during this Sesi Kongsi will go to the facilitator team, as a token for their time and effort. INXO Arts & Culture Foundation receives no monetary gain from this non-profit sharing session.