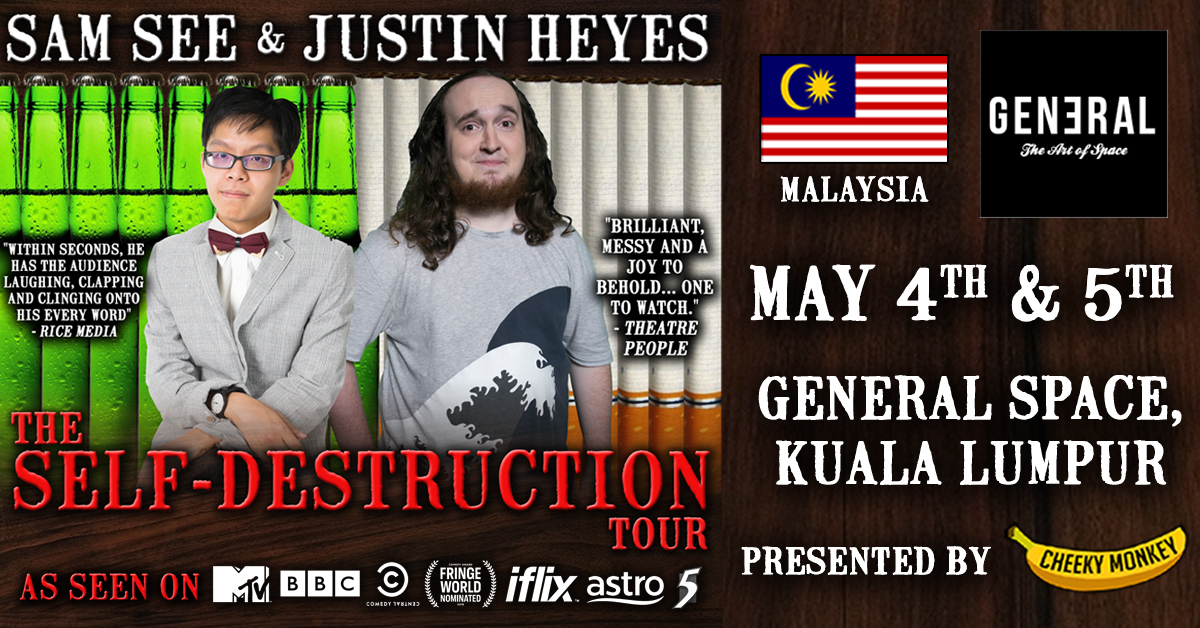 Two of South East Asia's most explosive comics are teaming up to bring the laughs across the whole region, starting with Malaysia!
Justin Heyes and Sam See have been individually tearing up the comedy scene, bringing down houses to packed rooms while appearing on Comedy Central, the BBC and being Nominated for Comedy Awards, and are now coming together to make you laugh until it hurts, while testing the limits of their own endurance.
Performing 14 shows across 6 countries including Malaysia, Singapore, the Philippines, Vietnam, Thailand and Indonesia – in a first of its kind comedy tour – there really is no rest for the wicked. Which will kill harder – their jokes or their vices? Get your tickets now to find out!
When: 4 & 5 May 2018 (Doors Open 8.30pm)
Where: General Space, PJ, Malaysia
Price: RM35 (Online), RM40 (On The Door), RM25 (Student – With Valid ID)
How: Visit http://sdtmy.peatix.com/
*Pick the day that you would like to catch the The Self Destruction Tour by selecting the date and ticket type shown on Peatix.*
Comedians:
Justin Heyes
Justin Heyes is one of the UK's most lovable comedy exports. A storyteller at heart, his honest reflections of his own experiences never fail to entertain a diverse array of audiences putting him in constant demand.
A crowd favourite, Justin has headlined numerous shows across the world, been a part of the 'LOLFest', 'Crackhouse Carnival', 'Singapore Fringe Festival', 'Edinburgh Fringe Festival' and was nominated for the Best Comedy Award at Perth FringeWorld 2018.
He has performed to audiences in Malaysia, Singapore, the Philippines, Vietnam, Indonesia, Brunei, Cambodia, Thailand, Myanmar, Taiwan, Australia and the UK.
Justin has been on the BBC, and has appeared on Malaysian television in the film 'Cinta Di Gerai', and sitcom 'Cakap Melayulah', and was the first English comic to perform stand up in Bahasa Melayu on Malaysian television when he appeared twice on 'Komediri'.
He has subsequently appeared on Malaysian television on 'Komediri 2', 'Komediri English', and 'Sembang Teh Tarik', as well as Malaysia's first online stand up comedy series, as one of the faces of the iFlix original 'Oi! Jaga Mulut'.
In his time on stage, Justin has opened for international stars such as Marcel Lucont, Butch Bradley, Pete Johansson, Brendon Burns, Paul Ogata, Glenn Wool, Imran Yusuf, John Robertson, Tom Rhodes, Bill Bailey, Ed Byrne, Dara O Briain and Gina Yashere.
"Brilliant, messy and a joy to behold… One to watch."
***** THEATRE PEOPLE
"Naturally hits that sweet spot between clever and funny."
***** SEESAW
"A remarkable storyteller with a wicked silly streak."
**** FRINGE FEED
Sam See
Sam See is part of Asia's new wave of stand-up comedians, with the wit, snark, and liver capacity to entertain audiences from all across the globe. Based in Singapore, he has opened for comedians like Dara Ó Briain, Bert Kreischer, Gina Yashere, Ed Byrne & Kevin Bridges. He has also performed in numerous comedy festivals, including the Singapore Comedy Fringe Festival, Manila Improv Festival and the Magner's International Comedy Festival.
Sam has also been working with Comedy Central Asia since its inception for both live and televised performances, earning him a spot as one of their featured comedians online and on-screen. His stand-up and improv have made him an in-demand performer, entertaining audiences in places like Melbourne, Tokyo, Hong Kong, Oman, Malaysia and the Philippines.
Sam was also on Singapore's first ever comedy panel show, OK Chope!, filmed and telecast live. He was one of the permanent panellist who spent each week poking fun at news and current events happening both in Singapore and around the world, along with mainstays to the Singapore entertainment scene Vernetta Lopez and Najip Ali.
"Quick-witted"THE STRAITS TIMES
"Whip-smart, risqué"ESQUIRE MAGAZINE
"Within seconds, he has the audience laughing, clapping and clinging onto his every word"RICE MEDIA
Riezman Radzlan (Host)
Riezman's age hides the fact that this Bahrain-bred youngster is a rising star in the making. He has performed in bars, cafes, clubs, malls, proms and anywhere with a microphone and is fearless on stage. It's hard to pinpoint his style for he's a chameleon, morphing to suit the crowd and bring them to fits of laughter.
Dan Tackage (Featuring Act)
Dan Tackage as performed in Singapore, Japan, the Philippines, Thailand, Taiwan, Vietnam and Australia. He has also performed at the Crackhouse Comedy Festival and LOLFest in Malaysia. Despite having a fear of flying, only being able to speak English (barely) and being incredibly introverted, Dan's work forces him to mingle with all kinds of people from South East Asia, even those annoying expats providing hilarious stories which he shares on stage.
Muzakir Xynll (Featuring Act)
Muzakir is a comedy writer and stand-up comedian known for his quirky wordplay, surreal stories, and offbeat theatrics. His work includes the local-language YouTube sketch group Mentol Pecah, writing for Obviously Harith Iskander, and Harith Iskander's #KitaOK tour.
Harresh AU (Featuring Act)
Harresh AU was the 2016 Short & Sweet Malaysia Comedy Competition winner and was also the Audience Choice award winner at the same event. Since then he has gone on to perform with the likes of Douglas Lim, Kuah Jenhan, Kavin Jay and a host of international comedians. He is known for his unique style on stage and offers audiences a blend of dark observations and intelligent comedy.