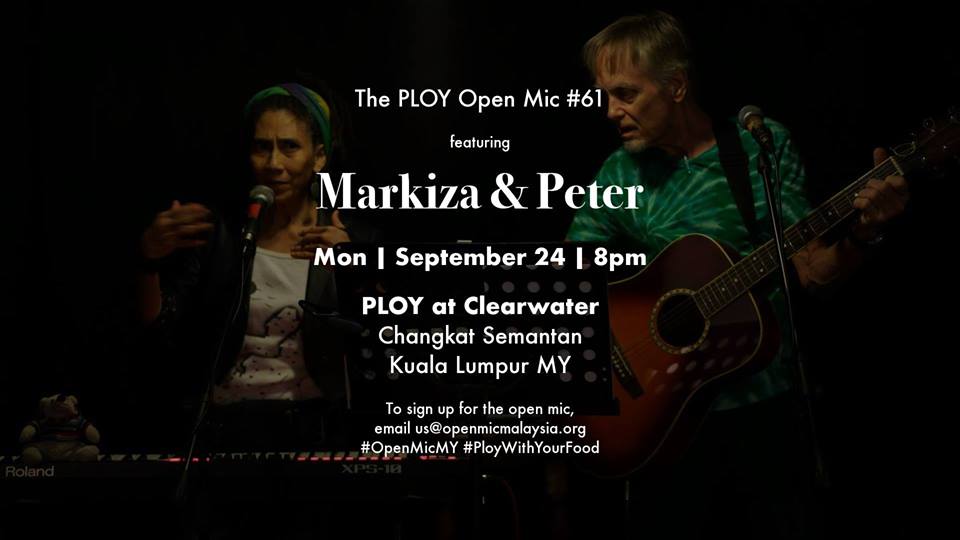 The PLOY (at Clearwater) Open Mic is our 2nd longest running open mic night which happens every Monday evening just outside the palace! Each installation features one of our finest musicians, with this one featuring…
MARKIZA AND PETER
Markiza & Peter Hassan Brown have been performing and recording for many years now in London and Malaysia. Between them they have released altogether 8 albums in the UK and Malaysia. They are the nucleus of the band Soft Touch and are often joined by Wong Lip Kee who has been the band's guitarist since 2004, and currently is helping with their latest recording project, a series of songs about different social issues: refugees, justice, human rights and the threat to the environment and vulnerable species, including Ecopocalypse, Losing Nature (video on Youtube), the popular Like a Polar Bear, Refugee & Choices.
Follow them: https://www.facebook.com/MarkizaAndPeter/
Open Mic Malaysia is the brainchild of Shaneil Devaser, frontman of The Endleaves. Established in 2012 and currently operating in Sabah, the Klang Valley and Penang, Open Mic Malaysia aims to create sustainable avenues for bedroom musicians, singer-songwriters and professional musicians to share their music and experiences with each other and the public, over evenings of wholesome indie goodness. In partnership with Ian Tai of The Propositions, Jaime Gunter of Volatile and Boy Sunny of Meteor Crates, Open Mic Malaysia aims to… Make Malaysia Great (for indie music) Again.
Event Dates
Venue
Website