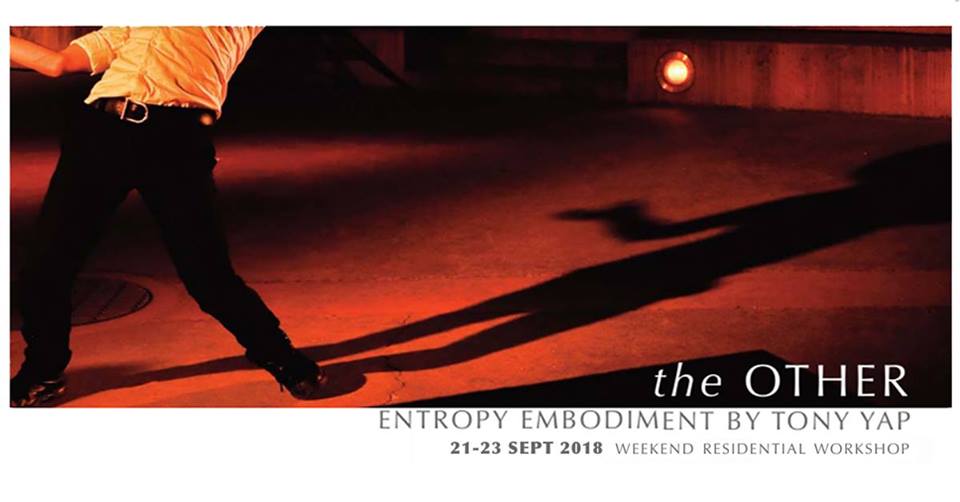 21st – 23rd of September 2018 in the heart of the tropics Rimbun Dahan.
We are inviting movement practitioners, performers and dancers of all levels for a 3 day intensive workshop in movement and improvisation amidst the lush compounds of Rimbun Dahan.
Workshop Description:
the Other is dissimilar to and the opposite of Self, of Us, and of the Same. Making your event/performance here calls for de-habitualizing and de-narcissifying. Perhaps a new courage is required for the risk of discovering the Other.
What are the most fundamental impulses where
movements originate? Entropy is the unpredictable.
While automatic psychophysical impulses arise from inhabited areas of self, resisting them evokes new kind of drives. We are interested in those drives, which are atonal, unknown, unbridled, exposing blockages, fears and abjection. Appropriated in a situation of "nowhere to hide" by a touch of graceful compassion, they become lines of poetry addressed to no one from no one.
The workshop process will be structured by:
> Trance states/focuses/levels – pathways of induction
> Inaesthetic mobility – breath, elasticity, stillness and entropic flow of energy
> Concept of flow as a continuous shifts of states
Gravity/Grace – falling/levitation – the centrifugal
Frenzy – maximise accelerated repetitions through shifting energetic anchorage
> Autoscediastic improvisation/performance
+++++++++++++
TONY YAP born in Malaysia. Yap is an accomplished dancer, director, choreographer and visual artist. He has made a commitment to the exploration and creation of an individual dance theatre language that is informed by psycho-physical research, Asian shamanistic trance dance, Butoh, Voice and Visual design.
He was one of the principle performers with IRAA Theatre and has worked extensively in Australia and overseas including Agamenon Festival Colline Torinese, Italy, and The Trojan Woman, Vienna International Art Festival. As the founding Artistic director of Tony Yap Company in 1993 (previously Mixed company).
He danced and choreographed in an international collaborative work in The Silence of the Forest with Company Lian in Paris, The Night Gardener in Marseille for the Mai-diteranee Festival, France and The Light in the Shadow, Malaysian Dance Festival.
Tony has collaborated extensively internationally in multi-disciplinary and cross-cultural projects. He has received numerous nominations and awards including his solo work The Decay of the Angel which won him a Green Room Award for Best Male Dancer.
+++++++++++++
Date: 21st-23rd of September 2018 (Friday – Sunday)
Venue: RIMBUN DAHAN, Kuang, Selangor
Time: 10am – 6pm (1-3pm lunch break)
*7pm-9pm (special twirling and vocal work and impro) this is optional extra for those who wants to join in.
Normal Fees:
RM450 for workshop;
RM550 with accommodation
**Special promotion Early bird before 11th July,
RM350 for workshop;
RM450 with accommodation
*Maximum number of participants: 15 people
Registration & Contacts:
Email: [email protected]
"the OTHER Entropy Embodiment." A weekend Residential Workshop is conducted and organized by Tony Yap (with Jonathan Rainin – TBC) and Lim Paik Yin with the support of Rimbun Dahan.
Event Dates
Venue
Website