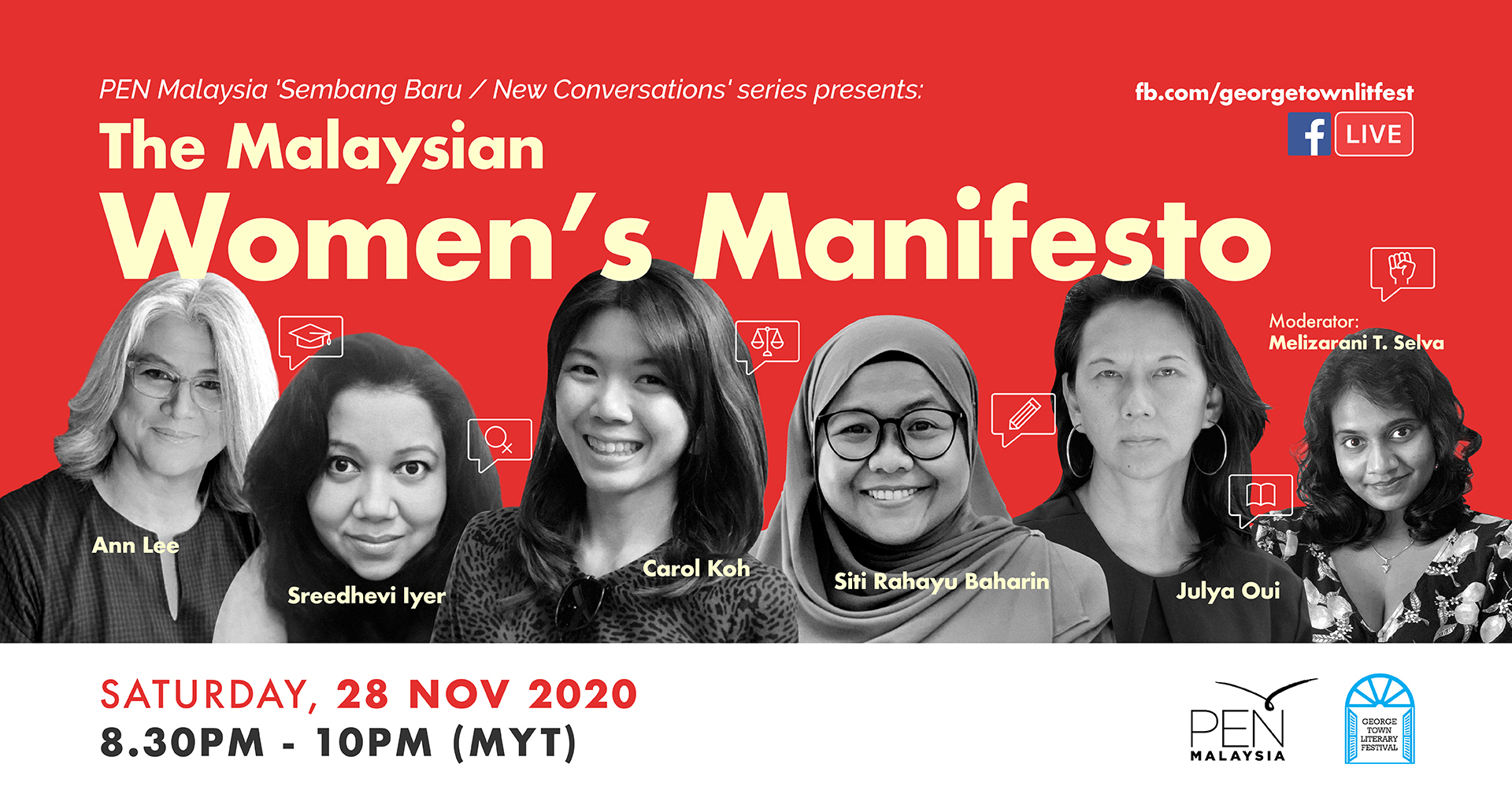 Witness the stories, lessons and visual journey of five Malaysian women in the literary arts, as they reclaim the principles of the PEN International Women's Manifesto. From one playwright's battle against the banning of 'The Vagina Monologues' to a trans woman writer's journey of wrangling her fears into text, this session will be a feminist shake-up on the very definition of being a Malaysian woman. Audiences are invited to participate in the discussion on how we can continue to promote literacy, improve accessibility and create a safer literary ecosystem for Malaysian women writers to flourish.
This session will consist of five presentations followed by an interactive fireside chat, conducted in English and Bahasa Malaysia.
SPEAKERS' PROFILES
Ann Lee is a playwright, editor, and researcher. She completed her doctorate in Southeast Asian studies at the National University of Singapore, and is now working on a book about satire in Indonesia and Malaysia. She is also developing a film script adaptation of her stage work, Perpustakaan, with producer Susan Lankester. Ann collaborated with Ines Somellera and Rhoda Grauer on the script of Xalisco – A Place (2019), which toured in Indonesia, Thailand, and Mexico. Her award-winning play Tarap Man is in Southeast Asian plays (Aurora Metro, 2016) and other work in Sex, Stage and State (Kuali Works, 2011). Ann has also written and edited stories for Buku Fixi/Matahari and ZI Publications titles.
Carol Koh founded the Books on the Move Malaysia Movement in 2017, in hopes that it will encourage more Malaysians to read. She runs the movement during her free time (outside her full time job as a programme adviser) to hide free books around the city. In 2018, she set up three community libraries in train stations of KL to make books more accessible. The libraries are now located in three different retail malls. The movement is part of the Books on the Move Global Initiative in 14 countries.
Every morning Julya Oui sits in the garden with her furkids to breathe in the wonders of the day and be mesmerised by the thought of how insignificant humans are and then she goes to write stories about them. She has published five short horror story collections, written numerous feature films, TV movies, animation scripts, and a few stage plays.
Siti Rahayu Baharin is a mother and teacher who believes that education is a fundamental
right of every human being, and it needs to be provided for everyone. Passionate about everything education and societal empowerment, Rahayu and a group of friends co-founded Buku Jalanan Chow Kit, an organisation that upholds the idea that knowledge through education is the most vital food for humans if they are to thrive. Buku Jalanan Chow Kit (BJCK) mindfully and critically unpack the question as to whether humans need to 'eat to live, or to live to eat?', as they engage with the urban poor of Chow Kit (Kuala Lumpur), specifically educating the young minds of children. From an organization that operates on the street, Buku Jalanan Chow Kit now runs a center that operates as a homeschool center for undocumented children, and also a safe space for children.
Sreedhevi Iyer is the author of The Tiniest House of Time and Jungle Without Water. She has been shortlisted for a Pushcart Prize (US) and a Penang Monthly Book Award. Her work has appeared around the world, including Hotel Amerika, Drunken Boat, Asian American Literary Review, The Writers Chronicles, Ginosko Literary Journal, Asia Literary Review, TEXT, Cha, and many more. She lives and works in Melbourne.
Moderator: Melizarani T.Selva
Melizarani T.Selva is a Malaysian writer and spoken word poet, with notable performances at StoryFest Singapore, ZEE Jaipur Literature Festival and TEDxGateway. Her first book, 'Taboo' is a poetic exploration of her Masters' thesis on the constructs and representations of the Malaysian Indian Identity. Her poems have been translated in French and Bahasa Malaysia. She co-founded If Walls Could Talk – Poetry Open Mic and co-published an anthology of 100 poems by 61 poets from Malaysia titled 'When I Say Spoken, You Say Word!'. Presently, she is the co-editor of the literary journal, SingPoWriMo.com